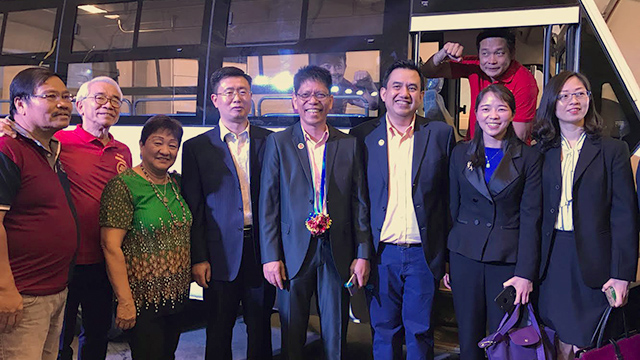 Edmar Vasquez was a driver in Saudi Arabia for 30 years before he went home for good in 2016. With enough savings from his time abroad, he bought 10 jeepneys that he leases daily to drivers plying the route from Nichols Air Base to Baclaran in Parañaque City.
With the launch of the Public Utility Vehicle Modernization Plan (PUVMP) last year, the fate of Vasquez and his jeepneys is in limbo even if he holds franchises from the Land Transportation Franchising and Regulatory Board (LTFRB) for each of his vehicles.
ADVERTISEMENT - CONTINUE READING BELOW
Under PUVMP, franchises for entire routes will be centralized and assigned to a single transport cooperative or corporation, which will manage and operate the vehicles plying the route. Drivers of PUVs serving the route will become salaried employees, earning fixed income, with health and pension benefits rather than renters paying a fixed daily lease or "boundary" to vehicle owners.
Issued in June 2017, the Omnibus Guidelines on the Planning and Identification of Public Road Transportation Services and Franchise Issuance states that the LTFRB shall require the "consolidation of operators and establishment of bigger coordinated fleets of PUVs." In several reports, LTFRB board members have stated that "ideally" a route for PUVs will be awarded to a single cooperative or corporation. That also applies for public utility jeepneys (PUJs).
Vehicle owners such as Vasquez can still play a role but will no longer wield control over the vehicles and drivers. Instead, they will be merely providers of vehicles to the cooperative or corporation running the fleet of PUVs. While they will be entitled to a share of the revenue from the operation of their vehicles, they will no longer manage the business. That role will be the sole responsibility of the cooperative or the corporation.
ADVERTISEMENT - CONTINUE READING BELOW
To become part of the program, jeepney operators would have to purchase new units that are in accordance with PUVMP's standards. The new PUJs must have doors at the curbside, equipped with a GNSS receiver, CCTV, dashboard camera, an automatic fare collection system (AFCS) and must provide free Wi-Fi.
Prices of the units that are in compliance with PUVMP's standards start at Php1.2 million to as much as Php2.6 million.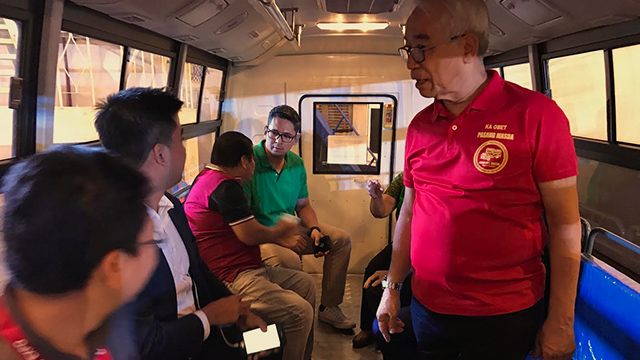 ADVERTISEMENT - CONTINUE READING BELOW
Because of the hefty cost of acquiring the modern PUVs, most drivers and operators are opposed to the government's jeepney modernization program. Even if government and private banks have announced long-term loans to help them acquire new vehicles, many are worried that the risks and financial burden are too great for them.
Related story: Duterte's Jeepney Modernization Scheme Gets Financing Boost From Henry Sy's BDO Unibank
At least one transport group thinks differently, however. For Pasang Masda, the government's PUV modernization program has created an opportunity for the jeepney drivers and operators' union to turn entrepreneurial and try their hand in running a business. It is planning to create a unit that will run a fleet of modern PUVs that will ply a number of new routes to be created by the LTFRB.
In April, the jeepney group showcased the jeepney unit that some of its members are set to purchase in a public expo by the Department of Transportation (DOTr). Retailing for Php1.55 million, the unit, manufactured by Chinese company Chang-an, has a seating capacity of 23 passengers including the driver.
ADVERTISEMENT - CONTINUE READING BELOW
On top of its compliance with PUVMP's standards for PUJs, the unit is also equipped with air-conditioning and a television.
"Three years ago, when PUV modernization was just about to be proposed, the Chinese manufacturer already talked to us. We even flew to China to check how their units were manufactured," Pasang Masda President Obet Martin said in an interview. "We are assured that this is a quality unit. They will put up a one-stop shop here [in Manila] so once a unit breaks down, we won't have problems for parts and rehabilitation."
Martin said the Chinese-manufactured unit is only one of the designs it will introduce to interested Pasang Masda members who want to modernize their fleet. Obet said the group has around 60,000 member-operators and drivers in the National Capital Region alone.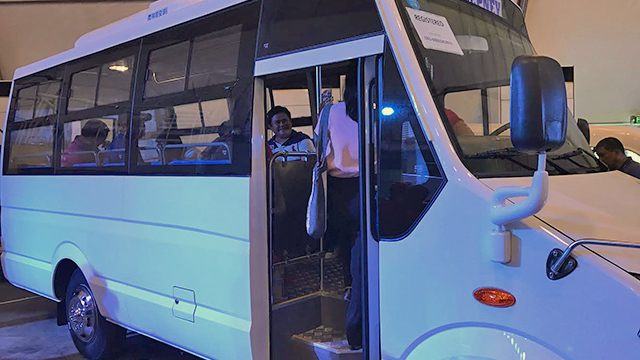 ADVERTISEMENT - CONTINUE READING BELOW
The transport group said it has already made arrangements with the Land Bank of the Philippines for the loans its members may apply for. As stated in the DOT guidelines, operators can surrender their existing units, the values of which would be deducted to the loan it can apply from the bank. The loans may be paid for seven years at a fixed interest rate.
"Now that all operators are under one corporation, the revenues of all jeepney in a single route will be pro-rated accordingly. For example, if as an operator you surrendered five units, then your incentives will be in equivalent to the share of five jeepney drivers' profits too," said Jojo Martin, Pasang Masda's vice president for administration.
As for the jeepney drivers, the Pasang Masda president said they could expect to get around 10 percent of the average total revenues of each unit.
By June of this year, the LTFRB will launch six new routes to test the new jeepney on the road for six months. The routes are Cogeo in Antipolo City to Market! Market! in Taguig City; Market! Market! to SM Masinag in Antipolo City; Quezon City Hall to Manila City Hall; Cultural Center of the Philippines in Manila to Mall of Asia Arena in Pasay City; SM Masinag in Antipolo City to SM Fairview in Quezon City, and Valenzuela to Malolos, Bulacan. Four of the mentioned routes will be under Pasang Masda's operation.
ADVERTISEMENT - CONTINUE READING BELOW
According to Martin, Pasang Masda would need around 100 drivers for the new jeepneys as each route would have 15 units to accommodate passengers. While the new routes would not affect existing jeepney drivers, he said it's a good way to check the performance of the new units.
"The program is also a good way to familiarize our drivers with the new transport scheme; they will be given training and will be guided to the proper people if ever they want to avail of the loans," he added.
*****
Elyssa Christine Lopez is a staff writer of Entrepreneur PH. Follow her on Twitter @elyssalopz