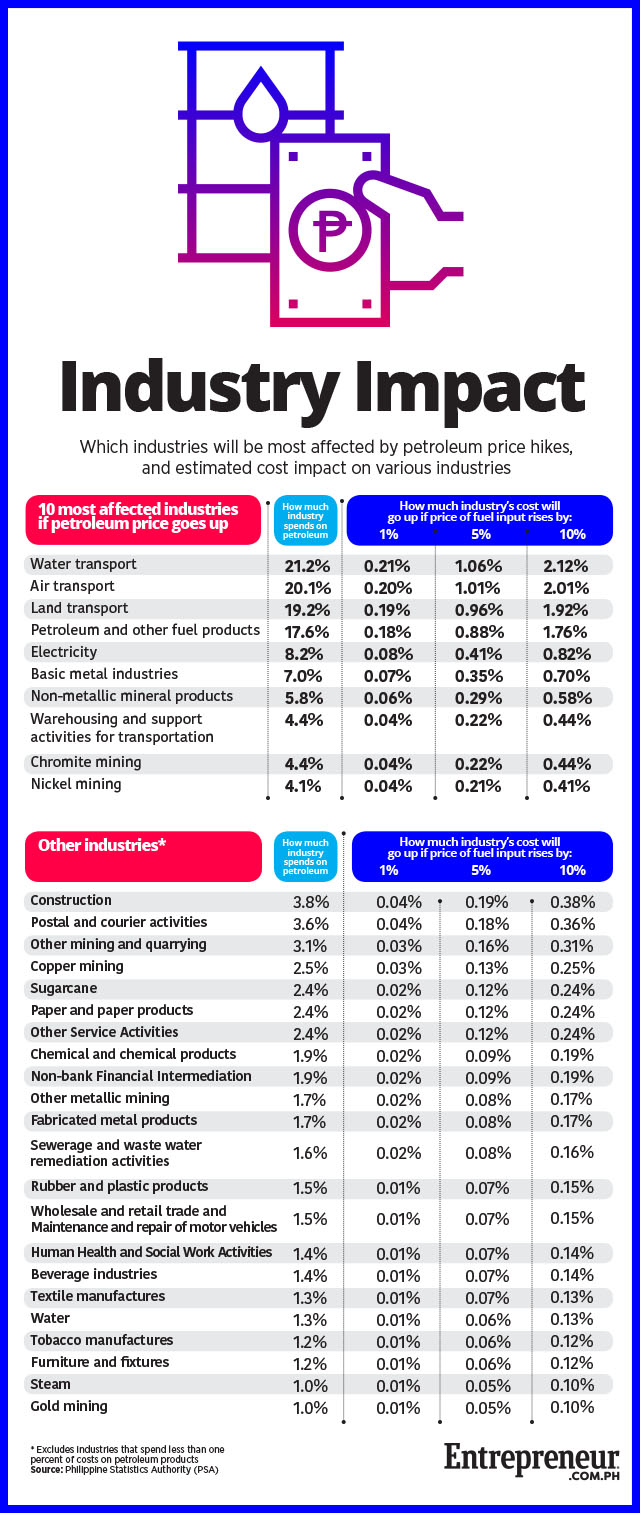 Several land transport companies and groups have applied for higher fares in the wake of higher petroleum prices due to the implementation of the Tax Reform for Acceleration and Inclusion (TRAIN) Law, which raised excise taxes on fuel products.
As of January 1, 2018, the excise tax on diesel rose by Php2.50 per liter, while that on unleaded and premium gasoline rose from Php4.35 to Php7.00 per liter, prompting most gasoline distributors to raise retail pump prices. Data from the Department of Energy (DoE) show that pump prices of diesel, kerosene and gasoline were between Php3.00 and Php6.00 more expensive last January 16.
Transport network company (TNC) Uber is seeking a fare hike of between 58 percent and 110 percent in the per-kilometer component of the fare*, according to a statement issued by the company. Grab was reported to be seeking only a five-percent hike, according to various reports.  Meanwhile, some UV Express operators have asked for increases of 100 percent in their base rates while jeepney drivers sought increases of 25 percent to 50 percent in the minimum fare. Taxi operators have also asked for an increase of 25 percent in their flag-down rates.
ADVERTISEMENT - CONTINUE READING BELOW
Are these petitions for fare increases justified?
While this is a matter for regulators to decide, it's possible for interested parties to check for themselves if the proposed fare increases make economic sense.
In his column in the Philippine Daily Inquirer on January 26, 2017, Cielito Habito, the former economic planning secretary, came up with estimates on the cost impact of higher petroleum prices due to the TRAIN Law.
Using the Philippine Statistics Authority (PSA)'s input-output tables, a matrix showing how much of various industries' outputs are used as inputs by other industries, he calculated that an eight-percent hike in fuel prices would lead to an average increase of 0.21 percent in the cost of all goods and services. This ranges from 0.01 percent in banana production to 1.6 percent in transport industry (which includes land transport companies, shuttle services, taxis and jeepneys).
"So don't let anyone claim that the TRAIN is causing them to raise prices by much more than that (or even less, as the calculations show). If they do, they are simply riding on the TRAIN—and as stowaways at that," Habito said.
In the infographic on this page, we present, based on data from the PSA's input-output tables, how much of major industries' costs are accounted for by petroleum products. It shows that industries that will be affected most by higher fuel prices are the water, air and land transport industries. Between 19.2 percent and 21.2 percent of these transport sectors' costs are accounted for by petroleum products.
The infographic also shows that the likely impact of fuel price hikes on transport costs is much smaller. Depending on the resulting percentage hike in petroleum products, which ranges from one percent for some products to 10 percent for others, we estimate that the resulting cost increase of land transportation companies ranges only from 0.2 percent to 2.01 percent.
ADVERTISEMENT - CONTINUE READING BELOW
Estimates for other industries are also shown in the infographic, except those that spend less than one percent of their total costs on petroleum products.
Based on these numbers, the effect of higher fuel excise taxes on the costs of most industries is rather small. Even in the transportation sector, the cost impacts seem much less than what the companies and operators would like us to believe.
*This article was edited to add that the 58 percent to 100 percent range of Uber's application for fare increase doesn't apply to the entire fare but only to the rate per kilometer
*****
Lorenzo Kyle Subido is a staff writer of Entrepreneur PH