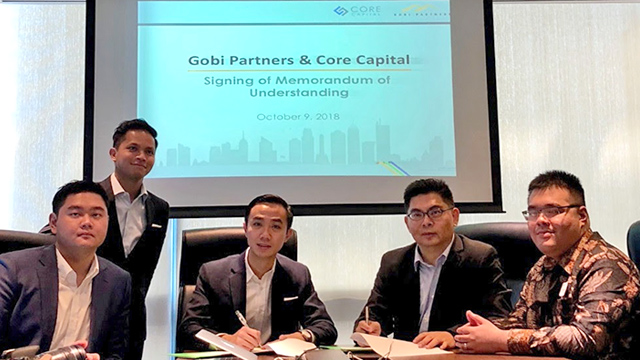 Core Capital, a Philippine venture capital (VC) firm, has announced that it is partnering with Malaysia-based investor Gobi Partners to launch the Gobi-Core Philippine (PH) Fund, a $10-million (Php542 million) fund aimed to support early-stage startups.
"With this partnership with Gobi, we are confident that we can strategically connect local and regional stakeholders," said Ken Ngo, managing partner of Core Capital, in a statement. "The creation of the Gobi-Core PH Fund puts us in a unique position to add value and support founders in the country's growing startup ecosystem."
Ngo runs Core Capital with its co-founders, Carlo Delantar and Jason Gaisano. Delantar is best known as the country manager of Waves for Water, a global nonprofit organization that provides impoverished communities access to clean water. His efforts led him to be recognized by business magazine Forbes Asia in its 30 Under 30 list in 2018.
Related story: 6 PH Achievers Make it to Forbes' 30 Under 30 Asia List for 2018
ADVERTISEMENT - CONTINUE READING BELOW
Supporting Core Capital in the fund is Gobi Partners, a VC firm that has been investing in technology companies since 2002. It is handled by founding partner Thomas Tsao and managing partner Kay-Mok Ku, and its portfolio consists of several companies across Asia. However, the Gobi-Core PH Fund will mark its first project focused on the Philippines.
"We are very excited to make our first foray into the country together with Core Capital," said Tsao. "We've been consistently amazed by the level of entrepreneurial talent in the Philippines. The same growth patterns that occurred in China and Indonesia are now happening in the Philippines."
According to a DealStreetAsia article published last October 9, Gobi Partners said that the Gobi-Core PH Fund will be looking at startups in the e-commerce, healthtech and logistics industries. The VC firm added that it also plans to look into technology companies in the retail, entertainment and travel sectors in the future.
ADVERTISEMENT - CONTINUE READING BELOW
The launch of the fund is seen to boost the Philippine startup ecosystem, where there are just very few local VC firms. It will also serve an unmet need for most startup founders, as according to the 2017 Philippine Startup Survey, the biggest challenge for startup founders was capital requirements.
Related story: 5 Things You Should Know About PH Startups From the First-Ever Sector Survey 
*****
Lorenzo Kyle Subido is a staff writer of Entrepreneur PH