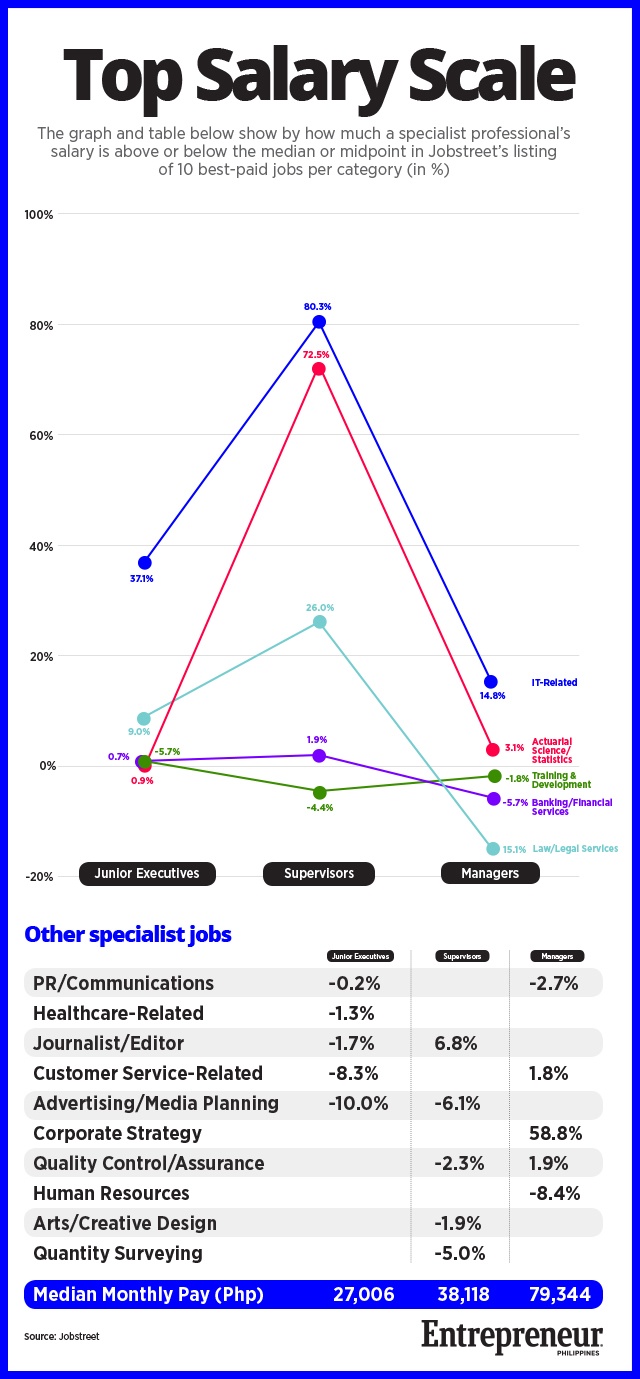 Jobstreet, the country's leading online job search and recruitment platform, recently released its latest salary report based on information culled from its extensive database of job postings.
The report showed that IT and law and legal services specialists continue to be the best-paid employees, especially at the junior executive and supervisory levels. It also said that those in charge of corporate strategy are the highest paid among top managers.
For competitive employees who want to see how their pay compares to the rest, we prepared the infographic in this page. Based on Jobstreet's salary survey, it plots by how much a specific specialist's pay is above or below the median or midpoint in the scale of 10 best-paid jobs.
The results are interesting. It shows that the salary premium over median pay enjoyed by IT professionals stands at 37.1 percent for junior executives, rises to 80.3 percent for supervisors but drops to 14.8 percent for top managers. Despite the lower premium, IT specialists are still the second highest-paid among managers.
The results are somewhat mixed for law and legal service professionals. Their salary premium begins at nine percent for junior executives, climbs to 26 percent for supervisors but turns into a discount of 15.1 percent, which implies their salary is below the median. Indeed, their ranking falls to the bottom of the 10 best-paid jobs among managers.
On the other hand, corporate strategy jobs, which do not even figure among the best paid at both the junior executive and supervisory levels, rises to the top of the managers' pay scale, with a premium of 58.8 percent.
What do all these mean? At the very least, specialist professionals should diversify their core competencies to include business strategy and knowledge of IT as preparation for top management posts.
Related: A Bonus Worth 4 Months of Pay? It's Yours if You're in the Right Industry
ADVERTISEMENT - CONTINUE READING BELOW
*****