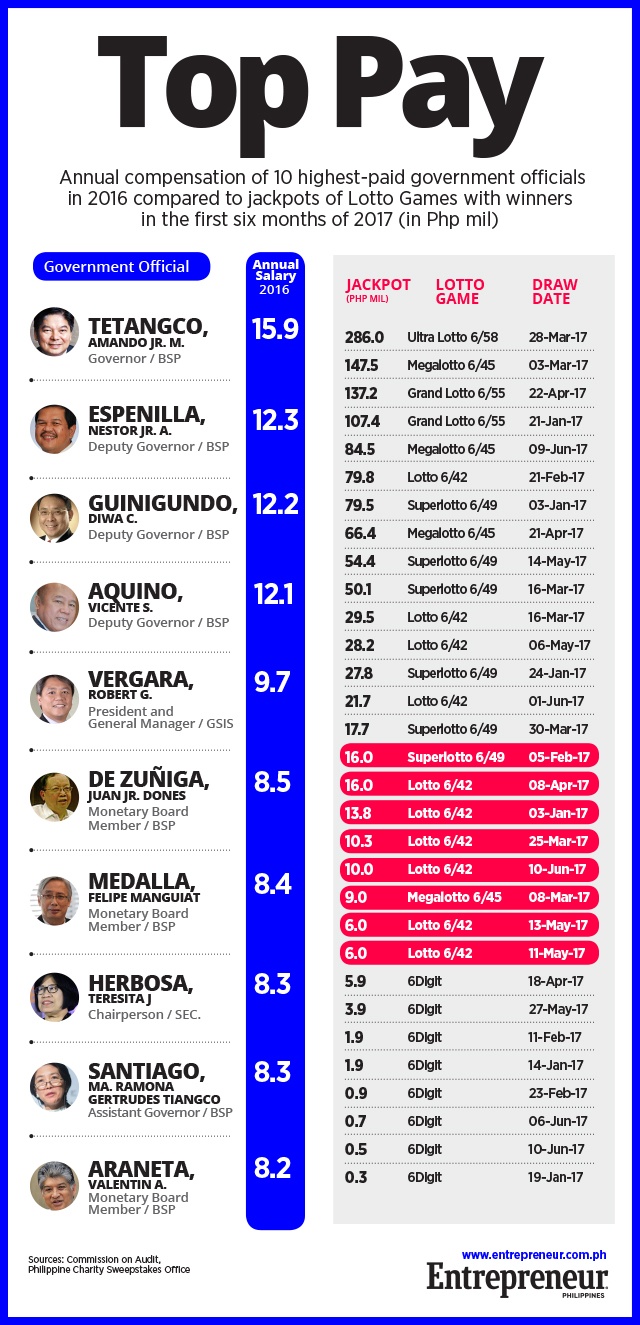 It's said often enough: If you're one of the highest-paid government officials in the land, it's as if you're assured of a regular win in the lottery.
After the Commission on Audit released its annual Report on Salaries and Allowances of government officials for the year 2016, we decided to check the salaries of the officials who received the most pay against lotto winnings this year, as reported by the Philippine Charity Sweepstakes Office.
ADVERTISEMENT - CONTINUE READING BELOW
Topping the list for the second year in a row is outgoing Bangko Sentral ng Pilipinas (BSP) Governor Amando Tetangco Jr., who received a total of Php15.9 million in salaries, allowances and other emoluments. Tetangco is the only official who has consistently belonged in the top 25 highest-paid government officials from 2010 to 2016.
Tetangco is followed by other officials of the BSP as well as by the general manager of the Government Service Insurance System (GSIS), Robert G. Vergara, and the chairperson of the Securities and Exchange Commision (SEC), Teresita Herbosa.
Looking at just the 10 highest-paid government officials last year, the compensation they received last year ranged from Php15.9 million for Tetangco to Php8.2 million for Valentin A. Araneta, monetary board member of the BSP.
Those kinds of pay are comparable to the middle range of major lotto winnings so far this year, based on a ranking of PCSO data. (See table) They are definitely way below the biggest jackpot of Php286 million, which was for an Ultra Lotto 6/58 draw on March 28 and won by three people.
ADVERTISEMENT - CONTINUE READING BELOW
But Tetangco's pay of Php15.9 million is almost equal to the Php15.97-million jackpot for a Lotto 6/42 draw on April 8 which had just one winner. The same goes for the second highest salary of Php12.3 million, received by BSP Deputy Governor Nestor A. Espenilla Jr., who is set to become governor in July. His pay last year is just slightly below the Php13.8-million jackpot for the Lotto 6/42 draw on January 3, which was won by just one person.
To be sure, salaries, which are compensation for work and based on talent and experience, are totally different from lottery winnings, which are a result of pure chance. Still, good fortune also plays a role in the determination of government compensation. Many government officials are as qualified as the BSP executives but don't work in an agency that is exempt from the salary standardization law, which sets caps on pay of officials.
ADVERTISEMENT - CONTINUE READING BELOW
*****
Pauline Macaraeg is Entrepreneur PH's data journalist. Follow her on Twitter @paulinemacaraeg