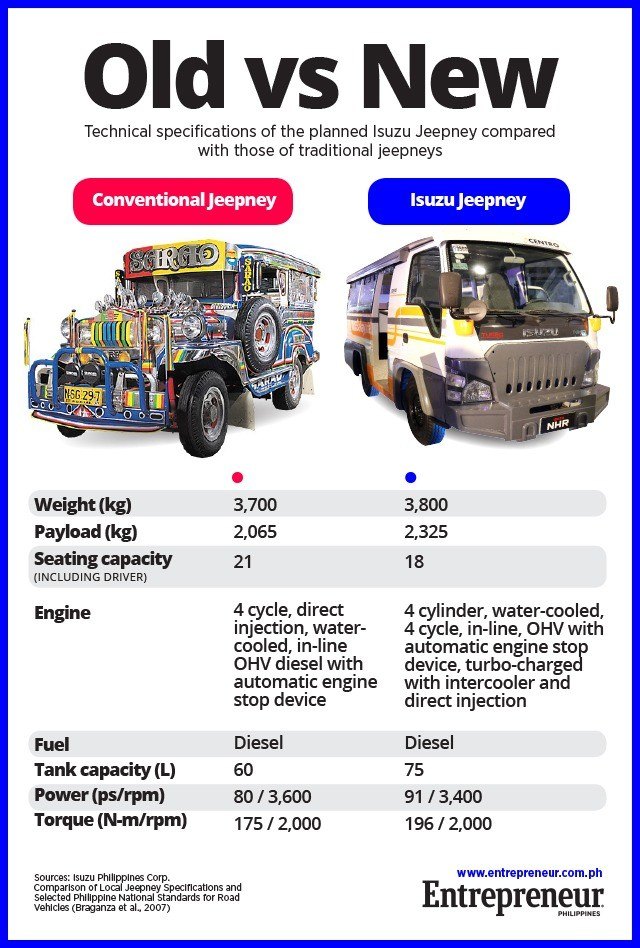 Eleven heavy, medium and light-duty trucks are on display at the Isuzu Philippines Corp. (IPC)'s Truck Fest at the SMX Convention Center in Pasay City. That's expected in a truck show, which runs from April 20 to 23, 2017. But amid all the vehicles designed mostly for cargo, one seems out of place: a jeepney.
ADVERTISEMENT - CONTINUE READING BELOW
The display underscores plans of the country's No. 1 truck maker—the local unit of Japanese diesel engine maker Isuzu Motors—to roll out its version of the most popular means of public transportation in the Philippines.
Mounted on Isuzu's NHR platform model, the body of the prototype jeepney was designed and built by Centro Manufacturing Corp., one of Isuzu Philippines' accredited suppliers.
Isuzu wants to roll out the new types of jeepneys, which are more efficient and cleaner, in time for the Land Transportation Franchising and Regulatory Board (LTFRB)'s proposed public utility vehicle (PUV) modernization program. The scheme aims to impose tougher emissions, safety and roadworthiness standards on public vehicles that could lead to the phase-out of thousands of old and non-compliant jeepneys.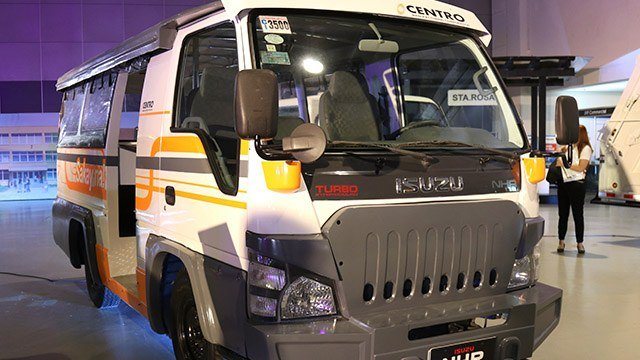 ADVERTISEMENT - CONTINUE READING BELOW
"They [the government] want to modernize the transport system so we hope to supply jeepney alternatives, mini buses and so on," said Joseph Bautista, a division manager at Isuzu Philippines' marketing department. He said the company plans to launch the new vehicle line by 2018 to 2019.
"The government is still finalizing the vehicle mix for PUV modernization. Right now, we're still talking about the specifications," Bautista shared. Isuzu also plans to supply buses but there were no prototypes for them in the exhibit yet. "In case of buses, they will be developed in collaboration with local body builders based on the specifications provided by government," he added.
Isuzu Philippines' modern jeepney weighs 3,800 kilograms with a payload of 2,325 kilograms, which means it can carry 12 percent more cargo than conventional jeepneys. IPC's jeeps also offer upgrades in payload capacity, engine, tank, power output and torque. (See infographic)
"The modern jeepneys are designed to meet regulations in emission, safety and roadworthiness. It will also provide better passenger comfort," noted Bautista.
ADVERTISEMENT - CONTINUE READING BELOW
Isuzu Philippines is considered the country's biggest maker of trucks. Last year, its sales of heavy, medium and light trucks rose 36 percent to 6,079, according to the company.
*****
Pauline Macaraeg is Entrepreneur PH's data journalist. Follow her on Twitter @paulinemacaraeg