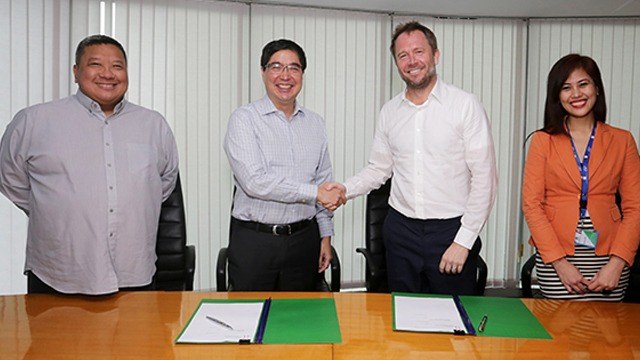 (From left) BJ Sebastian, JGSH Chief Strategist; Lance Gokongwei, JGSH President & COO; Geoffrey Prentice, co-founder of Oriente and Skype; and Pryncess Esguerra, JGSH Corporate HR Manager 
A unit of JG Summit Holdings Inc., one of the Philippines largest diversified conglomerates, has partnered with the founders of internet giants Skype and LU.com to set up a financial technology company that aims to provide credit and other financial services to underbanked consumers and micro, small and medium enterprises in the Philippines.
ADVERTISEMENT - CONTINUE READING BELOW
In a statement, JG Summit said its Express Holdings subsidiary has tied up with Hong Kong-based Oriente to set up what it calls "a digital financial services marketplace that will enable Filipinos to tap into credit facilities to bridge their ever-growing needs, whether to pay for tuition, unexpected medical expenses or even finance a small business."
"Leveraging its experience building internet giants LU.com and Skype, Oriente is using technology and data science to tap into JG Summit's resources to enable online peer-to-peer lending and wealth management at attractive interest rates," said Lance Gokongwei, JG Summit president and chief operating officer.
The joint venture is in the pre-operating and developmental stage, and is expected to launch in early 2018. Still, the Oriente-Express venture fills an almost unique niche in the Philippine fintech landscape as most of the active players focus on payments, remittance and credit scoring.
Oriente was founded in April 2016 by the co-founders of Skype and LU.com to address the lack of affordable credit even for the salaried middle class in many Asian countries.
ADVERTISEMENT - CONTINUE READING BELOW
"We are creating a digital infrastructure and social ecosystem to fuel financial inclusion, enabling credit and wealth accumulation," said Hubert Tai, CEO of Oriente and co-founder of LU.com, an online internet finance marketplace based in Shanghai and one of the highest-valued fintech startups at $18.5 billion. It boasts an active customer base exceeding seven million and annual transaction volume of $800 billion.
Geoffrey Prentice, co-founder of Oriente and Skype, added that Oriente addresses a pressing social need by providing a superior option to informal lending. "Skype empowered affordable communications; in a similar manner, our partnership will empower Filipinos to access affordable credit by leveraging the latest technology," he said.
According to the Bangko Sentral ng Pilipinas (BSP), about 86 percent of Philippine households are unbanked and about one third of Philippine towns do not have a bank branch. Of the 43 percent of the population who save money, only 14 percent of households maintain a deposit account and 68 percent keep their savings in unsecured places.
ADVERTISEMENT - CONTINUE READING BELOW
Entrepreneur Philippines is published by a company owned and managed by the Gokongwei family that also controls JG Summit Holdings.
*****
Lorenzo Kyle Subido is a staff writer of Entrepreneur PH