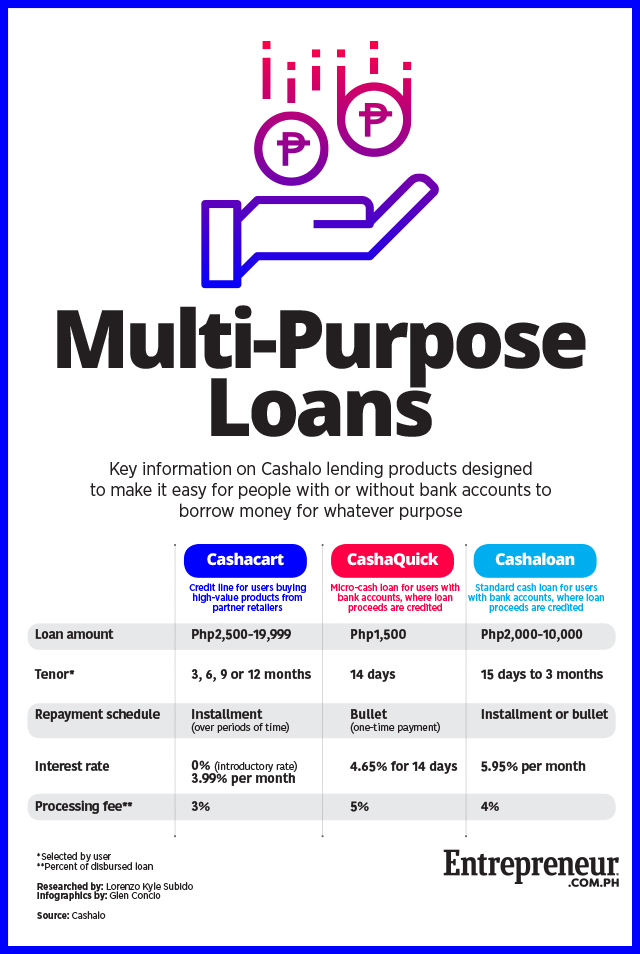 According to the latest Financial Inclusion Survey by the Bangko Sentral ng Pilipinas (BSP), the proportion of Filipino adults with outstanding loans fell from 47.1 percent in 2015 to only 22.3 percent in 2017.
However, the reason isn't that fewer Filipinos needed to incur debt. It had more to do with the difficulties of getting one. According to the same survey, 36 percent of Filipino adults said that they found it tough to apply for a loan from a formal final institution such as a bank, cooperative or financing company.
ADVERTISEMENT - CONTINUE READING BELOW
The report added that the top three reasons for this difficulty were the lack of documentary requirements, lack of collateral and lack of necessary identification.
Related story: Freedom from Debt? Filipinos With Loans Plunge to 22.3% in 2017 from 47.1% in 2015
One financial technology (fintech) startup aiming to address those difficulties is Cashalo, a digital lending firm that offers an easy alternative to formal lenders for individuals who need to borrow money for personal use. Cashalo is a joint venture between local conglomerate JG Summit Holdings and Hong Kong-based firm Oriente, which was founded by the heads of internet companies Skype and LU.com.
"Cashalo is a mobile lending app that gives Filipinos fast, convenient and affordable access to credit anytime and anywhere," said Hamilton Angluben, general manager of Cashalo, in a press launch event held last October 23.
Fast is an understatement. Unlike banks that often take several days to process a loan, Cashalo can approve a loan as soon as 10 minutes after an individual applies for one. Moreover, two of its products allow for the money to be disbursed to a user's bank account in 30 minutes after a loan is approved. (See infographic)
ADVERTISEMENT - CONTINUE READING BELOW
Taking lending to a digital platform also allows Cashalo to address borrowers' concerns on documentary and identification requirements. While its flagship product, Cashaloan, requires the standard two IDs as well as a bank account, its other offerings make it easier for users who may not have these requirements.
CashaQuick, which allows users to quickly borrow Php1,500 from Cashalo, only requires one ID. However, it has a higher interest rate and shorter repayment time than Cashaloan. Both products also require the user to have a bank account, as the loan disbursed will be credited to that account.
Extending Cashalo's reach to the unbanked, or the 77 percent of Filipino adults without a formal financial account, is Cashacart, which it describes as a "pioneering new offline to online consumer financing product." This product caters to customers of Cashalo's over 250 partner merchants, as it allows users to apply for a loan as they purchase appliances, mobile phones and other similarly high-value products from these stores.
ADVERTISEMENT - CONTINUE READING BELOW
"We have a sales officer in the store, and that sales officer guides the customer to download the app and complete the application [process]," explained Angluben. "Once they are approved of a credit line, they can now select the items that they want to buy."
He added that as Cashacart will cater to a specific transaction, it does not require the user to have a bank account. And for both Cashaloan and Cashacart products, the user will be able to set their preferred repayment schedule.
The quick and seamless loan application process through the Cashalo app has garnered a large take-up from Filipinos. As of July 2018, the app had already been downloaded over 750,000 times.
"Mobile technology has reached a point where we can easily reach out to a greater number of Filipinos," said Lance Gokongwei, president and CEO of JG Summit Holdings, at the event. "It is incredible to think that within months, hundreds of thousands of Filipinos have quickly signed up and are appreciating the speed, ease of use and affordability of our credit-on-demand solution."
ADVERTISEMENT - CONTINUE READING BELOW
Central also to Cashalo's mission is its push for financial literacy. While the company allows for a much easier way to secure a loan, it is also aiming to teach Filipinos how to be smarter with the money they receive and to lessen cases of borrowing more than one can handle.
"Some Filipinos tend to over borrow, and for us, we need financial literacy to keep them from over borrowing. We need financial literacy to make them borrow responsibly," Angluben told Entrepreneur Philppines. "It's sort of a full circle—we give them access, but then we teach them how to use the access that we're giving them."
As well, Cashalo has partnered with the Knowledge Community, a non-government organization, in its program to provide free financial literacy workshops to Filipinos nationwide. The company is currently holding the workshops in Metro Manila, and it plans to roll them out in Visayas and Mindanao by mid-2019.
ADVERTISEMENT - CONTINUE READING BELOW
Entrepreneur Philippines is published by Summit Media, which is owned by members of the Gokongwei family that also have a major stake in JG Summit Holdings.
Related story: JG Summit's Fintech Unit Rolls Out Mobile App for Fast and Easy Cash Loans 
*****
Lorenzo Kyle Subido is a staff writer of Entrepreneur PH