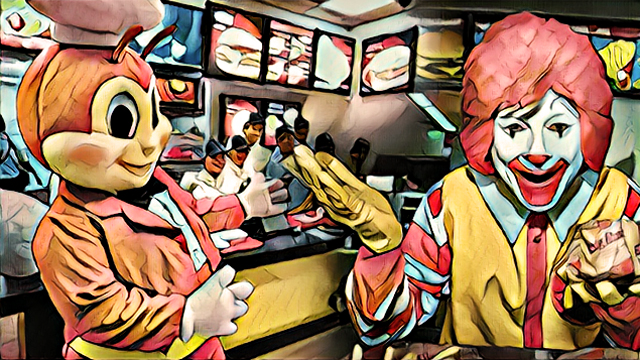 In the Philippines, economic progress at the city or town level is often indicated by the presence or absence of a fast food chain, especially Jollibee Foods and McDonald's. The two food joints have been competing with each other ever since they first started serving burger, chicken and spaghetti meals to Pinoys in the early 1980s. Their decision to open in a locality is seen as a vote of approval in the town or city's economic prospects.
ADVERTISEMENT - CONTINUE READING BELOW
Based on the data gathered from their respective website and mobile apps, Entrepreneur PH found that the two leading fast-food chains are present in more than 180 towns and cities throughout the Philippines out of a total of more than 1,500 localities.  In these municipalities, Jollibee and McDonald's run more than 700 stores, 60 percent of which are in Luzon and the remainder evenly split between Visayas and Mindanao.
Jollibee and McDonald's aren't always in the same locality. But they share a lot more in common in the places where they are both absent. The two fast food giants have yet to set up stores in the remote areas in Mindanao. In the Autonomous Region in Muslim Mindanao (ARMM), Jollibee only has one branch while McDonald's doesn't have one.
ADVERTISEMENT - CONTINUE READING BELOW
*****