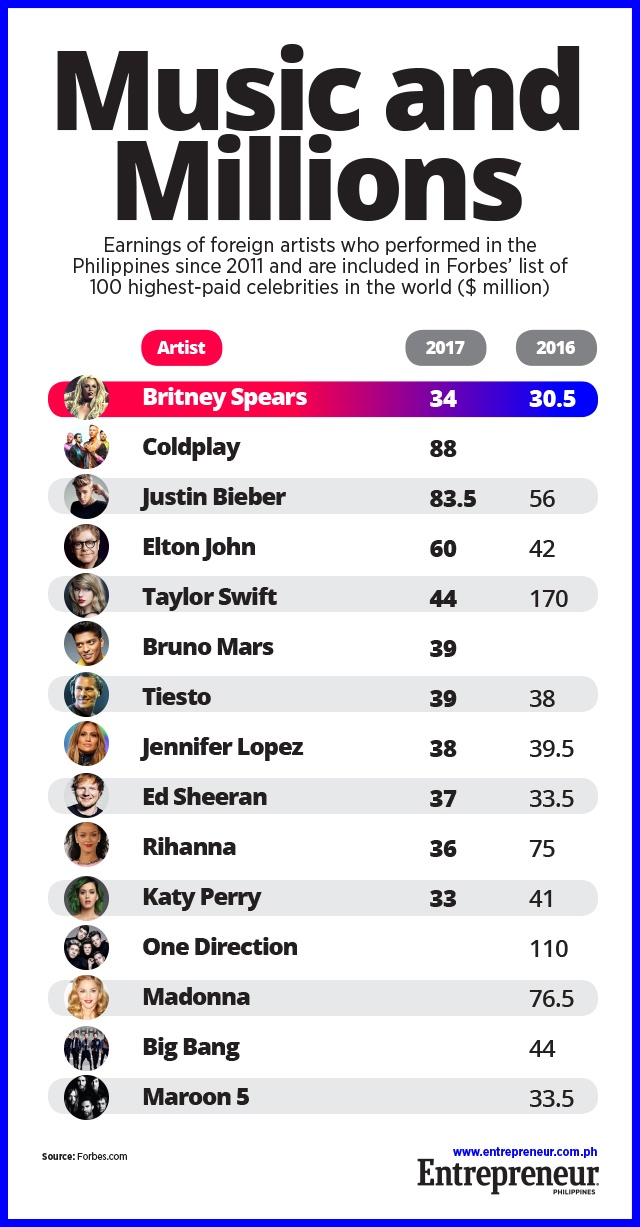 Every year since 1999, Forbes magazine names the 100 highest-paid celebrities all over the world in their Celebrity 100. This year's top 100 famous people, mostly entertainers, earned a total of $5.15 billion, according to the list released by the magazine on June 5. Rapper Sean Combs, also know as Diddy, leads this year's pack with $130 million.
ADVERTISEMENT - CONTINUE READING BELOW
Britney Spears, whose first-ever concert in Manila is scheduled this Thursday, June 15, moved up 10 spots in this year's rankings, going from 99th place in 2016 to 89th this year. Her earnings increased by 11 percent to $34 million over the last twelve months from $30.5 million the same period the previous year. Based on Entrepreneur Philippines' findings, the pop star's concert tickets are the third most expensive in the country since 2011.
Related story: How Do Britney Spears' Ticket Prices Compare to Other Performers'?
Of all the big-ticket artists that have performed on the Philippine stage since 2011, Spears is the 10th highest earner from June 2016 to June 2017. British band Coldplay, who also performed for the first time in Manila just two months ago, leads with $88 million of earnings. This can be credited to their ongoing A Head Full of Dreams Tour, which is expected to last until October this year.
Madonna, who holds the record of selling the most expensive solo concert tickets in the country, failed to make it to this year's Forbes' Celebrity 100. However, in the previous year's list, the pop icon landed in 12th place following the success of her Rebel Heart Tour, which ran from September 2015 to March 2016.
ADVERTISEMENT - CONTINUE READING BELOW
Related story: Which Asian Country is Paying The Most To See Britney Spears?
*****
Pauline Macaraeg is Entrepreneur PH's data journalist. Follow her on Twitter @paulinemacaraeg