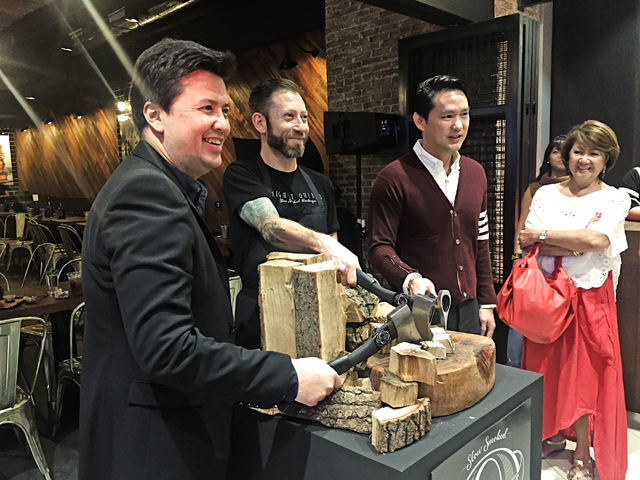 John Concepcion (left) with Mighty Quinn's founder Hugh Mangum and SM Supermalls Senior VP Steven Tan at the opening of the first Mighty Quinn's in the Philippines last December 12
John Concepcion is the managing director and CEO of Unilever RFM Ice Cream Inc., which makes the Selecta brand of ice cream. It's hard enough to run a large company -- especially if it's the largest industry player. Imagine what it would be like to put up a business on the side and make it grow.
ADVERTISEMENT - CONTINUE READING BELOW
That's exactly what Concepcion is doing. In 2010, he opened Yabu, his first restaurant under the Standard Hospitality Group, which he incorporated in 2013. Yabu offered katsu or breaded pork or chicken as the star dish. It became such a hit that the restaurant now has 12 branches and counting.
While Yabu was an original take on a well-known Japanese dish, his next project was to bring in an existing concept from overseas. Ippudo is a ramen restaurant that first opened in Fukuoka, Japan in the 1980s. Based on favorable reviews, it has since expanded to multiple locations across big cities globally, including New York, Singapore, Hong Kong, Seoul, London, and many others. Manila got its first branch in 2014 after lengthy negotiations between Concepcion and the Japanese owners. Today Ippudo has five branches in the country.
"I've been runnning Selecta for 27 years," Concepcion told Entrepreneur PH at the opening of restaurant number 18, a totally new concept called Mighty Quinn's, at the third floor of SM Megamall's Fashion Hall. "And before that I was handling a company called Swift. So, yes, food has always been part of my world, although I don't know how to cook."
ADVERTISEMENT - CONTINUE READING BELOW
The fiftysomething entrepreneur said that he's always looking for fresh challenges, which is why he put up a restaurant business even though he's still enjoying a successful career managing Selecta, which is what many people still call the RFM subsidiary Unilever RFM Ice Cream.
Along with brother Jose Ma. or "Joey", John was part of the executive team that grew the little-known Selecta ice cream acquired from the Arce family into a formidable brand that controls 70 percent of the market. He also played a key role in introducing Magnum premium ice cream bar and turning it into one of the company's bestselling products.
Their father, Jose or "JoeCon", oversaw the diversification of the family company RFM Corp. from flour-making into other agribusiness ventures in the 1970s. He was also a prominent civic leader who led an election watchdog movement that resisted the Marcos regime's attempts to rig the 1986 snap polls. He was later appointed by Corazon Aquino as trade and industry secretary when she became president.
ADVERTISEMENT - CONTINUE READING BELOW
"I'm always ready for the next challenge as an entrepreneur," he said. "Selecta is a very stable organization, with very strong systems and processes. When Selecta made its mark, and I turned 50, I said, 'okay, what's the next challenge?'"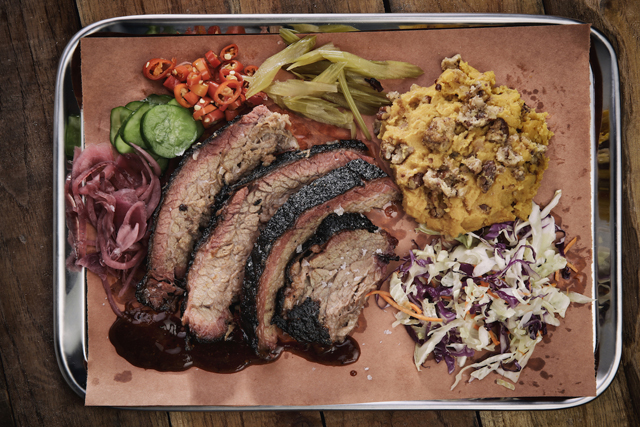 Mighty Quinn's is a franchise of a restaurant concept in New York that focuses on slow-smoked American barbecue
ADVERTISEMENT - CONTINUE READING BELOW
Concepcion said he found his next challenge when he discovered a gap in the casual dining scene.
"I think great visions come from a desire that you want to do something to change things. In my case, I wanted to change the dining scene because it's either you go to fine dining which is so expensive, or fast food. So there was nothing in between at the time. And if there were something there, quality would be inconsistent. So I said, wait a minute, there's a space in the center called casual dining. What it needs is consistency. So that's the opportunity that I saw there."
Yabu is a restaurant that focuses on one specific dish instead of a hodgepodge of familiar Japanese favorites. The same with Ippudo, which serves ramen. This was something he noticed in his many travels to Japan.
"I believe completely in the concept of becoming a master of a particular dish," he said. "Doing one dish and doing it really, really well. That's how your brand is known."
ADVERTISEMENT - CONTINUE READING BELOW
After katsu and ramen, Concepcion turned his attention to American barbecue. Mighty Quinn's is a franchise of a popular barbecue joint in New York founded by Hugh Mangum. He knew he wanted to bring it to the Philippines after a visit with his family there. Luckily, he hit it off with the easygoing and good-natured Mangum,  who flew to Manila to work with the local chefs and to attend the opening last week.
"When you think about it, barbecue is the national dish of the US," Mangum said. "It's synonymous with good times, with love and passion."
"With Mighty Quinn's, we're hoping to start a barbecue craze here in the country," Concepcion added. "When consumers are going out in the course of a month, they'll eat katsu, or they'll eat ramen, they'll eat barbecue. And hopefully, those will be all of the Standard Group brands. That's the whole idea." 
ADVERTISEMENT - CONTINUE READING BELOW
And it doesn't look like Concepcion is planning to stop there. Already he said they have been getting invitations and offers to open up franchises and new restaurant concepts. "It takes time to find the right chemistry to make it all happen," he said. "But hopefully, in 2017, we'd like to launch two new concepts."
*****