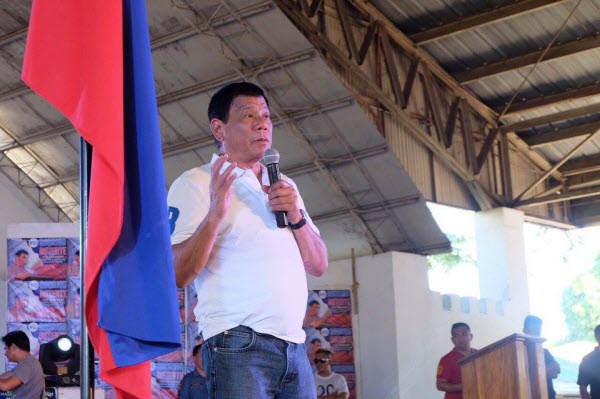 After a week since election day, President-elect Rodrigo Duterte shared the names of those he eyes to join his Cabinet.
In a televised press conference in Davao City on Monday, May 16, Duterte's Cabinet list is headed by Salvador Medialdea, Duterte's personal lawyer, who will act as executive secretary, while high-profile lawyer Salvador Panelo will be the presidential spokesperson.
ADVERTISEMENT - CONTINUE READING BELOW
Meanwhile, his running mate, Senator Alan Peter Cayetano was offered the post in the Department of Justice and Department of Foreign Affairs, but he is still barred from assuming any government position for a year following the elections as stated in the law.
Duterte also said he offered the Finance secretary post to his long-time friend and former Agriculture secretary Carlos "Sonny" Domingo. However, the latter "had many misgiving to the post."
Former president of Clark Development Corporation Art Tugade will head the Department of Transportation and Communications (DOTC) while Lyceum of the Philippines University-Batangas president Peter Laurel will be appointed as education secretary.
Jesus Dureza will also return as chairman of the Office of the Presidential Adviser on the Peace Process. He once served under the Arroyo and Ramos administrations for the same position.
Duterte also shared he is still choosing among Chief Superintendent Ramon Apolinario, officer-in-charge of the Mimaropa region; Chief Superintendent Ronald dela Rosa; and Senior Superintendent Rene Aspera to head the Philippine National Police. The three officers once served as Davao City police chief.  
ADVERTISEMENT - CONTINUE READING BELOW
Members of the Communist Party of the Philippines (CPP) may also head the departments of Agrarian Reform (DAR); Environment and Natural Resources (DENR); Labor and Employment (DOLE); and Social Welfare and Development (DSWD).
"They (CPP) are the most vigilant group in the Philippines about labor so they would get it," Duterte said.
BSP to implement interest rate corridor system starting June
The Bangko Sentral ng Pilipinas (BSP) will soon implement the interest rate corridor (IRC) system for its monetary operations in its bid to guide short-term market rates toward the BSP policy interest rate.
IRC is a system for "steering money market rates towards central bank's target/policy rate," BSP Deputy Governor Diwa Guinigundo said in a media briefing on Monday, May 16.
BSP Governor Amando M. Tetangco, Jr. said in a statement that the new system, which will take full effect on Friday, June 3, aims to improve the transmission of monetary policy.
ADVERTISEMENT - CONTINUE READING BELOW
The IRC will have the following improved interest rates: 3.5% in the overnight lending facility; 3% in the overnight reverse repurchase (RRP) facility rate; and 2.5% in the overnight deposit facility rate.
BSP assures the new system will not "materially affect prevailing monetary policy settings upon implementation" and are only "operational in nature." - Elyssa Christine Lopez
*****
Photo from Duterte's Facebook account