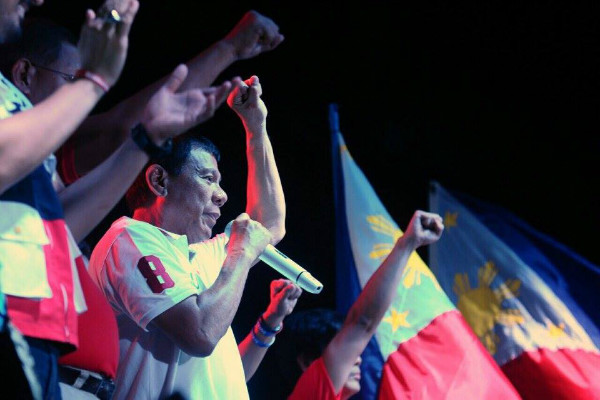 Duterte's economic vision
Presumptive President-elect Rodrigo Duterte's transition team member Carlos Dominguez bared the incoming administration's economic plan in a televised press conference on May 12, Thursday.
"We will continue and maintain the country's macroeconomic policy," Dominguez said.
The former cabinet member of Presidents Corazon Aquino and Fidel Ramos' administrations presented an 8-point economic plan which focused on tax reform, agricultural development, foreign investment policies, infrastructure, and education and health services.
ADVERTISEMENT - CONTINUE READING BELOW
Related: Duterte's priorities: Agriculture, education, health, MSMEs
One of the most discussed issues during the campaign, tax reform will come in "reforms in bureaucracy" to ensure "less corruption in government," Dominguez said.
Another issue Duterte is expected to address is the weakening agricultural condition in the country, which the team hopes to curb through "security of land tenure in rural areas to attract foreign investments in provinces."
Related: Agribusiness: Key to inclusive growth in the Philippines
He admitted some of the plans will have to be addressed through constitutional convention.
This comes after President Benigno Aquino III signed the Administrative Order 49 on Presidential Transition Committee, to ensure a smooth transition between the outgoing and incoming leadership teams.
Aquino's transition committee will be headed by Executive Secretary Pacquito Ochoa.
Monetary Board keeps BSP's key policy rates
As the election come to a close, the Monetary Board decided to maintain Bangko Sentral ng Pilipinas' (BSP) key policy rates for the overnight borrowing or reverse repurchase (RRP) facility at 4% and overnight lending or repurchase (RP) facility at 6% as well as its current interest rates.
ADVERTISEMENT - CONTINUE READING BELOW
While global economic conditions remain uncertain in recent months due to dropping oil prices, BSP is optimistic that inflation will continue to be manageable, as domestic economic activity will be largely driven by private household consumption.
BSP also maintains its target for the average inflation for the 2016 to 2017 period which will likely to settle within the range of 3.0 % ± 1.0 % point.
Related: PH April inflation unchanged
Loan growth to slow down in PH this 2017–S&P
Standard & Poor's (S&P) Global Ratings warned Philippine banks on its pursuit of higher loans as this may result in higher credit costs, in a report titled "ASEAN Banks Can Withstand Asset-Quality Pain In 2016" released on Wednesday, March 11.
Related: S&P optimistic on PH despite election
"The ratio of non-performing consumer loans to total consumer loans has consistently been double that of total NPLs [non-performing loans] to total loans, although both the ratios have been improving," S&P added.
ADVERTISEMENT - CONTINUE READING BELOW
It also noted the Philippine banking sector's overall NPL ratio dropped to 2.2% in 2015 from 2.4% of the previous year. Loan growth is also seen to slow down at a range of 8% to 12% after its peak level of 21% in October 2014.
"Loan growth, particularly to the corporate sector, will likely keep moderating as well unless public infrastructure and development projects kick in under the government's public-private partnership scheme," S&P said. – Elyssa Christine Lopez