<>
(UPDATED) At least 81% of the registered voters practiced their right to vote, the highest turnout rate in the last three automated elections, Commission on Elections (COMELEC) chairman Andres Bautista said in a press briefing, Monday, May 9, election day.
ADVERTISEMENT - CONTINUE READING BELOW
The voter turnout in the 2013 elections was only at 77% while the 2010 elections had 74.8%. Registered voters for this year's elections was at 54.5 million.
By 8 pm, vote transmission rate was already at 60%, remarkably faster than previous elections which was at 23% during the same period, Bautista noted.
Duterte surges past rivals; Bongbong, Leni in close fight
As of  9:29 am based on Inquirer.net's partial unofficial results, Davao City Mayor Rodrigo Duterte leads the presidential race with 38.6% (15, 194, 576) of the votes; administration bet Manuel Roxas II got 23.27% (9,138,410) of the electorate so far; while Senator Grace Poe, who has conceded to Duterte, ranks third with 21.67% (8,511,855).
Meanwhile, Vice President Jejomar Binay said he will wait for the election process to end. So far he has 12.85% of the votes (5,045,557).  Senator Miriam Defensor Santiago got 3.47% (1,364,491).
The vice presidential race becomes a closer fight by the hour as Liberal Party bet Maria Leonor "Leni" Robredo only leads by 142,051 votes, with 35.01% (13,286,907), after trailing for the first few hours of vote tally to Senator Ferdinand "Bongbong: Marcos Jr. who now has 34.64% (13,144,856).
ADVERTISEMENT - CONTINUE READING BELOW
At the far third is Duterte's running mate Senator Alan Peter Cayetano with 14.3% (5,438,581), followed by Senator Francis "Chiz" Escudero who got 12% (4,673,902).
With less than a million votes are Senators Antonio Trillanes IV with 2.1% (764,526) and Gregorio Honasan II with 1.8% (713,513).
Partial, unofficial tally of votes is available also on these websites: ABS-CBN news, GMA News, and Rappler.com. 
COMELEC also launched this website, http://www.pilipinaselectionresults2016.com/.
Meanwhile, in other news:
83.5% of PH 2016 budget released

The latest Department of Budget and Management report showed 83.5% or P2.5 trillion (P52.85 billion) has been released from the 2016 national budget, most of which allocated for the funds of government departments, which got close to P1.5 trillion ($31.71 billion).
Ninety-two percent of allocated funds for the agencies have already been released from the P1.6 trillion ($33.83 million) allotted budget.
Meanwhile, funds appropriate for retirement and life insurance premium, internal revenue allotment, and pension for former presidents and presidents' widows and donations and interest payment have all been released, which amounts to P854.3 million ($18.06 million).
ADVERTISEMENT - CONTINUE READING BELOW
The 2016 budget has a remaining P496.33 million ($10.49 million) balance for the year.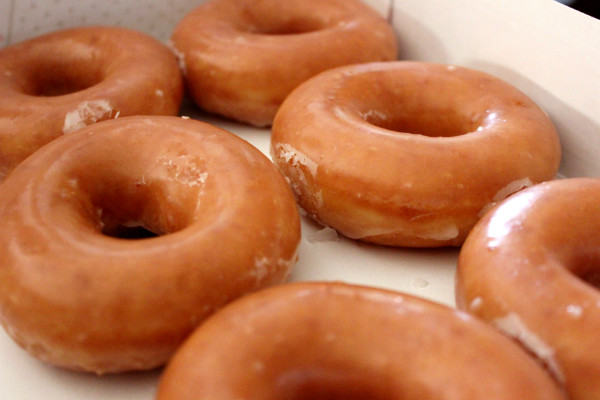 German company to acquire Krispy Kreme for $1.35B

After its dominating run in the doughnut market, Krispy Kreme has agreed to be acquired by German conglomerate JAB Holding Company for $1.35 billion.
JAB has a record for acquiring coffee brands, which includes Keurig Green Mountain, Pet's Coffee & Tea, and Caribou Coffee Company.
ADVERTISEMENT - CONTINUE READING BELOW
The move is timely for the doughnut company following its aggressiveness in recent years to enter the coffee industry as its beverages have not been faring as well as its famous doughnuts do. - Elyssa Christine Lopez