Steady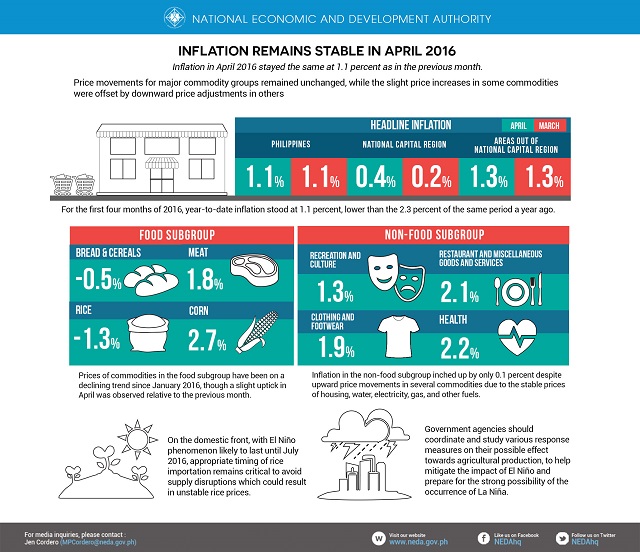 The country's inflation or the rate at which the prices of goods and services rise was unchanged at 1.11% in April from March's reading, the National Economic and Development Authority (NEDA) reported Thursday, May 5.
April inflation held steady as inflation for food and non-alcoholic beverages was unchanged while non-food inflation only posted a marginal increase compared to the previous month's level.
ADVERTISEMENT - CONTINUE READING BELOW
Higher price increases of key food items such as meat, vegetables, fruits, as well as oils and fats were enough to offset the continued decline in rice prices.
Higher year-on-year inflation rates from non-food items; clothing and footwear, health, recreation, and culture, as well as restaurant and miscellaneous goods and services—tempered the negative inflation outturn in housing, water, electricity, gas, and other fuels inflation in April.
The April inflation was still within the Bangko Sentral ng Pilipinas' (BSP) range forecast of 0.7%-1.5% for the month. The resulting year-to-date average inflation rate of 1.1% was also below the government's inflation target range of 3% ± 1.0 percentage point for 2016.
Core inflation, which excludes certain volatile food and energy items to provide an indicator of underlying price pressures, was also unchanged at 1.5% for the third consecutive month.
Month-on-month seasonally-adjusted headline inflation rose in April to 0.2% from 0.1% in March.
Desperate move?
ADVERTISEMENT - CONTINUE READING BELOW
Former Interior and Local Government Secretary Manuel "Mar" Roxas II said in a briefing on Thursday that should he win May 9's election, he and running mate Camarines Sur Representative Ma. Leonor "Leni" Robredo would correct the mistakes of the administration of President Benigno "Noynoy" Aquino III.
Related: Mar Roxas: Continuing the 'Straight Path'
Several issues plagued the Aquino administration, involving Roxas, like his mishandling of the Super typhoon Yolanda's rehabilitation effort and the botched Mamasapano operation that killed 60 Filipinos, Inquirer.net wrote.
But Roxas said on Thursday that in his and Robredo's first 100 days in office, they would immediately address the concerns of the public.
Their tandem will have a strong political will to correct the mistakes of the past administrations, Roxas said.
Meanwhile, supporters of Roxas and Senator Grace Poe launched separate online petitions meant to convince either of them to back out of the election to stop the seemingly imminent victory of Davao City Mayor Rodrigo "Rody" Duterte.
ADVERTISEMENT - CONTINUE READING BELOW
The first petition, initiated May 4 on change.org by Nenette Coronel, asked Poe to make the ultimate sacrifice and close ranks in Roxas.
Troy De Leon initiated the petition urging Roxas to be a "hero" and "please withdraw your candidacy in favor of Ms. Grace Poe Llamanzares," he cited on Thursday also on change.org.  
Related: Here's your guide to the 2016 PH presidential elections – Lynda C. Corpuz