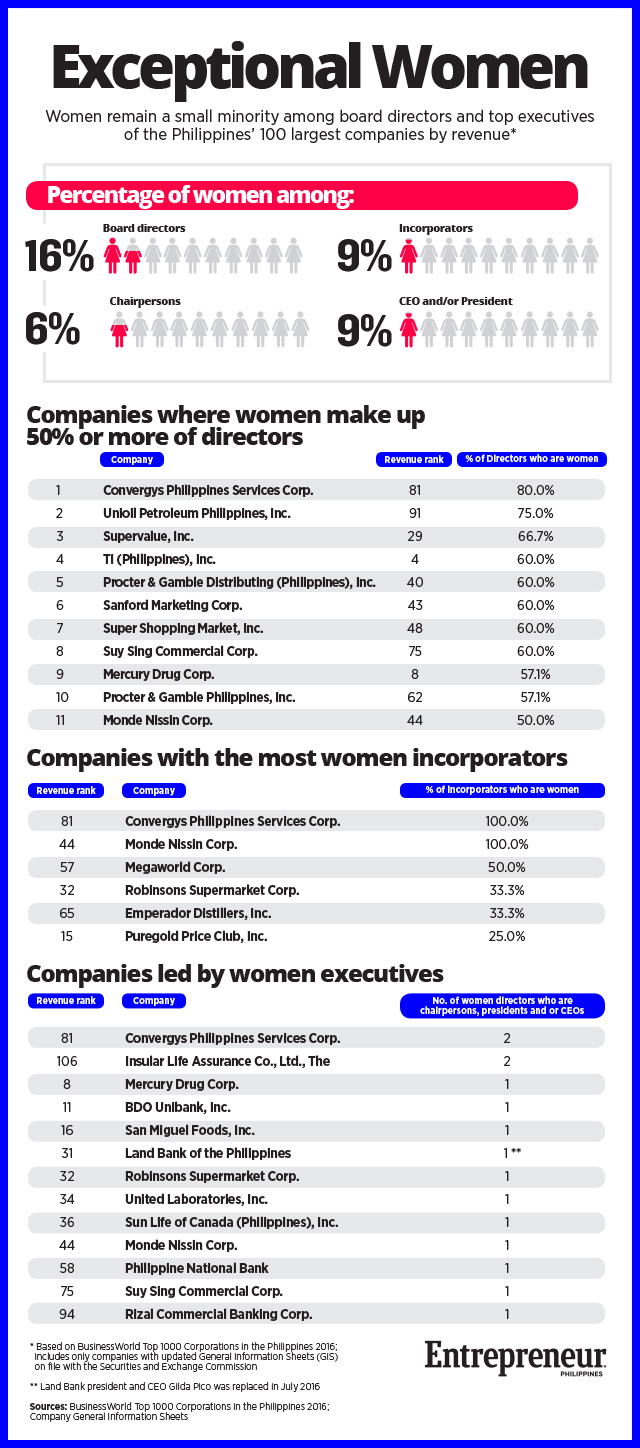 Women make up a tiny minority of the corporate directors who lead the country's biggest companies. Of the 802 members of the board of the country's 100 largest companies, only 128, or 16 percent, are women, according to our research. We looked at the latest general information sheets of more than a hundred of the largest companies by revenue listed in the BusinessWorld Top 1000 Corporations in the Philippines published in 2016.
ADVERTISEMENT - CONTINUE READING BELOW
What struck us while looking at the various companies' corporate records, however, was that there are some companies where majority of the board members are women. We also found companies that were founded or incorporated by women directors as well as firms led by women as chairpersons, presidents and/or CEOs. (See lists in the accompanying infographic)
The proportion of women holding board seats in the country's biggest companies is not that far off from global averages. A Credit Suisse study found that only 14.7 percent of board seats in 3,000 global companies were held by women in 2015. Another study of 4,218 companies by MSCI, a US-based provider of equities, fixed-income and hedge fund market indices, said that women occupied only 15 percent of board seats.
Still, the list of big Philippine companies where women play a substantial role is a very short one. It should be a reminder to the business community that more needs to be done to promote women empowerment in the corporate world.
ADVERTISEMENT - CONTINUE READING BELOW
*****
Pauline Macaraeg is Entrepreneur PH's data journalist. Follow her on Twitter @paulinemacaraeg. With additional research by Ivah Knefriteir De Leon.