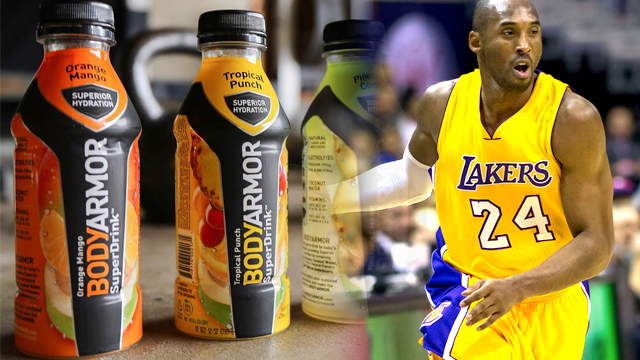 With just one investment, Kobe Bryant's $6 million grew 33-fold in four years to approximately $200 million on August 14, Tuesday.
Global manufacturer of non-alcoholic beverages The Coca-Cola Company announced that they have firmed up an agreement to acquire a minority stake in BodyArmor, a sports drink brand in which Bryant is a majority stakeholder.
The basketball superstar started investing in the brand in 2014, in which he accumulated roughly $6 million over time, according to a report by ESPN. Though both companies declined to reveal the value of the deal, ESPN wrote that according to their sources, Bryant's stake is now worth approximately $200 million because of the deal with Coca-Cola.
"The initial investment is uniquely structured to create value for both companies," Coca-Cola said in a statement. The company said the agreement allows them to increase their ownership stake in the future, as well as gives BodyArmor access to their bottling system in the US, which can help for its potential expansion later.
ADVERTISEMENT - CONTINUE READING BELOW
"BodyArmor is one of the fastest growing beverage trademarks in America and competes in exciting categories. I have no doubt it will prove to be a strong offering to our system alongside our already powerful hydration portfolio as we accelerate our position as a total beverage company," the statement quoted Coca-Cola North America President Jim Dinkins.
Among BodyArmor's products are the original BodyArmor Sports Drink, low-calorie BodyArmor Lyte and BodyArmor SportWater.
A Reuters report said Coca-Cola made the deal in part to compete harder against PepsiCo's Gatorade. Citing Euromonitor International, it said PepsiCo's Gatorade takes up a third of the $20-billion energy drink market in the US.
"Proud of our team at @DrinkBODYARMOR & our new partnership with the @CocaColaCo who believes in our mission of becoming the #1 Global Sports Drink.  Thanks @Gatorade, we'll take it from here… #ObsessedWithBetter," Bryant tweeted on Tuesday, along with a linked article about the deal.
Proud of our team at @DrinkBODYARMOR & our new partnership with the @CocaColaCo who believes in our mission of becoming the #1 Global Sports Drink. Thanks @Gatorade, we'll take it from here… #ObsessedWithBetter https://t.co/fLVnBxWfDE

— Kobe Bryant (@kobebryant) August 14, 2018
*****
Pauline Macaraeg is Entrepreneur PH's data journalist. Follow her on Twiiter @paulinemacaraeg