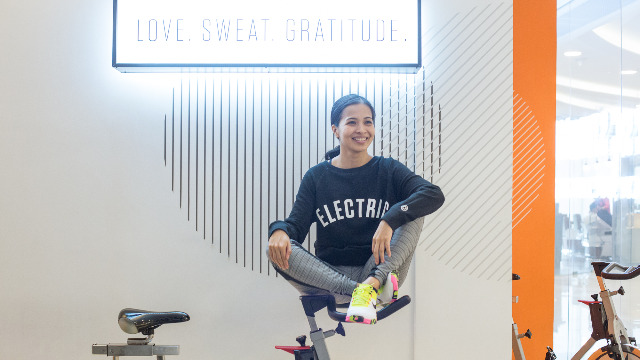 "Oh, it was love at first ride!" Kristina Sy exclaims when asked about how she felt when she discovered indoor cycling. "The 45 minutes just flew by. I was able to get cardio, resistance and weights training."
Taking a chance on a passion she picked up from her stint in New York, Sy floated the idea of opening a studio to a friend who would eventually become her business partner. "Moving back home, I really contemplated starting my own business. I was considering the pros and cons, because it was a risk. But what was worth risking on was my passion. At that time, indoor cycling didn't exist in the Philippines, so it was the perfect time for us to enter the market," she explains.
Sy's biggest business advantage would also be her biggest hurdle. Back in 2014, Manila had no concept of indoor cycling. "No one knew what you could do on a bike for 45 minutes," says Sy. "We wanted to create a one of a kind experience that allowed our clients to escape their busy schedule—a place that would leave them stronger spiritually as well as mentally and physically." This wasn't just about burning calories but about holistic wellness.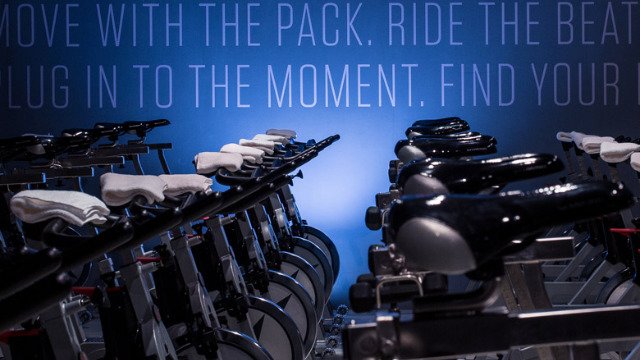 "What I find most fascinating is the ability to make real connections with our riders. Because we interact with them on a regular basis, we build relationships far beyond the transactional. We become part of their lifestyle, a part of their daily routine. Because we get to know our riders at a personal level, we are able to build lasting relationships with them even outside the studio." It was clear Sy understood her clientele through and through.
Knowing just how packed their days are, Sy decided early on that the booking process has to be quick and intuitive. It has to happen in a virtual space that could be accessed any time. Thankfully, Sy partnered with Globe myBusiness. The products and services provided to them fit the connectivity demands of their business operations. Offering mobile, Internet, landline, as well as business solutions, it drastically simplified what could have been a potentially complicated business operation.
Now riders buy and reserve a class before even setting foot in the studio. No more lines, no more fuss; at the studio, with a reservation made, all riders have to do is sign in and pick up the cycling cleats. All the work done in less than 10 minutes.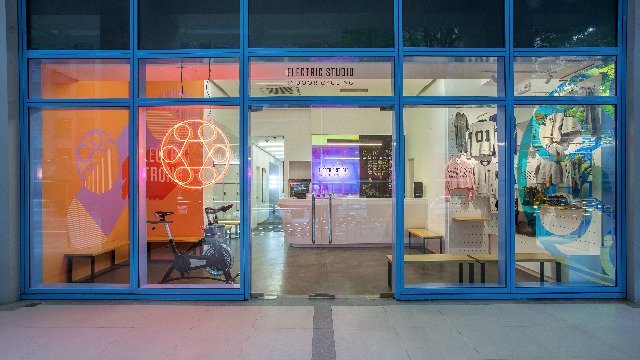 Electric Studio's second branch in Salcedo Village, Makati
If the world wide web is the great equalizer, then Electric Studio has truly tapped the right vein—so much so that it currently operates two branches: its pioneer in Forbestown, Taguig, and another in Salcedo Village, Makati.
Step inside the studio and you'll be treated to a dance party-cum-workout. Heavy beats of the latest pop anthems are matched by flickering strobe lights and colorful LEDs as the instructor calls out for different moves aptly called choreography. There's a palpable sense of community between riders as you power through the session together.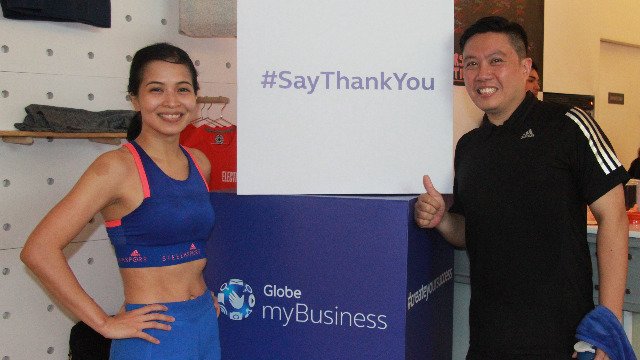 Kris Sy, CEO and founder of Electric Studio, together with Derrick Heng, senior adviser for Globe myBusiness celebrating 09.17 day. 
Last September 17, Globe myBusiness celebrated its partnership with Electric Studio with a special ride offerred for free to Globe customers. Having been the first myBusiness Fiber-powered SME in Forbestown, Taguig, it was only fitting to give back to loyal Globe customers with a great workout, courtesy of Electric Studio. In true Globe fashion, riders who took bike numbers 9 and 17—to form the iconic 0917—were suprised with bluetooth speakers, while everyone else was treated to an insulated tumbler, the perfect companion to the next ride. 
"We love doing things that surprise the industry," she shares, summing up the ethos of Electric Studio. It was the first to introduce indoor cycling in Manila, the first to utilize its instructors' personal Instagram accounts to build its cult, the first to host themed and outdoor rides, and the first Globe myBusiness Fiber customer.
Visit Electric Studio branches in Forbestown, Tagiug, or Salcedo Village, Makati. Book your ride via electricstudio.ph.
Need Fiber for your business? Click here to discover how Globe myBusiness can help your business grow.