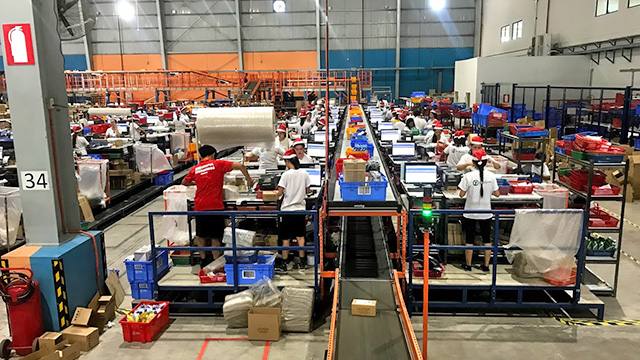 The Lazada warehouse in Cabuyao, Laguna measures 54,000 square meters and has space for five million items
Lazada is the Philippines' biggest e-commerce business but its dreams of expansion isn't limited to cyberspace.
During a media tour of its warehouse facility in Cabuyao, Laguna in the middle of the much-publicized "11-11" sale event, officials of the company showed off a 54,000-square-meter space that serves as the hub for fulfilling orders made through its website.
ADVERTISEMENT - CONTINUE READING BELOW
"This is our single-biggest fulfillment center in Southeast Asia," said Juan Pavez, Lazada Philippines CEO for Logistics/Operations (LeL) as reporters toured the facility. "We have a total storage capacity for around five million items."
To be sure, the facility can't compare to size of the country's biggest shopping malls—SM Megamall, the Philippines second biggest mall, for example, has a total floor area of 474,000 square meters or 47.4 hectares. But in terms of land area, the 5.4 hectares occupied by Lazada's fulfillment center in Laguna is almost half the 10 hectares on which SM Megamall is located.
That underscores an interesting paradox that successful e-commerce companies such as Lazada face: as they grow their business on the Internet, so does their real estate footprint as they build warehouses to be near their customers.
Lazada has plans to build an additional warehouse facility in Clark, Pampanga as well as in several more densely populated areas of the country, including Central Luzon, North Luzon, North Mindanao and other cities in the Visayas.
ADVERTISEMENT - CONTINUE READING BELOW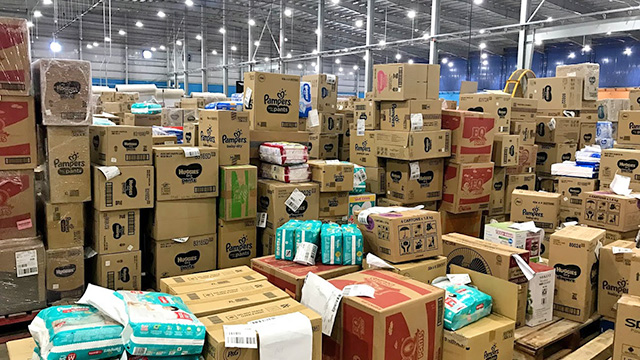 Some of the most popular items during its 11-11 sale are diapers and other products for mothers and babies, health and beauty products, fashion items and phones and accessories
In addition to the warehouse in Laguna, Lazada also has fulfillment centers in Mandaue in Cebu, which was opened in 2015, and one in Davao City, which was opened in October 2018. Pavez also said the company has 50 additional distribution centers, or smaller hubs where products land before they are delivered to customers, scattered around the country.
ADVERTISEMENT - CONTINUE READING BELOW
On November 11, the company said it had around 80 million items from its more than 30,000 sellers in the country for sale, many of which carried discounts of up to 90 percent. The seller count goes up to around 400,000 for the whole of Southeast Asia.
"Just to give you an idea, we already hit around 60 percent of our daily target at 9 a.m. today," Pavez said.
He added that they expected to sell about 15 times more than their average daily sales and about twice more than their total during the 11-11 sale event in 2017. The company, however, declined to mention actual figures.
The company said it is investing further in logistics services, including in its own delivery fleet, warehouses and logistics providers. Pavez said it is the company's vision to be a tech-driven platform and to be known not just in retail but as an "ecosystem."
Lazada Philippines is already the country's top e-commerce platform, with about 30 million monthly page visits and around 27 million Facebook "fans," representing about 25 percent of the entire Philippine population.
ADVERTISEMENT - CONTINUE READING BELOW
The company said the country already has about 47 million e-commerce users this year, generating about $6 billion in transaction value, representing a 17-percent increase year-on-year.
*****
Paul John Caña is the managing editor of Entrepreneur PH