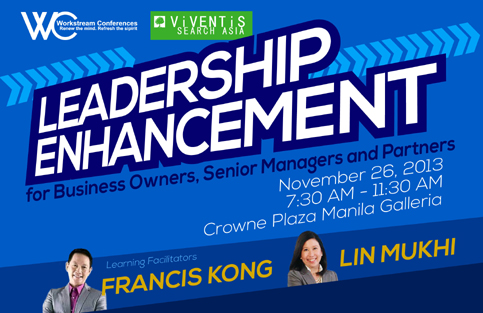 This November 26, from 7:00-11:30am, a great opportunity is offered to business owners and managers to get an update on trends and practices that enable leaders to level up thinking and pursue growth.  The learning event features top-notch speaker, author and businessman Francis J. Kong to talk on "Best Practices in Leadership of Successful Entrepreneurs" and "Maximizing Productivity".  Francis will discuss critical issues such as "How does the leader create a passion for excellent results among his team? How will the leader fuel his personal growth? What is valued vs. not-valued in today's successful business models?"

Co-speaker is Lin Mukhi, author of Smart Moves in the Workplace, an award-winning human resource executive and organization development consultant.  Lin Mukhi will talk about "Core Tools for Performance Achievement" which  translate the leader's vision and ideas into action.  Three practical how to's will be tackled:  "How do you design the evaluation scorecard as early as during planning for key results?  How will the manager  analyze drivers and constraints for achievement?  How do you make coaching key to developing performance?"

The learning facilitators embody the event concept of partnership between the business owner and the professional manager, thus assuring participants of balanced, practical and success-based insights. This seminar is certainly designed to move your thinking three steps forward to help you gear up in the right direction for 2014.  

For details, call Krizia at 6375636 or go to www.viventis-search.com/events . You may also send email to events@viventis-search.com.


ADVERTISEMENT - CONTINUE READING BELOW