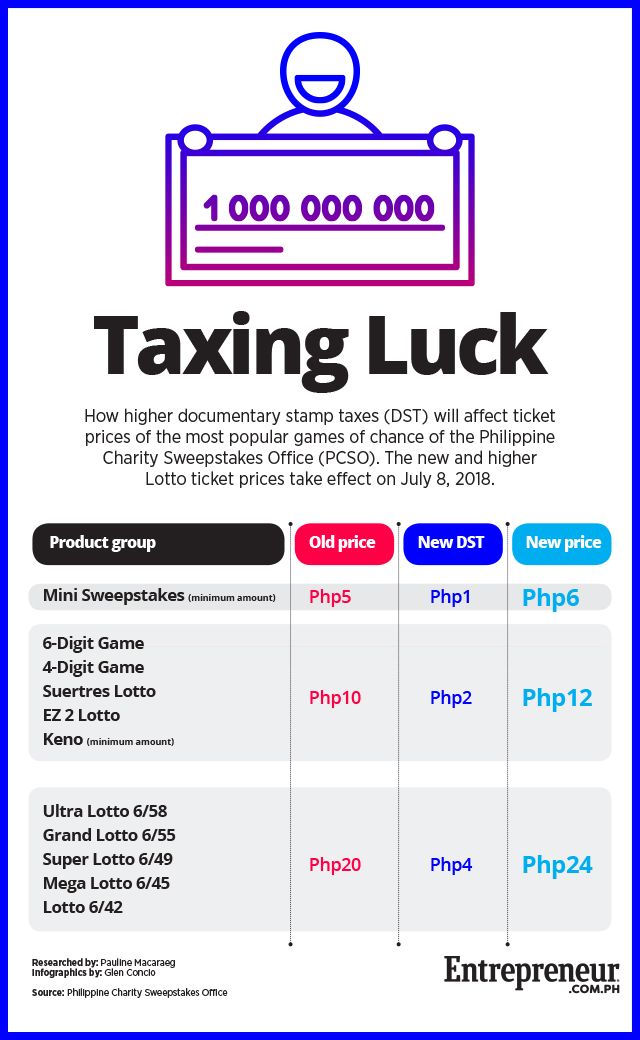 Lottery and other gaming tickets sold by the Philippine Charity Sweepstakes Office (PCSO) will cost 20 percent more due to higher taxes brought about by the Tax Reform for Acceleration and Inclusion (TRAIN) law that took effect early this year.
Starting July 8, lottery tickets will be subject to higher documentary stamp taxes (DST), which doubled under the TRAIN law except for a few transactions.
ADVERTISEMENT - CONTINUE READING BELOW
As a result of the TRAIN law, Lotto tickets that used to sell for Php5 will go up to Php6, while Php10-tickets will climb to Php12 and Php20-tickets will increase to Php24, according to a notice posted on the PCSO website.
Effectively, tickets for Ultra Lotto 6/58, Grand Lotto 6/55, Super Lotto 6/49, Mega Lotto 6/45 and Lotto 6/42 will cost Php24 instead of its usual price of Php20.
Meanwhile, tickets for the 6-Digit Game, 4-Digit Game, Suertres Lotto, EZ 2 Lotto and the minimum amount for Keno will now cost Php12. As well, the minimum amount for the mini sweepstakes will increase to Php6 from Php5.
Aside from the increase in the prices of lottery tickets, lotto winnings are also now subject to tax under TRAIN.
PCSO is the government agency that raises funds mainly through the sale of sweepstakes and lottery games. The funds are used for charity programs, such as health assistance and provision of medical services to Filipino communities.
ADVERTISEMENT - CONTINUE READING BELOW
*****
Pauline Macaraeg is Entrepreneur PH's data journalist. Follow her on Twitter @paulinemacaraeg