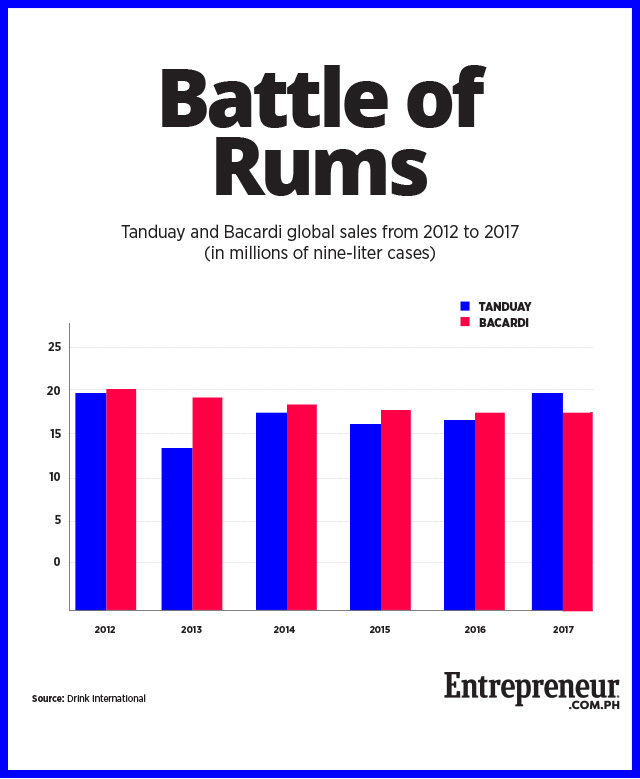 Homegrown brand Tanduay rum has overtaken world-renowned Puerto Rican brand Bacardi as the world's top-selling rum, several news outlets reported on Wednesday, June 13.
In a report by Business World, Tanduay Distillers Inc. (TDI) Chief Financial Officer Nester Mendones said Tanduay sold 19.5 million cases of rum in 2017, up by 17 percent from the year before while former best-selling rum Bacardi sold 16.8 million cases in the same period, lower by three percent year-on-year. Mendones said the data came from the latest report of spirits trade magazine Drinks International.
ADVERTISEMENT - CONTINUE READING BELOW
"Aggressive marketing efforts in the Visayas and Mindanao drove sales," Mendones said in the report by BusinessWorld.
The record amount of sales volume drove the company's revenue increase in 2017 to Php16.8 billion, up by 12 percent from the year before.
Since 2013, TDI has been enjoying an annual increase in sales volume of its rum brand, a report by Drinks International published on its website last year showed. By 2017, it was already the second best-selling rum in the world, outranking India's McDowell's No. 1 Celebration.
Despite its global standing, Tanduay's exports only account for less than one percent of the brand's total sales, a number the company expects to grow in the next three to four years. The company is looking at strengthening its Tanduay Asia brand abroad. In October 2017, the company signed a two-year partnership deal with reigning NBA Champion Golden State Warriors.
Related story: Tanduay is First PH Company to Partner with NBA Team and Arena
ADVERTISEMENT - CONTINUE READING BELOW
Locally, Tanduay saw its market share go up to 25.5 percent of distilled spirits category, said Mendones. It is one of the three biggest distilled spirits makers in the Philippines, along with Emperador Distillers Inc. and Ginebra San Miguel Inc, according to Euromonitor International, a market research firm.
TDI is a subsidiary of listed conglomerate LT Group Inc., founded by the country's fourth richest billionaire, Lucio Tan. Under TDI are three other alcoholic drink makers: Asian Alcohol Corp., Absolut Distillers, Inc. and Tanduay Brands International Inc. with around nine alcohol brands in its portfolio.
*****
Elyssa Christine Lopez is a staff writer of Entrepreneur PH. Follow her on Twitter @elyssalopz