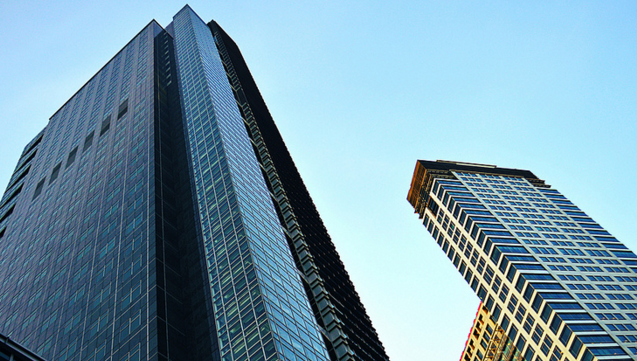 MANILA, Philippines – The continuous growth of outsourcing and offshoring businesses in the Philippines has created a significant demand in office spaces in Metro Manila.
"2015 saw net take-up for premium and Grade A office spaces totaling to 459,000 square meters, which is the highest that we've recorded," said Michael McCullough, co-founder and managing director of KMC MAG Group, the associate in the country of global property advisor Savills.
ADVERTISEMENT - CONTINUE READING BELOW
Based on data shared by KMC MAG Group Research, Makati's Central Business District remains as the most premium CBD in the country's capital, followed by Bonifacio Global City (BGC). Meanwhile, the Bay Area and Quezon City continue to outperform Ortigas Center, Alabang, and other sub-markets given the supply and demand dynamics within these markets.
The current average monthly rental rate in Makati CBD has increased to P980.80 ($21) per square meter, still the most expensive in the country.
Within three years, office space vacancies in the metro are expected to rise, as there would be an estimated 1.8 million square meters of new office spaces that would be available to tenants. Most of those are located in Makati CBD, BGC, Alabang, Quezon City, and the Bay Area.
Improving economy
Antton Nordberg, head of research at KMC MAG Group said Metro Manila is the 8th most preferred city or location for real estate investors in the Asia-Pacific region. The same list included (in order, from top) Tokyo, Sydney, Melbourne, Osaka, Ho Chi Minh City, Jakarta, and Seoul. Following Metro Manila on the list are Shanghai and Auckland.
ADVERTISEMENT - CONTINUE READING BELOW
Office spaces are still the most wanted asset class in the real estate sector in the country and Nordberg is confident that leasing activity would continue to perform robustly this year.
As expected, the business process outsourcing (BPO) sector contributed much to the CBD take-up record in 2015 as it reached a record 435,000 square meters, and the same levels is expected to continue in 2016. Additional demand for office space is also expected this year from the financial services, insurance companies, and other related sectors.
McCullough said that while primary production (consisting of agriculture, forestry, and fishing) and the industrial sector have been declining, the service industry is continuously rising. Private services presently account for about 57% of the gross domestic product (GDP) in 2015.
"Within the past three decades, the Philippines has started its transformation from a highly agricultural economy to a service-based one," McCullough said. He added that the high economic performance of the country can be attributed to this shift.
ADVERTISEMENT - CONTINUE READING BELOW
This year, the country's outsourcing industry is expected to outpace overseas Filipino Workers remittances, which has been the main driver of economic growth for the past several years.
*****
Photo from Flickr/ John Caleb
James is the managing editor of entrepreneur.com.ph. Follow him on Twitter, @james_humarang.