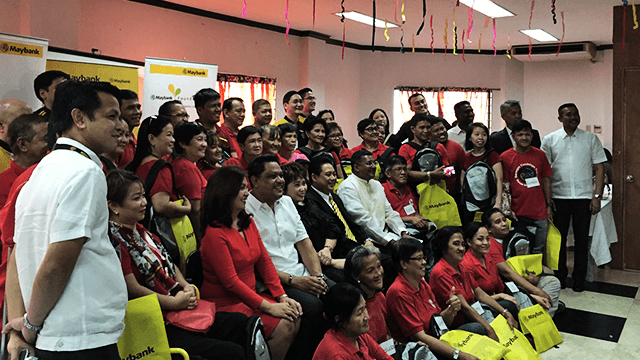 Despite living just a stone's throw away from the Makati financial district, where the country's biggest universal banks and financial institutions are headquartered, micro entrepreneurs in the city's poor barangays remain starved of badly needed funds for working capital.
Owners of very small establishments such as eateries, bed space renters and dress-making shops in Barangay East Rembo in Makati said raising capital for their businesses is tough because they do not have access to loans from banks and large financial institutions. As a result, they rely mostly on personal funds, limiting their businesses' ability to expand.
Some are even forced to borrow from so-called "five-six" lenders despite the high interest rates in times of family emergencies. Composed mostly of both Filipino and Indian nationals, these lenders charge an implied interest rate of at least 20 percent a month or 240 percent a year. Typically, they require a payment of six pesos for every five pesos lent out after 30 days.  President Rodrigo Duterte had ordered the arrest, even without a court warrant, of Indian nationals engaged in "five-six" lending.
ADVERTISEMENT - CONTINUE READING BELOW
Related Story: Despite High Rates, Bombay 5-6 Loans Helped After Asian Crisis, Study Says
The micro entrepreneurs are participants in a three-day business training program for low-income and differently abled business owners conducted by Maybank Foundation, the philanthropic arm of Malaysia's biggest bank by assets. Called the Reach Independence and Sustainable Entrepreneurship (RISE), the program helped participants in Malaysia, where it was first implemented, triple their income after the six-month training and mentorship program.
"We want to enliven the term financial inclusion by making them bankable," said Maybank Foundation CEO Shahril Azuar Jimin.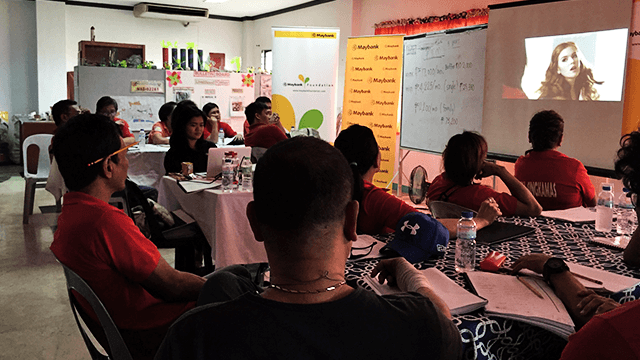 Barangay volunteer and home-based seamstress Corazon Palaroan, 35, admitted she didn't even bother applying for a bank loan. "There's nothing there for us (micro entrepreneurs)," she told Entrepreneur PH. "I never tried it." She was able to get a loan from the Makati city government's microlending program but added that the amount was too small for her needs.
ADVERTISEMENT - CONTINUE READING BELOW
Beth Mitas, also a home-based seamstress, said she finds the process of applying for a loan either from banks or even the city government too cumbersome. "There are too many application (requirements) for microlending," she said.
Opinion is divided among those who availed themselves of "five-six" loans on whether the scheme was helpful or not.
Lolita Uy, who rents out bed space in her home, said she is still paying off an Php8,000 loan she borrowed two years ago because most of her past payments went to the amortization of interest alone. "I have to continuously pay for the interest until I pay the capital in full," Uy said. The fiftysomething barangay volunteer said she turned to "five-six" lenders when her ailing grandchild needed to be brought to the hospital.
But for Guy Ramirez, who owns a small eatery, "five-six" lenders have been helpful in times of need, even with the steep interest rates.  "Sometimes, you'd be forced to engage in such practice due to an emergency," he said.
The Department of Trade and Industry is currently rolling out an Php18-billion lending program for micro and small entrepreneurs called "Pondo para sa Pagbabago at Pag-asenso" or P3.  Loans from Php2,000 to as much as Php300,000 can be borrowed by micro and small entrepreneurs with no collateral for only two percent per month, said Trade and Industry Secretary Ramon Lopez.
Micro entrepreneurs are businesses with assets of less than Php1.5 million while small entrepreneurs are enterprises with assets of between Php1.5 million and Php15 million, according to Bangko Sentral ng Pilipinas regulations.
ADVERTISEMENT - CONTINUE READING BELOW
The government launched the P3 program to complement the private banks' microlending programs. Though launched back in the early 2000s, the banks' microlending portfolio amounted to only Php11.3 billion as of end-2015 and reached only 1.5 million low-income entrepreneurs, according to the Bangko Sentral ng Pilipinas.
 *****
Elyssa Christine Lopez is Entrepreneur.com.ph's staff writer. Follow her on Twitter @elyssalopz