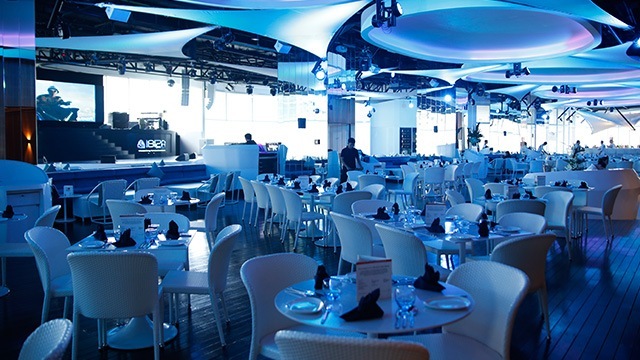 Ibiza Beach Club in Bonifacio Global City measures nearly 4,000 square meters and can seat 1,000
Even in the midst of an intensely vibrant local culinary scene, when new dining concepts are seemingly mushrooming all over urban centers at a breakneck pace, businessman Manny Osmeña's decision to build a Php300-million restaurant concept in prime real estate in the heart of the burgeoning Bonifacio Global City is impressive.
ADVERTISEMENT - CONTINUE READING BELOW
But the 63-year-old Cebuano, whose Ibiza Beach Club promises to take dining "to the next level," is used to huge gambles. In 2011, he closed down the old Hilton Hotel in Cebu City for extensive renovations that cost him Php500 million. Five months later, it reopened as Mövenpick Hotel Mactan Island Cebu. Since then, Osmeña reports the property has grown from strength to strength, becoming one of the Queen City of the South's most popular hotels.
One new feature the refurbished Mövenpick offered was Ibiza, a dining concept that offers an all-you-can-eat Balearic-inspired 15-course grill, sunset-by-the-beach cocktails and live entertainment courtesy of bands or DJs. Ibiza proved to be so popular it's often ranked by local and national publications and travel websites as one of the top restaurants and nightspots in Cebu.
It turned out it was only the beginning of Osmeña's plan to replicate the concept in other parts of the country and the world.
ADVERTISEMENT - CONTINUE READING BELOW
Manny Osmeña copyrighted the name Ibiza Beach Club and plans to take it to Boracay, Shanghai and Beijing next
"It was always the idea already that I wanted to go global," Osmeña says during an interview at Ibiza in BGC. "Even when I started the first Ibiza in Cebu. But that first one was just a training ground for me. It took me so many years to decide to do the first franchise, which is this one. And since this is the first, and we're located in one of the world's most populated metropolises, I said this has to be the flagship. Because this is going to be the show window to the world."
ADVERTISEMENT - CONTINUE READING BELOW
Osmeña's main intention was to franchise the Ibiza brand and concept. He trademarked the name Ibiza globally, which means he owns the rights to the name and basically the entire concept of the "lifestyle dining" establishment. But he decided to become an investor himself in the first franchise in BGC because, according to him, the people who chose to franchise Ibiza were all his drinking buddies and friends.
"They said 'Why don't you become a partner also?' And since this will be our flagship, I said sure."
The Cebuano businessman says the move shows his belief and confidence in his own concept. "You put your own money. If it's just a franchise, you sign a contract and you're taking money. But here, before I even take money, I'm putting in money."
Osmeña's four other partners in Ibiza BGC include the Bench group, led by Ben Chan, the W Group (which owns the building where Ibiza is located) led by the Wee family, plus "a group of very senior officers of Unilab, and a group of my very good friends who are heavyweights in mining."
ADVERTISEMENT - CONTINUE READING BELOW
The Php300 million investment shows when you walk inside. Located at the sixth floor of the W City Centre, Ibiza is massive. It measures close to 4,000 square meters and can seat 1,000. Osmeña says the Ibiza in BGC and the original location in Cebu are "brothers." If you've been to the one in Cebu, it's easy to see why.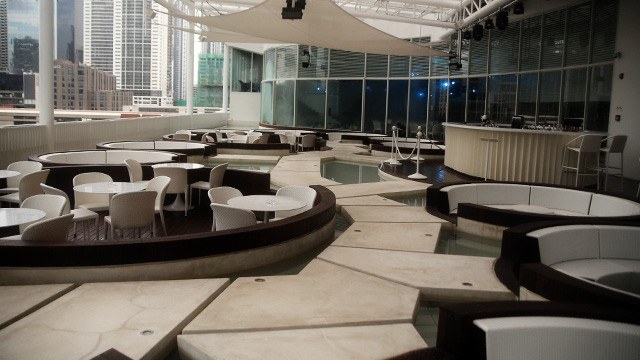 ADVERTISEMENT - CONTINUE READING BELOW
Ibiza Beach Club's outdoor deck seating area
"They have the same DNA," he says. "We used the same elements in Cebu here, including natural wood, or ironwood, but this time, we extended it to the walls. The sound system in Cebu, it's more rugged, it's black. Here, it's white, more refined. But the colors used, components, furniture, it's the same. Even the Ibiza chair is a slightly improved version from the one in Cebu."
While Osmeña spared no expense in all the other elements of Ibiza, including a state-of-the-art sound system, well-trained staff that number about 100, and a semi-private area with its own Jacuzzi, the main focus is the food.
"Ibiza is lifestyle dining plus unrivaled entertainment," he says. "We are not a club, although it's in the name. The pinnacle of your experience is when the food touches your mouth. So I was trying to look for something that would engage the senses. And balance off the pleasures of all the senses."
ADVERTISEMENT - CONTINUE READING BELOW
In addition to the signature 15-course grill, which is basically a variety of meats and seafood served tableside by waitstaff, Ibiza also offers an a la carte menu featuring creative interpretations of classics such as Mediterranean Foie Gras, Tomato Bouillabaisse with Basil Soup, Paella Eivissa, Pao de Queijo, Seafood Marinara, a 250g Manny O. Signature Wagyu Burger, Crab Meat Ravioli and a 250g Snake River Farms Wagyu Ribeye Steak.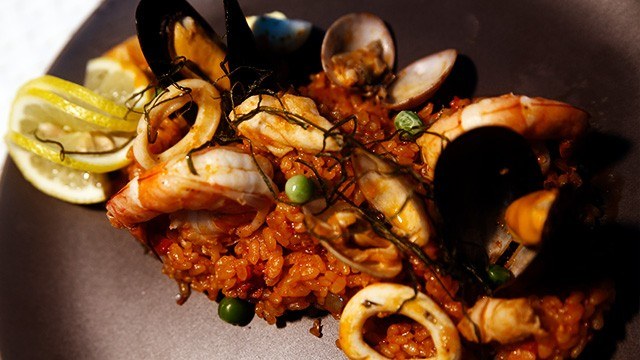 ADVERTISEMENT - CONTINUE READING BELOW
Paella Eivissa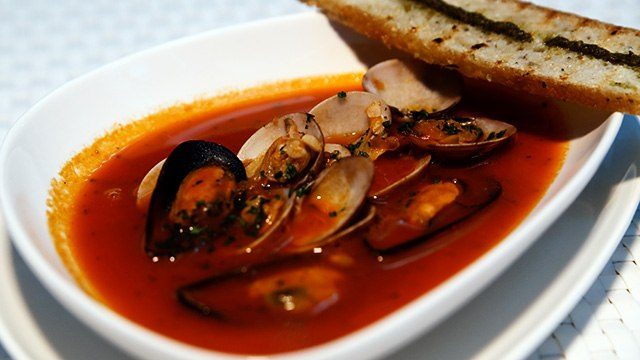 Tomato Bouillabaisse with Basil Soup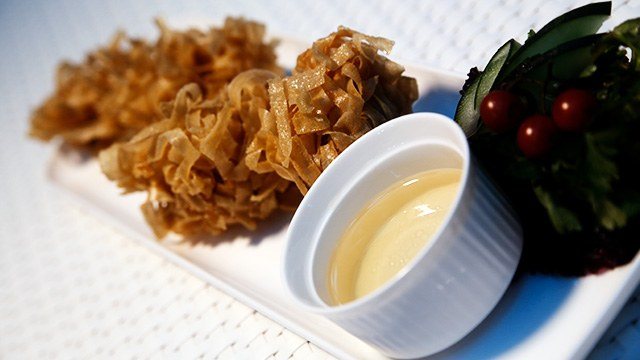 ADVERTISEMENT - CONTINUE READING BELOW
Spikey Shau-Mai
"We changed the menu a few times because it will be universal on all Ibiza properties. Of course, through the years, we will continue to tweak because we have to have the right variety in the menu to basically fit all preferences."
As for Osmeña's dreams to take the Ibiza brand globally, he reveals that there are already serious negotiations to open three more franchises in Boracay, Shanghai and Beijing.
"The guys that are talking to me in Shanghai and Beijing, although they never asked me, I told them I'm interested to be part of it," he says. "Because I'm so confident that it's going to fly."
He also reveals an appealing approach for anyone interested in franchising Ibiza. "I've decided that up to the first five franchise, I won't charge an upfront fee," he says. "I will only charge you on revenue, which means I take a percentage of revenue. In effect, until you start doing business, I take nothing. After the first five, I will take a big upfront fee as part of the capitalization of the franchise."
ADVERTISEMENT - CONTINUE READING BELOW
Osmeña hesitates when asked if there's already a target date for the next iteration of Ibiza.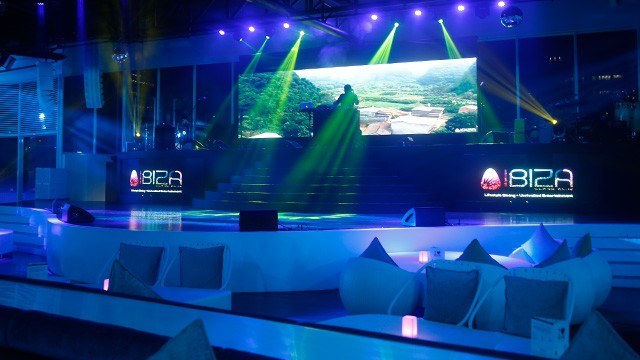 Ibiza offers nightly entertainment from live singers or DJs
"I don't want to play god. I really don't know. This Global City one, I thought it would have been later. I started talking to people two years ago, but I could not find a suitable partner, as well as suitable space and location for the longest time." He reveals he was first offered to open Ibiza in one of the integrated casino resorts in Entertainment City. "But I wasn't interested," he says simply.
ADVERTISEMENT - CONTINUE READING BELOW
Besides Ibiza and Mövenpick, Osmeña's Manny O Group has interests in alcoholic drinks (Manny O Wines), food service (Skykitchen Phil) and logistics (Skylogistics). He says all the other subsidiaries are "doing well," although he adds he's not the type to rest on his laurels.
"We continue to work even harder," he says. "What makes the defeat is when you realize you did well and you just stop. That's when you become defeated."
*****
Paul John Caña is the managing editor of Entrepreneur PH