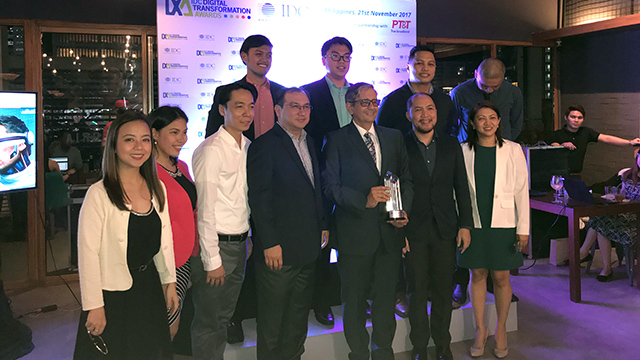 Maynilad Water Services, Inc. was hailed as the country's "Digital Transformer of the Year" by the Philippine unit of International Data Corp. (IDC), a global provider of market intelligence with more than 1,000 analysts worldwide.
The award was given during IDC's Digital Transformation (DX) Awards last Nov. 21 at the Alegria Cozinha Moderna & Sangria Bar in Bonifacio Global City. The event marked the end of the 11-month search for the country's best digital transformation initiatives of companies that leave a great impact on their served markets.
ADVERTISEMENT - CONTINUE READING BELOW
Maynilad received the award for its use of digital and disruptive technologies in its operations, said Jubert Daniel Alberto, IDC Philippines' country head. He said the company "demonstrated success in a project where there is synergy between business and IT management disciplines and has delivered digitally enabled products and services over a sustained period."
"Driven by the challenges of non-revenue water (NRW) and having a low percentage of customers with 24-hour water supply, Maynilad embarked on transforming its 'Stone Age' practices to the cutting edge of global best practice in today's ICT economy," IDC said in a statement. "As a result, NRW was reduced to 33 percent in 2017 compared to 67 percent in 2006. Clients likewise topped 1.3 million in 2017, from 600,000 in 2006."
IDC also recognized Maynilad's efforts in streamlining its customer support system, particularly the digitization of its billing procedure and the utilization of an interactive online application platform.
In his response to the award, Francisco C. Castillo, senior vice president and chief information officer of Maynilad, said, "I think the project that was awarded was the integration of IT (information technology) and OT (operations technology), which is really the integration of our information technology with plant automation and operation. It's today's buzzword: IT and OT integration. Worldwide, many companies are discussing it. But we're very proud to say that we did this already three years ago. It's a reality and it came out of a necessity."
ADVERTISEMENT - CONTINUE READING BELOW
Marcos D. de Jesus, senior assistant vice president for the technical services division, added that among the benefits of IT and OT integration is faster remote detection and location of leaks in Maynilad's main water and sewerage pipes all over its concession area.
Apart from Maynilad, IDC also recognized BIMA, a Sweden-based fintech startup, as the "Digital Disruptor of the Year" for its mobile microinsurance initiative. It also named AIR21, a logistics company, as the "DX Leader for Operational Transformation" for its Project Command Center, which implements a completely automated report system for all deliveries thus providing real-time information.
Related story: Accident and Life Insurance for Only Php5 a Day?
IDC Asia Pacific senior analysts reviewed and deliberated each submission, and the awardees were selected through three rounds of judging and scoring by a designated panel.
The three winning companies will represent the Philippines and join the other IDC DX Awards winners from other participating countries in Asia. The culminating event, which will hail "Asia's best of the best," will take place on Nov. 28 at the Gardens By The Bay in Singapore. 
ADVERTISEMENT - CONTINUE READING BELOW
"In the DX economy, creative use of technologies will be the biggest equalizer among competing organizations and economies within the region. It is thrilling to see this level of innovation form the Philippines and we look forward to more local DX success stories in the coming years," said Sudev Bangah, managing director of IDC ASEAN.
With additional reporting by Roel Landingin
*****
Pauline Macaraeg is Entrepreneur PH's data journalist. Follow her on Twitter @paulinemacaraeg