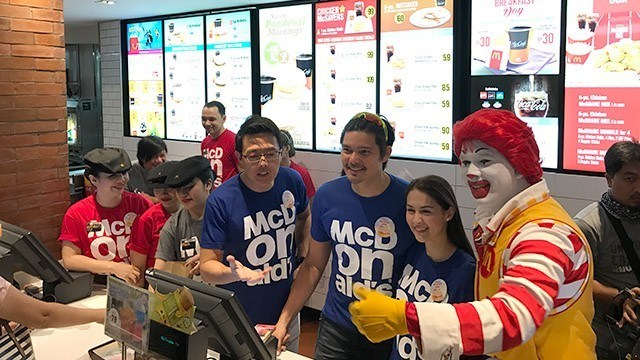 McDonald's Ph president Kenneth Yang is joined by actors Dingdong Dantes and Marian Rivera as well as Ronald McDonald to serve free breakfast to diners in celebration of National Breakfast Day at the McDonald's branch in Valero Street, Makati City
McDonald's Philippines has launched a new online video to mark the fifth edition of its annual National Breakfast Day on Monday, March 13, 2017.
It's the fast food giant's third online video after similar campaigns in 2015 and 2016.
This year, McDonald's chose to pay tribute to educators in the video titled Good Morning, Teacher. The company said it "extends the experience of National Breakfast Day to groups of early risers or those unable to enjoy a good breakfast because they are up earlier than everyone else to work or serve."
The video comes just weeks after rival chain Jollibee came out with a trio of hugely successful online videos during Valentine's Day.
ADVERTISEMENT - CONTINUE READING BELOW
Related story: Clicks To ChickenJoy: Do Jollibee's Viral Videos Boost Sales?
But McDonald's says they started the trend of thematic online video campaigns.
"I'd like to think that we pioneered that years ago and we continue to do that," said McDonald's Philippines President and CEO Kenneth Yang.
McDonald's gave away free breakfast sandwiches to customers from 6 a.m. to 7 a.m. on National Breakfast Day. A total of 450 of the fast food chain's 520-plus stores nationwide participated, with each store giving away its signature Egg McMuffin, Sausage McMuffin and new product Burger De Sal to its first 1,000 customers.
Yang estimated that Mcdonald's' breakfast menu items contribute about 15 percent to the company's annual gross sales. National Breakfast Day, he added, was a way to spread awareness about their breakfast offerings.
"Since we started five years ago, definitely in terms of awareness, our breakfast menu has been growing every year," he said. "It's been a very successful event for us so we're committed to doing it every year."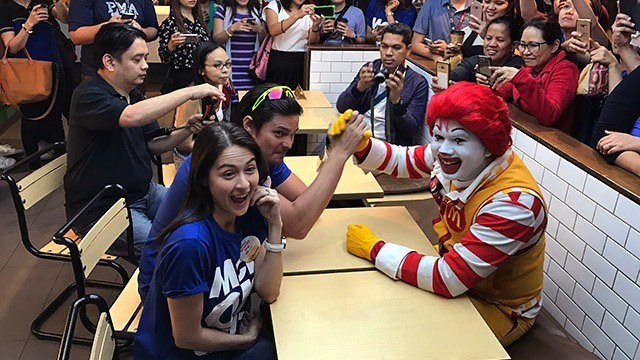 ADVERTISEMENT - CONTINUE READING BELOW
Actors and McDonald's brand ambassadors Dingdong Dantes and Marian Rivera-Dantes pose with Ronald McDonald during National Breakfast Day at McDonald's Valero branch in Makati City
Yang was present at the Valero branch of McDonald's in Makati City, wearing a special company shirt and handing out the breakfast sandwiches to a long line of eager customers. He was joined by celebrity endorsers Dingdong Dantes and his wife Marian Rivera-Dantes.
Competition between the two leading fast food chains in the Philippines has been heating up in recent years after McDonald's stepped up the opening of more branches. Based on Entrepreneur PH's count, Jollibee has at least 40 percent more branches in Metro Manila than McDonald's. However, the American fast food brand managed to edge past its rival in three of four business districts—Makati City, Bonifacio Global City and Binondo, Manila.
Related Story: Jollibee vs McDo: Who's Leading in the Metro 
*****
Paul John Caña is the managing editor of Entrepreneur PH