In this age when truly innovative startups can disrupt an entire industry, no company is invincible, as Kodak and Nokia know only too well.
"One of the biggest mistakes a large company can make is to give up their ability to evolve and adapt quickly as new technology capabilities emerge," Amazon Web Services (AWS) CEO Andy Jassy said in his keynote speech at the recently concluded re:Invent in Las Vegas.  
ADVERTISEMENT - CONTINUE READING BELOW
McDonald's, the world's largest fast-food chain by sales with more than 18,000 locations worldwide, is not taking any chances. In 2013, the company hired the fast-food industry's first chief digital officer (CDO), Atif Rafiq. It was one of the few large international companies to appoint a C-level executive to oversee digital strategy. (In 2015, a PwC study found that only 6 percent of the 1,500 biggest global companies have hired a CDO.)
Rafiq's experience in Amazon's Kindle division brought a fresh take on how to deal with diners at the age of disruption. He oversaw McDonald's initial ventures toward digital transformation – rolling out an e-commerce platform to building a digital culture within the organization.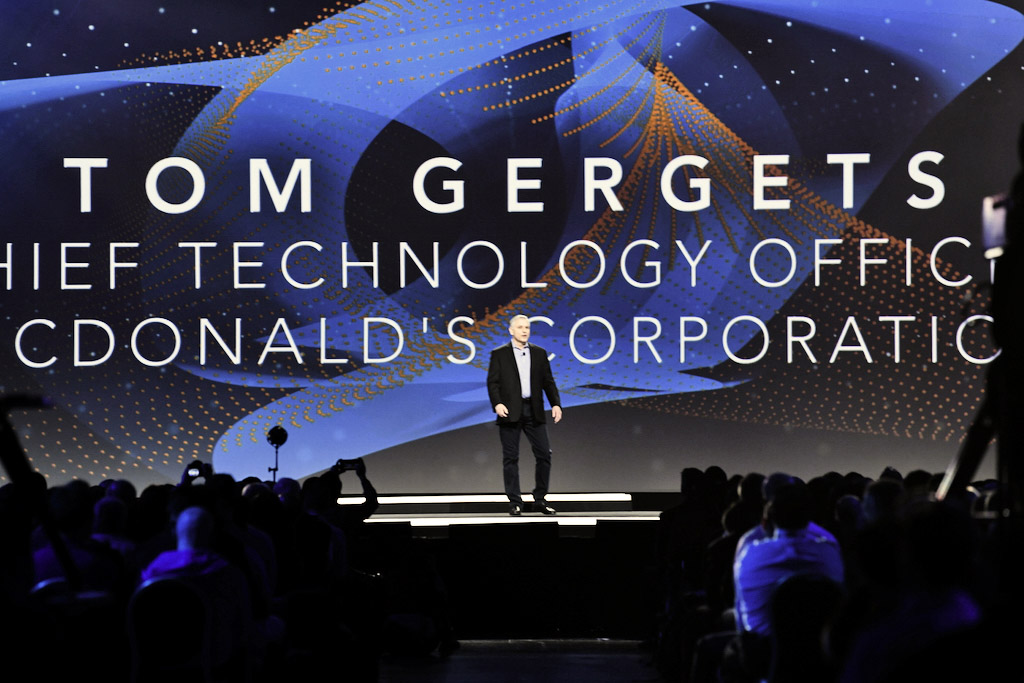 ADVERTISEMENT - CONTINUE READING BELOW
"We know our customers' expectations are changing. They're looking for what is available  24/7 from inside of our restaurants and out," said Tom Gergets, McDonald's chief technology officer, in a speech at the re:Invent conference. "They're looking for personalized experiences. They're looking for recognition for their loyalty." 
Amid tougher competition and shifting consumer preferences for healthier food, McDonald's restructured its organization, classifying business segments into four last year: the US, international lead markets (mostly in Europe), high-growth markets (mostly in Asia) and foundational markets.  
"Orchestrating change and transformation in a company the size of McDonald's is very challenging," said Gegrets. "Integrating our world-class point-of-sales system in itself is one of those challenges." McDonald's sales system has 300,000 devices worldwide. 
As it looked for a partner that can help implement its digital transformation, McDonald's had three major requirements in mind for its new system—scalability, security, capacity—basic ingredients needed to cater to its 69 million customers a day in 36,000 restaurants with 6,000 menu items, Gergets said.  
ADVERTISEMENT - CONTINUE READING BELOW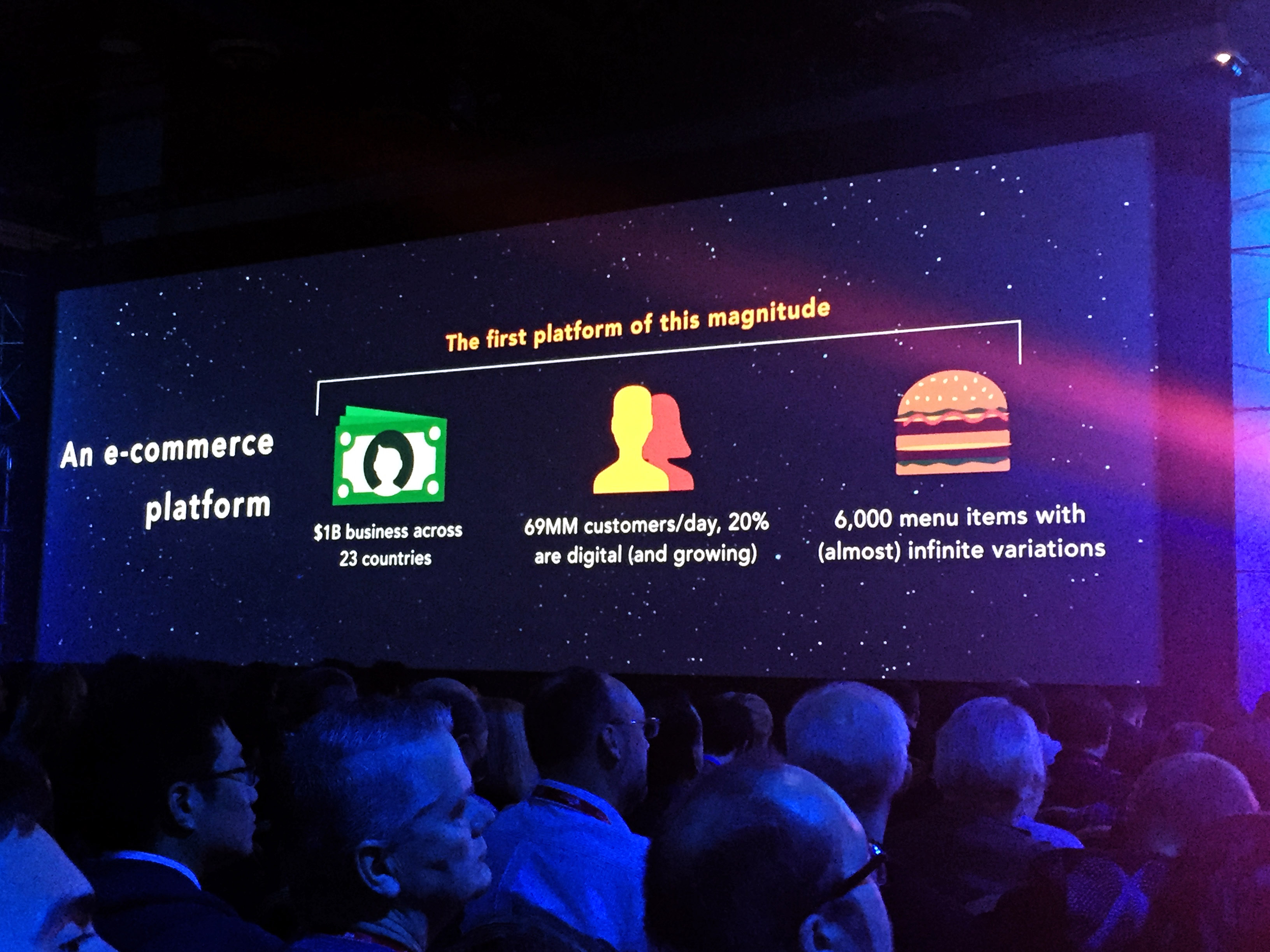 Eventually, it turned to Amazon Web Services, the world's leading cloud service provider, accounting for almost a third of the cloud infrastructure services market. AWS' platform enabled McDonald's to build its e-commerce business, with its delivery application, more popularly known as McDelivery, as the pillar. 
ADVERTISEMENT - CONTINUE READING BELOW
Its fans in Asia were the first ones to have a taste of this upgrade. Since launching its delivery app, McDonald's e-commerce market has grown to a billion dollars, encompassing 23 markets. 
"We had a target of 350,000 transactions every hour but we achieved 500,000, 43 percent greater," Gergets said. 
The company now looks forward to bringing the platform to China, one of its most important markets, in the first quarter of 2017. It is looking for a franchising partner that will take over its 1,400-strong network and will build 1,300 more in the world's most populous country.
Despite its successful digital transformation, McDonald's is not resting on its laurels. It continues to improve its advanced backend service while beefing up the organization's capability.  Since its digital pivot, McDonald's cloud team has grown into a 180-people strong workforce.
"Focus on the organization as much as new technology. We all figured out the tech stuff and having the right organization and right people and focus are essential to success," said Gergets, summing up some lessons from McDonald's digital transformation.
ADVERTISEMENT - CONTINUE READING BELOW
*****
Elyssa Christine Lopez is Entrepreneur.com.ph's staff writer. Follow her on Twitter @elyssalopz