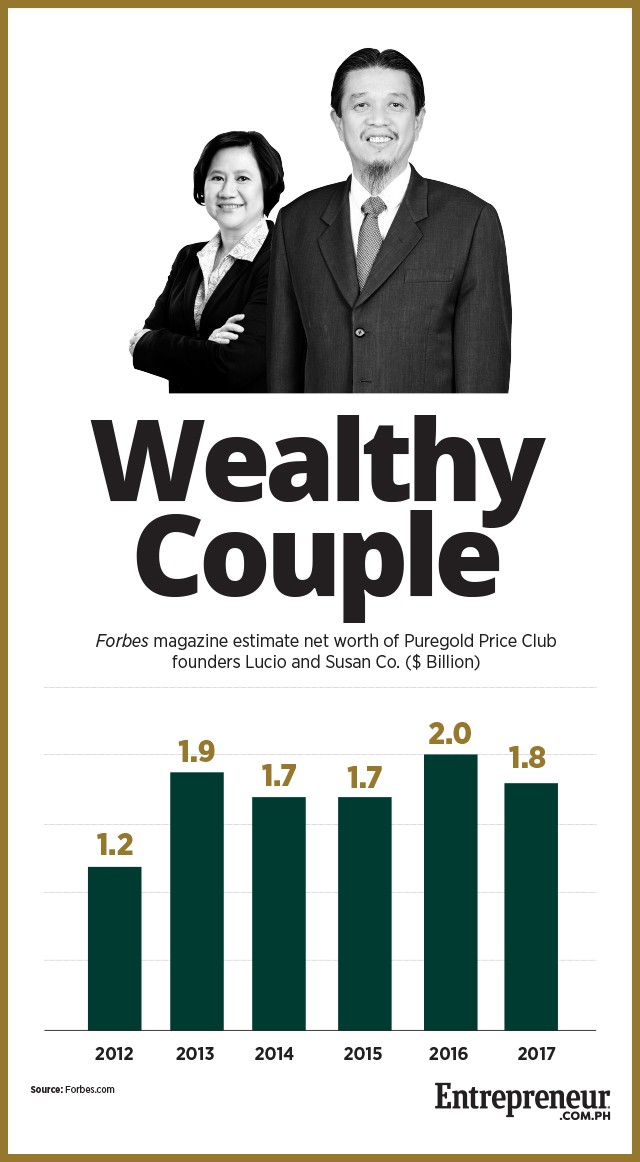 Over 80 percent of the tycoons included in business magazine Forbes' list of the Philippines' 50 richest people are married. Several are widowed, while others are not specified. However, except for one entry, all the married rich-listers are not ranked with their spouses.
The sole exception: Lucio and Susan Co.
The two were both listed as the country's 11th richest in 2017 with a combined net worth of $1.8 billion. Bulk of their wealth is credited to listed supermarket chain Puregold Price Club, which the pair founded in 1998. Lucio sits as Puregold's chairman while Susan is vice chairman. Two of their children, Ferdinand Vincent and Pamela Justine, both hold director positions, with the former being appointed as president in 2015.
ADVERTISEMENT - CONTINUE READING BELOW
This already gives a hint why both are listed together in Forbes' list. Rarely do the tycoons' spouses hold a senior executive position in the company. More commonly, some spouses sit as a member of the board of directors but not as chairman, vice chairman, president or vice president. For example, Katherine Tan, the wife of Andrew Tan, the country's 9th richest person, is a director of Alliance Global and several of its major subsidiaries. Not surprisingly, only her husband, who sits as chairman in those companies, is part of the Forbes rich list.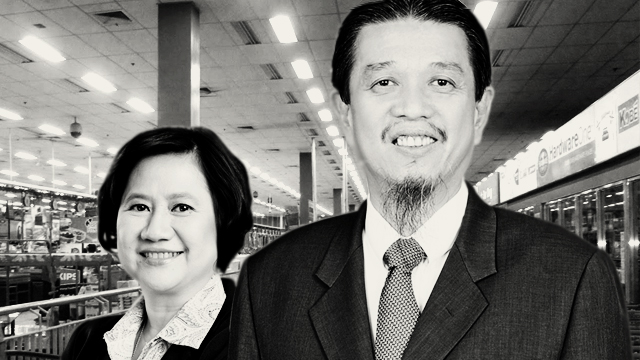 ADVERTISEMENT - CONTINUE READING BELOW
What else do the Cos have over other married couples whose wealth qualify them for the rich list? A look at Puregold's latest list of top shareholders may give an answer: Lucio and Susan Co are listed as the first and second largest individual shareholders of the company, owning 7.6 percent and 6.4 percent of total shares respectively. The same is true for their listed holding company, Cosco Capital: Lucio holds 31.5 percent of Cosco's total shares, while Susan owns 24.2 percent.
The significant company ownerships of both husband and wife mean both of them are highlighted in the list, and such a setup proves to be unique among the country's richest. Indeed, until a tycoon's spouse is given both an executive position and significant ownership of the company, the Cos will remain as the only husband-and-wife couple in Forbes' exclusive list.
While Lucio and Susan Co are the only husband-and-wife couple in the exclusive ranking, there are three other pairs in the list. Two are siblings: Iñigo and Mercedes Zobel, who are 13th in the rich list with a combined net worth of $1.6 billion, and Jon and Mikel Aboitiz, who are No. 33 with a combined fortune of $350 million. There is also one father-and-son tandem: Jose and Robbie Antonio, who are No. 28 with a combined net worth of $400 million.
ADVERTISEMENT - CONTINUE READING BELOW
*****
Lorenzo Kyle Subido is a staff writer of Entrepreneur PH