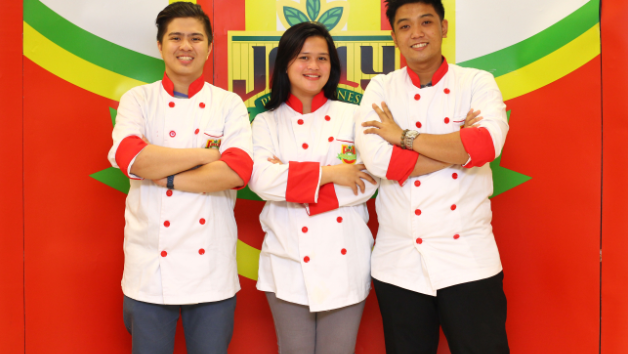 Twenty-year-old CJ Asiddao, a graduating HRM student from the University of Santo Tomas (UST), is all set to help expand his family's baking business. Aside from the things he learned in school, he is also thankful that he got the opportunity to be part of the Jolly University Boot Camp, a project that aims to further help culinary students across the country to be more prepared to get into the real world.
ADVERTISEMENT - CONTINUE READING BELOW
Asiddao with fellow UST students Rian Cajiles and Monique Siguenza comprise a team that won the Jolly University championship this year. Jolly University is a private company-initiated campaign under Jolly, a brand of canned food and vegetables. Now going to its third year, the initiative has been providing qualified students with the opportunity to attend competitive training and workshops outside the traditional classrooms.
Aside from the training and cash prize, the three students revealed the biggest rewards they have enjoyed so far: lessons, motivation, and promising employment/business opportunities that come their way since they won the contest.
Key learnings
"We learned a lot from our Jolly University Boot Camp experience. We got to listen to key industry experts who conducted talks and workshops on various topics, from culinary to mentorships on leadership, creativity, business planning, and personality enhancement," says Asiddao.
"I used to have reservations and doubts whether I can do it. But through Jolly University, I'm motivated to follow my dream of becoming a professional chef. I know I'm on the right path. I'm ready and excited to face the future," says Siguenza, who is currently planning to further her culinary mastery at Le Cordon Bleu in Paris, France. Siguenza and Cajiles are also focused on starting their solo careers in the food and restaurant industries.
ADVERTISEMENT - CONTINUE READING BELOW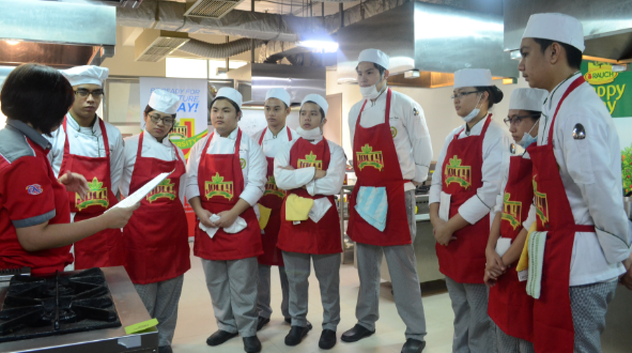 The search continues
The next search for a new batch of culinary champions is set to kick off in January 2016. According to Jolly University head master chef Mitchie Sison, it would be bigger as the initiative would be more expansive and would even go 'individual-focused.'
"We are highlighting individual talents and capabilities this year. As much as it is fun and entertaining to have group competitions, Jolly University brings out the full leadership potentials of a person during individual participation," she explained.
ADVERTISEMENT - CONTINUE READING BELOW
Another new component of the campaign would be the Jolly University Congress. "Besides the live cooking competition, attendees will be engaged with activities, interactive booths, jobfair and workshops by key speakers from top industries which will help participants in their future careers or food business," Sison added.
The boot camp will remain as a major component of the campaign. "What sets the Jolly University apart from other culinary competitions is that it trains students in crafting effective business planning; it's a complete immersion. It also acts as a great motivational boost, for them to engage in a program that fuels their innate passion to excel. Which is why every year, we highlight a boot camp for participants to gain key learning that help them prepare well ahead for careers and real-world work environments," said Marilou Acuña, Jolly's senior product manager.
Online application forms for Jolly University Year 3 can be downloaded here. 
ADVERTISEMENT - CONTINUE READING BELOW