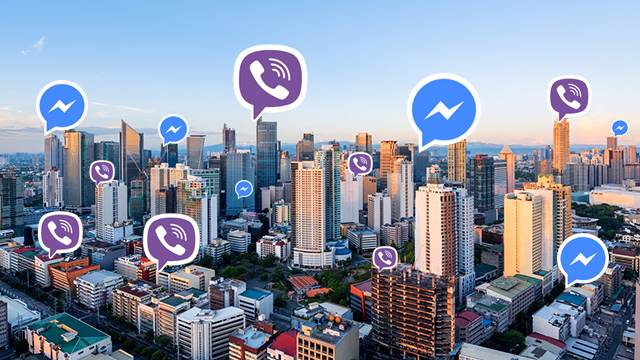 Much has been said about the Philippines' obsession with social media. Filipinos remain the most active users of social networking platforms in the world, averaging at three hours and 57 minutes a day according to "Digital in 2018," a report on global digital trends by social media agency We Are Social. The same report also revealed that 67 million Filipinos are active on social media—100 percent of internet users in the country.
ADVERTISEMENT - CONTINUE READING BELOW
Related story: Pinoys Spent the Longest Time on Social Media in the World in 2017, Says Report
"Digital in 2018" also enumerated which social media platforms Filipinos flock to, but in its list, We Are Social differentiated between two types of platforms: social networks such as Facebook and Instagram, and messaging and chat applications such as Facebook Messenger and Viber.
While Facebook and YouTube led the list with 57 percent and 56 percent of Filipino social media users on their platforms respectively, Messenger was a close third with 49 percent. Three other social networks stand between Messenger and the next messaging apps, with Skype being used by 28 percent of Filipino users and Viber getting 21 percent.
But according to Anubhav Nayyar, head of business development in Asia-Pacific for Viber, those statistics are already going in favor of messaging apps globally.
"The time spent on messaging apps is increasing dramatically," Nayyar said in his presentation on the first day of DigiCon 2018, a three-day conference on various digital topics held by the Internet and Mobile Marketing Association of the Philippines (IMMAP). "Today, messaging apps are not only growing in absolute numbers, but if you look at the time that is being spent and also in terms of the frequency in which it is being opened, it's higher than social media networks."
ADVERTISEMENT - CONTINUE READING BELOW
He highlighted that this is especially true for "Generation Z", or those born in the late 1990s until the mid 2000s who are already teenagers by 2018. According to Viber's research, Generation Z users spend over three hours a day on messaging apps, and Nayyar pointed out that these users are not primarily using them for plain text messaging.
"In the top three mobile activities for Gen Z, plain text messaging is not there. It's other services [on the apps]," said Nayyar.
Asher Rapkin, head of business marketing, messaging and emerging platforms for Facebook, agrees. In his keynote speech on the first day of DigiCon 2018, he pointed out how messaging platforms such as Facebook's Messenger have evolved from simple communication to a "convergence" of multiple services that used to be spread across different apps.
"All of these things that used to require discrete applications now come together in one place, which is the messaging thread," he said.
ADVERTISEMENT - CONTINUE READING BELOW
Both Nayyar and Rapkin highlighted that this evolution of messaging apps has made them more appealing for businesses and brands to tap into. In their respective talks, the two executives mentioned several local players that have tapped Viber and/or Messenger as a vertical for the digital presences of their businesses or brands.
For Viber, Nayyar shared how actor and comedian Vice Ganda created a Viber Community for his beauty product line Vice Cosmetics. He said that the community now boasts over 50,000 members, who are not only constantly exposed to the brand but also share beauty tips with each other.
Related story: Can Vice Ganda Leverage His Fame to Sell Affordable Cosmetics?
Nayyar also talked about how businesses are leveraging two key features in the Viber app: chatbots and stickers. Large businesses such as Globe Telecom and Krispy Kreme are using chatbots in Viber for customer service, content updates and even delivery services for the latter. As well, Lazada's stickers were clickable during one of its big sales, and users who clicked the link were given an exclusive discount coupon for the e-commerce platform.
ADVERTISEMENT - CONTINUE READING BELOW
"Whether it's automation and technology through the form of bots, or whether it's digital content in the form of stickers, or whether it's stickers that can be more dynamic in nature, there are plenty of options," said Nayyar.
On the other hand, Rapkin talked about one of Messenger's major partnerships in the Philippines that highlight how messaging platforms have expanded beyond communication. Last September, Messenger announced its partnerships with local mobile payment platforms PayMaya and GCash that allowed users to access their chatbots on the Messenger app and avail of financial services such as bills payment, fund transfer and load top-up.
"The convergent nature of messaging makes it an ideal place for people to establish themselves financially online," said Rapkin. "Services like PayMaya and GCash that enable payments and circumvent traditional bank accounts have already laid the groundwork for many people to share bills, make payments, send money online [and] split a check at restaurants. And messaging and Messenger make those services all the more powerful by simplifying the process of finding the people and the businesses that you want to do business with."
ADVERTISEMENT - CONTINUE READING BELOW
Related story: You Can Now Send Money, Pay Bills and Buy Load Through Facebook Messenger
Whether or not messaging platforms will overtake social networks in usage and popularity remains to be seen, but for Nayyar, it's only a matter of time. With the varied services that can be offered through messaging apps, Nayyar sees that users will ultimately prefer using these apps for their utility.
"There will come a day where a messaging app can almost become the mobile within a mobile," said Nayyar. "Today, when I open my mobile device, I see a number of apps out there. I do believe that in a few years, there will be one communication platform which provides you all sorts of services that you're using individually."
*****
Lorenzo Kyle Subido is a staff writer of Entrepreneur PH