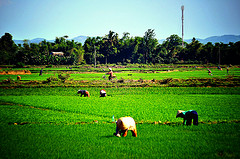 <>Moulding Future Innovators or MFI Foundation, Inc., in celebration of their 40thAnniversary, will hold a
whole day symposium
for OFWs and technical professionals on
sustainable income through technical industrial and agricultural business ventures
on November 7.
The seminar will feature tips on
career planning, self-sustaining micro business, personal financial management and agribusiness
by speakers from GoNegosyo and the some of the country's business experts.
MFI, a leading institution for technical and agricultural training, is opening this career talk to their students, industry partners and all interested job searchers.
Exhibitors include some of the biggest industrial companies
like Emerson Fisher Rosemount Systems, Inc., Atlantic Gulf and Pacific Company of Manila, Inc. (AG&P), Holcim Philippines, Inc., Shangri La Properties Inc., ZigZag Media Inc., Industrial Personnel and Management Services, Inc. (IPAMS).
A mini job fair will also be held
to offer great opportunities to job seekers.
Admission is FREE. To
register for this event
visit the MFI Foundation, Inc.'s website at
http://goo.gl/WXSk2t
or for inquiries, call 634-2970/ 631-2451. The symposium starts at 8AM at the MFI Assembly Hall in Ortigas, Pasig City.
ADVERTISEMENT - CONTINUE READING BELOW