MANILA, Philippines – It was first seen in big businesses:  TV networks are now streaming their shows online; telecommunications providers are boosting data services for consumers; malls are building e-commerce sites.
ADVERTISEMENT - CONTINUE READING BELOW
Yet, in spite of the massive changes the Fourth Industrial Revolution has brought, the Asia Data Culture Study showed that only 44% of businesses in Southeast Asia have digital strategies in place.
"Data is the new currency of businesses today. Having a data culture in organizations is important for businesses to thrive in a mobile-first and cloud-first world," Microsoft Communications Manager Pia de Jesus said in a press briefing on Wednesday, April 27.
"It is a unanimous decision among business leaders in Southeast Asia (87%) that digital transformation in companies and organizations should start from the top bosses," de Jesus noted. "If your top leader is not open to adapt the new way of doing things better then data strategy will ultimately be in trouble."
Such demand from the top executives drove the emergence of new leaders in companies, including chief data officer and chief digital officer.
These leaders are expected to nurture and build data culture, or the adoption of new technologies in business processes, which has three traits: analytical workforce, infrastructure for data agility and data governance for collaboration.
ADVERTISEMENT - CONTINUE READING BELOW
Barriers to digitalization
The survey, conducted by Microsoft, polled 940 business leaders from MSMEs in 13 markets in Asia, including Indonesia, Malaysia, Philippines, Singapore, Thailand and Vietnam where 91% of them agree being agile is important in today's economic conditions.
With stiffening competition and startups disrupting the marketplace, consumers want faster and better service more than ever, Microsoft noted.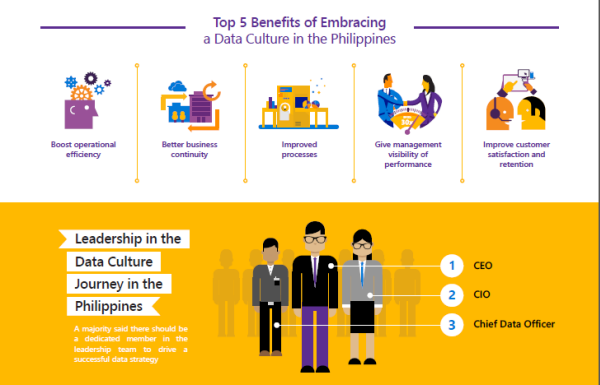 ADVERTISEMENT - CONTINUE READING BELOW
Taking businesses to the next level are found to enjoy numerous benefits including: operational efficiency; better business continuity; greater management visibility of performance; and improved customer satisfaction and retention.
"It's basically a chicken in an egg: with all these developments, revenues are expected to go up," de Jesus said.
But Filipino businesses are faced with various barriers, with high costs and funding as top two problems, followed by insufficient infrastructure, data security, and fragmented IT and data investments.
Related: Access to affordable, fast broadband Internet a must, PH business groups stress
Currently, enterprises admit these three factors are still not met in today's organizations, with 62% of business leaders in southeast Asiafeel their workforce are not digitally equipped, while 42% fear the new way of doing things.
"Behind every technology is a human person, and these new advancements will not function if it will not be nurtured," de Jesus added.
ADVERTISEMENT - CONTINUE READING BELOW
Improved data solution
One way businesses can adapt is through digitally enabling their businesses through data solutions. Microsoft's SQL Server 2016 does such, with customers ranging from luxury car company Rolls Royce to TV network ABS-CBN.
"The SQL Server is an all-in data solution that provides critical intelligence, a real-time operational analytics on your business data anytime and anywhere," Microsoft Philippines Business Group Lead for Cloud and Enterprises Herns Hermida said. 
SQL Server Demo applied to data collated from basketball superstar Stephen Curry's shots in the NBA: pic.twitter.com/52jB97usJm
— Elyssa Lopez (@elyssalopz) April 27, 2016


Hermida likened the program to an Excel file that could easily translate your company's data for you: from predicting sales to checking customer turnout real-time.
"If you're an air conditioning company, you can check the foot traffic of a specific building in a specific city, and see how much energy they're consuming. From there, you can analyze what better products you can offer to that particular building owner so they can serve their customers better," Hermida added.
ADVERTISEMENT - CONTINUE READING BELOW
MSMEs (micro, small, and medium enterprises) may use the technology for as low as $30 (P1402.50) a month through Microsoft's cloud computing platform, Azure. Small business can install their company's data and translate it to relevant programs. The monthly fee will increase accordingly to the data you install.
Through the platform, enterprises may track their company's data analytics even through their mobile, real-time.
But if you are a larger enterprise with bigger data, the "for premise" option may be availed which provides the necessary hardware for the company's data needs on top of the cloud service. The company's data or technology solutions team may also be trained by Microsoft.
"We're currently offering a promo of free SQL Server 2016 license with software assurance to every company migrating from Oracle or any other competitor to Microsoft," Hermida said.
The promo lasts until June 30, 2016, which also comes with free personnel training and subsidized deployment services.
ADVERTISEMENT - CONTINUE READING BELOW
*****
Elyssa Christine Lopez is entrepreneur.com.ph's editorial assistant/staff writer. Follow her on Twitter @elyssalopz.