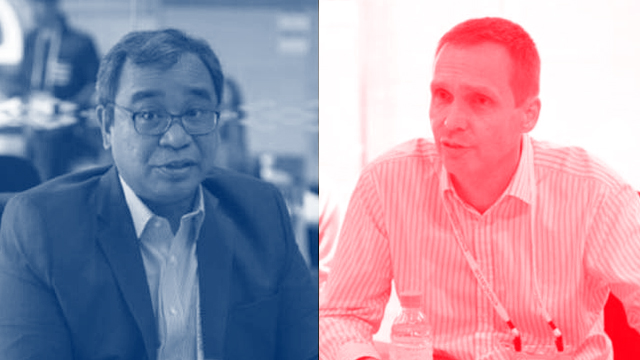 Mikko Perez (left) and Simon Bakker (right) are the newest members of global organization Endeavor
The Philippine chapter of Endeavor, an international organization that aims to mobilize entrepreneurs to improve societies, announced the selection of two business leaders from the Philippines to join its exclusive global network of high-impact members.
In a post on its Facebook page, Endeavor Philippines said Mikko Perez, founder and CEO of fintech startup Ayannah Information Solutions, and Simon Bakker, CEO of agribusiness firm Kennemer Foods International, were recently chosen by an international panel that met in Kuala Lumpur, Malaysia.
The international selection panel is the culmination of a multi-step process to identify innovative and driven business owners and founders who are committed to advancing an ecosystem of entrepreneurship. Some of the international panelists who took part in the selection process include Ong Peng Tsin, chairman of Singapore-based Monk's Hill Ventures, a leading ventural capital firm in the region and Mike Cassidy, vice president at Google.
ADVERTISEMENT - CONTINUE READING BELOW
Founded in 1997, Endeavor celebrates the role of entrepreneurship in hastening economic development. The organization has built a global network of over 1,300 high-impact entrepreneurs across over 20 countries.
Perez and Bakker bring Endeavor Philippines' count of high-impact entrepreneurs to 10. They join the likes of Xurpas CEO Nix Nolledo, Bo's Coffee founder Steve Benitez and Adobo Connection cofounder Meredith Ngo.
Ayannah provides financial services to the unbanked, with a focus on remittances sent by overseas Filipino workers. The fintech startup also offers digital commerce and payments services, and it will soon launch a risk-based credit scoring system. Perez, a former investment banker, aims to grow Ayannah into the largest digital payment network of the country.
Kennemer is a leading supplier of cacao beans to large chocolate manufacturing companies such as Mars. The agribusiness firm provides training, farming materials and financial access to over 10,000 Filipino smallholder farmers who supply cacao to the company. Bakker, who used to be the chief financial officer of Enderun Colleges, aims to increase Kennemer's reach to 35,000 farmers by 2020.
Launched in 2015, Endeavor's Philippine unit is managed by Manny Ayala, cofounder of tech startup accelerator Hatchd Digital. Among its directors are Jaime Augusto Zobel de Ayala and Edgar "Injap" Sia II.
Related story: How Manny Ayala helps PH tech startups succeed
*****
Lorenzo Kyle Subido is a staff writer of Entrepreneur PH