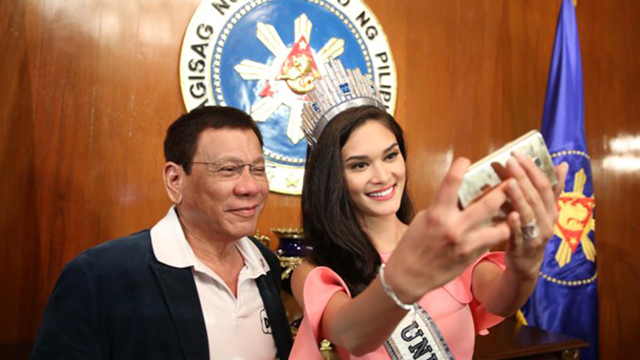 The Department of Tourism believes that hosting the Miss Universe pageant will aid in the further growth of the tourism sector, with eventual bigger gains for the economy.
"Sponsoring Miss Universe is our focus right now, with the plan and sources of funding in tow. We are ready to seize the moment," DOT Sec. Wanda Corazon Teo said in an official statement.
ADVERTISEMENT - CONTINUE READING BELOW
DOT reported that President Rodrigo Duterte has "approved in principle" Sec. Teo's proposal to host the forthcoming Miss Universe pageant in Manila.
"The President agreed that sponsoring the event would be a tourism marketing coup with Philippines' Miss Universe Pia Wurtzbach at the helm," Teo added.
The President has reportedly agreed in a hosting if the private sector can put up the money for it. Teo assures that commercial sponsors have offered to put up part of the franchise money.
Hosting the pageant will cost around US$12 million, or Php 560 million.
Teo, appointed into the Cabinet last June, spoke of the plan to host Miss Universe 2016 as soon as she took over the leadership of the DOT, stating that it would definitely have a greater impact than any other event.
"Once Pia announces that Miss Universe is going to happen here, people abroad will start looking at the map and see where the Philippines is. And, we're saying, we'd love to have you in Philippines," Teo stated.
ADVERTISEMENT - CONTINUE READING BELOW
Teo announced that segments of the beauty pageant will be staged in various tourist sites in Palawan, Boracay and Cebu. In a dialog with industry leaders, Teo has also tackled issues on tourism security, infrastructure, transportation and hotel accommodations, factors that have regularly been identified as the country's tourism roadblocks.
President Duterte received reigning Miss Universe Pia Wurtzbach along with officials from the Miss Universe Organization in a courtesy call at Malacañang earlier this week. Pageant officials present included Paula Shugart, president of the Miss Universe Foundation, and Shawn Maclaine, vice president for marketing and business development. The President was accompanied by Sec. Teo and DOT Undersecretary Katherine de Castro, signifying DOT's strong pursuit for a hosting.
The Philippines has hosted Miss Universe twice, in 1974 and 1994.
*****
Image from the Presidential Communications Operations Office