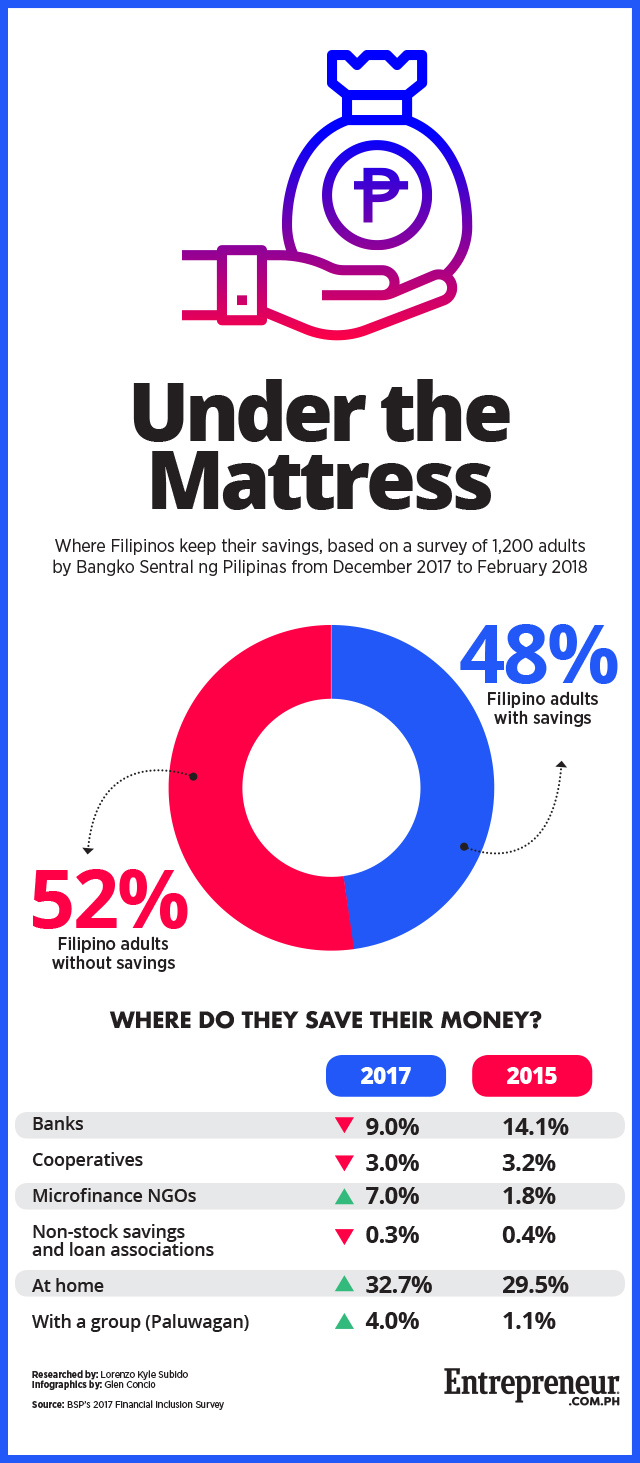 Nearly 33 million Filipino adults, or 48 percent of the total adult population, had some form of savings in 2017, according to the Bangko Sentral ng Pilipinas (BSP). That's an improvement from 43 percent in 2015, as cited by the BSP in its recently published 2017 Financial Inclusion Survey.
However, a closer look at BSP's data shows that fewer are doing so through formal financial institutions such as banks and cooperatives.
ADVERTISEMENT - CONTINUE READING BELOW
According to the survey, only nine percent of the 32.9 million Filipino adults who save are putting their savings in bank accounts, a large drop from 14.1 percent in 2015. Other formal financial institutions such as cooperatives (where three percent of Filipino adults had savings) and non-stock savings and loan associations (0.3 percent) experienced similar declines.
Only microfinance NGOs, or non-profit organizations that offer microsavings and microcredit products to low-income families, saw an increase in usage—seven percent of Filipino adults save their money in those institutions, compared to 1.8 percent before.
In contrast, 32.7 percent of Filipino adults are saving their money in their homes, up from 29.5 percent two years prior. More Filipinos are also using group savings or paluwagan arrangements in saving their money than before, which highlights the preference of Filipino adults to save through informal means rather than with formal institutions.
Overall, 19.9 million Filipino adults are saving their money only through informal means, more than double the 7.5 million Filipinos that only put their savings in formal financial institutions. An additional 5.5 million Filipino adults are saving their money through both formal and informal means.
ADVERTISEMENT - CONTINUE READING BELOW
However, the BSP noted that 52 percent of the adult population, or roughly 35.7 million Filipinos, do not have any savings at all. In the survey, 87 percent of respondents who did not save cited lack of money as the main reason, while 12 percent cited lack of work.
The 2017 Financial Inclusion Survey was conducted from December 2017 to February 2018, and it obtained responses from 1,200 Filipino adults with varying demographics. Aside from savings, the survey also looked into financial activity concerning loans, payments, remittances, insurances and investments.
*****
Lorenzo Kyle Subido is a staff writer of Entrepreneur PH