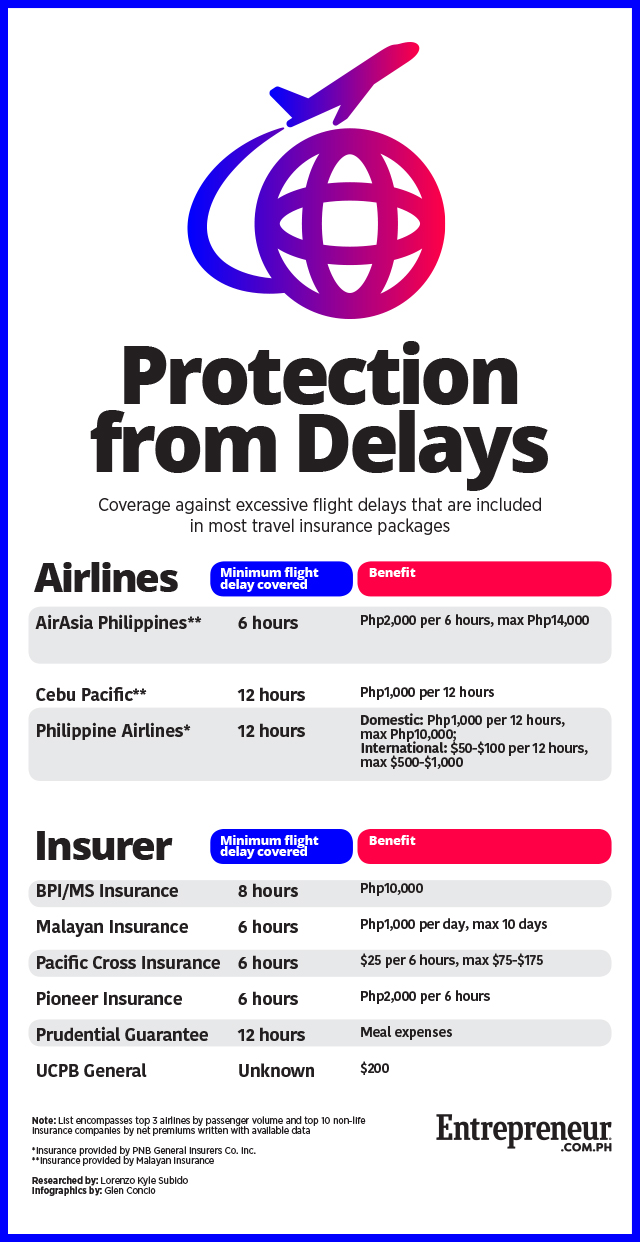 Last August 17, the Ninoy Aquino International Airport (NAIA) announced that its runway was closed due to a stalled Xiamen Air plane. It was reopened over 24 hours later. The runway closure caused hundreds of flights to be cancelled, rerouted to other airports or delayed for a long period of time, as well as thousands of passengers to be stranded in the country's largest airport.
ADVERTISEMENT - CONTINUE READING BELOW
While such occurrences are unprecedented, passengers can reduce the financial costs brought about by these delays by purchasing travel insurance. Among the many benefits a travel insurance package provides is the monetary compensation or reimbursement of expenses caused by flight delays.
"There's a provision in the travel policy that if you get delayed for reasons beyond your control, normally you can get some sort of monetary benefit from the travel insurance company," explained Michael Galang, president and CEO of insurance provider Intego Insurance Agency, in a phone interview with Entrepreneur Philippines. "You can file a claim with the insurance company for the inconvenience."
These inconveniences include expenses for food, lodging and other similar needs that arise from the delayed flight, though the types of expenses covered vary between providers. However, Galang added that these flight delays must last for a very long time, such as those caused by the recent NAIA runway closure, for a policyholder to be eligible for reimbursing these expenses.
ADVERTISEMENT - CONTINUE READING BELOW
A rundown of the coverage given by travel insurance products from popular airlines and non-life insurance companies, as well as the minimum time for flight delays to be eligible, are shown in the infographic above.
Galang also explained that passengers must file a claim with their insurance providers after their flight to avail of these benefits. The insurer will ask for several documents such as official receipts and flight details, and it will set a maximum amount for how much one can reimburse due to the delay
"There's a monetary cap to prevent abuses [from the passengers]," said Galang.
One can purchase travel insurance for less than Php500 from several providers, but the amount of the premium can vary depending on the flight's destination and the duration of the travel. The amount of compensation one can receive may also vary across differently priced insurance products.
*****
Lorenzo Kyle Subido is a staff writer of Entrepreneur PH
ADVERTISEMENT - CONTINUE READING BELOW