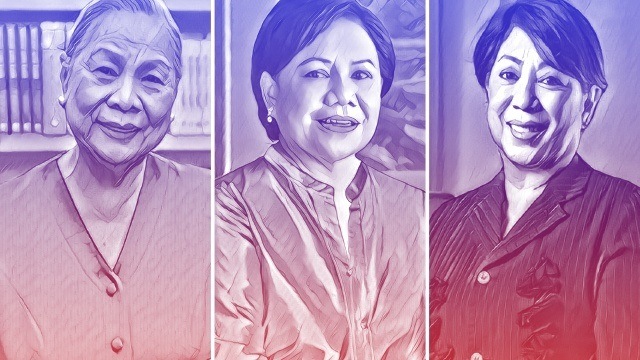 Go Negosyo, a non-profit organization promoting entrepreneurship to address widespread poverty in the Philippines, awarded 26 female business leaders and entrepreneurs who have excelled in their industries and served as catalysts for change. The awarding ceremonies were held on March 30 at the Malacañan Palace.
Now on its 12th year, the Inspiring Filipina Entrepreneurs 2017 Awards recognize outstanding women who founded or are overseeing businesses ranging in size from micro and small enterprises to medium and large companies. Young women entrepreneurs, those engaged in inclusive businesses as well as women who helped build large and successful enterprises were also given special awards. The honors also recognized women leaders who are helping other women succeed.
National Bookstore (NBS) founder Socorro Ramos leads the list of this year's Legacy awardees for growing a once-small stall in Escolta in Manila into the country's biggest bookstore with over 150 branches nationwide.
Another Legacy awardee is W Group's Rosalind Wee, who started her entrepreneurial journey in seaweed farming in Jolo, Sulu. She tapped the help of local fishers and farmers to grow her business, which now exports to the US and Japan.
ADVERTISEMENT - CONTINUE READING BELOW
Go Negosyo is also recognizing CDO Foodsphere founder Cora Ong as another Legacy awardee. She began the meat processing business by working in her own kitchen in the 1970s. Today, CDO is a major processed food player in the country, with over 15 brands in its portfolio that ranges from corned beef to canned tuna.
Completing the list of Legacy awardees is former Filinvest Chairman Mercedes Gotianun, who is considered the country's first female bank president. Gotianun played a major role in growing Filinvest from a lending company in the 1950s into one of the biggest conglomerates in the country.
Other notable women who were awarded include Senator Cynthia Villar who was chosen as one of this year's "Enablers", or those who help micro, small and medium enterprises (MSMEs) to thrive. Before assuming the chairmanship for the Committee on Environmental and Natural Resources in late February, Villar headed the Committee on Agriculture and Food where she advocated farm tourism and the creation of a coconut levy trust fund, to name a few.
Magsaysay Maritime Corporation CEO Doris Ho was also recognized as an Enabler for her efforts in the APEC Business Advisory Council in 2015, which largely focused on strengthening aid for MSMEs. Pacita Juan, owner of EchoStore, completes this year's list of awardees as enablers.
The Inspiring Filipina Entrepreneur Awards, handed out in March in time for the International Women's Month, have honored over 200 Filipina entrepreneurs since it was launched in 2005. That was the same year that Go Negosyo was founded by Jose Ma. "Joey" A. Concepcion III,  CEO of RFM Corp., the company behind the country's best-selling ice cream.  Apart from heading RFM and Go Negosyo, Concepcion is also President Rodrigo Duterte's adviser on entrepreneurship.
ADVERTISEMENT - CONTINUE READING BELOW
Below is a complete list of the Inspiring Filipina Entrepreneurs 2017:
Micro-small entrepreneur awardees: Cherrie Atilano (AGREA Agricultural Systems International); Maria Lydia Lomibao (J. Emmanuel Pastries); Evellin Daytao (Daytao's Native Cakes); Pamela Henares (Buro Buro Springs Vermi Farm); Honie Krizia Navor (HK Stone Craft Trading); Imelda Dagus (Dennis Coffee Garden); Ester Vitto (Bahag Footwear); Arlene Mabute (Mabute Lumpia Wrapper and Cheese Stick).
Medium-large entrepreneur awardees: Felicia Atienza (Chinese International School Manila); Anne Gonzales (Terry S.A. Incorporated); Gina Lorenzana (Unilever Philippines); Rebecca Mills (Asia CEO Forum); Mary Ann Montemayor (Villa Margarita Hotel and Catering); Ana de Ocampo (Wildflour Café and Bakery); Sheree Gotuaco (Omnimoda International Inc.) and Evelyn Palomo (Great Image).
Youth entrepreneur awardee: Arizza Nocum (Good Karma Shirts and KRIS Library)
Inclusive business awardees: Rachel de Villa (Cropital) and Felicitas Pantoja (Coffee for Peace)
*****
Elyssa Christine Lopez is Entrepreneur.com.ph's staff writer. Follow her on Twitter @elyssalopz