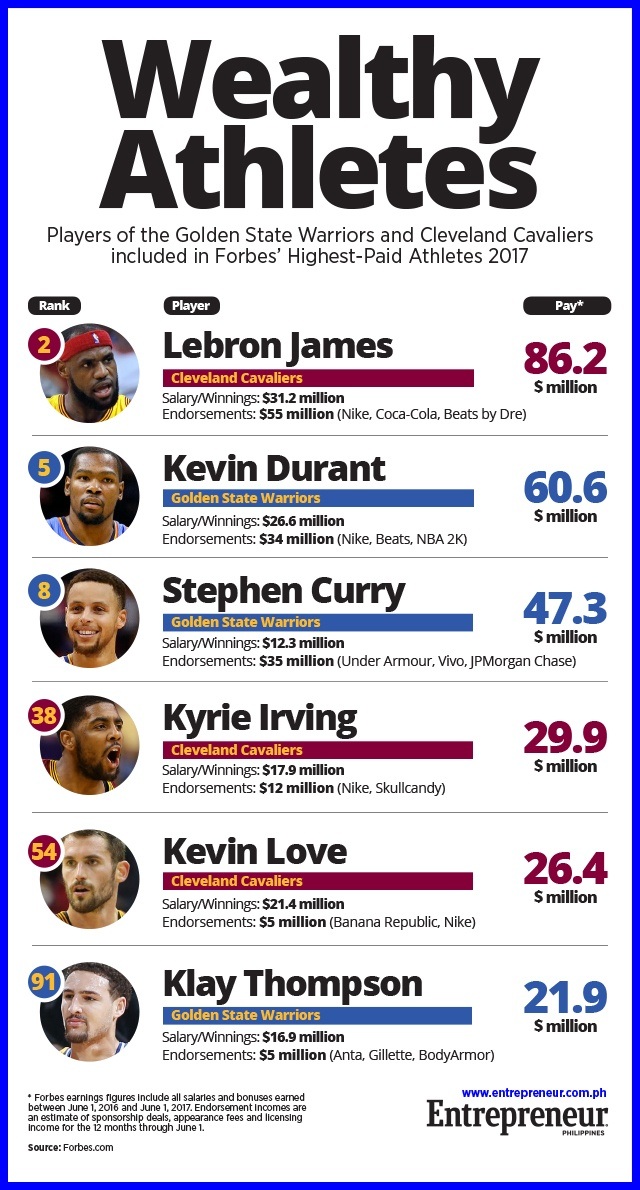 After emerging as champions in this year's NBA Finals, team spirit is undoubtedly high among the Golden State Warriors who just defeated the Cleveland Cavaliers in Game 5 of the Best of 7 series. But there's an even more exclusive circle that includes just six of the top players of both teams: belonging to 100 of the world's best-paid sportsmen and women.
According to Forbes magazine's World's Highest-Paid Athletes 2017, three players each from the Warriors and the Cavs are among this year's list of the world's 100 top-earning athletes who come form 21 countries and compete in 11 sports. The list, which was released only last week, counts all earnings such as salaries and endorsement fees between June 1, 2016 and June 1, 2017.
The list reveals that the Cavaliers' Lebron James leads the pack with a pay of $86.2 million, ranking second overall on the list and making him the richest NBA player. Outside the court, James has lucrative endorsement deals with Nike, Coca-Cola and Beats by Dre to name a few. The four-time MVP also has his own production company called SpringHill Entertainment and has invested in US pizza chain, Blaze Pizza.
ADVERTISEMENT - CONTINUE READING BELOW
James' pay exceeds the combined compensation of his teammates Kyrie Irving (38th) and Kevin Love (51st), which reached only $56.3 million.
The 2017 Finals MVP Kevin Durant follows James as the second highest-paid NBA player with earnings of $60.6 million. Aside from his paycheck from the two-year contract with Golden State Warriors, Durant is also an active investor, opening a startup called the Durant Company. The firm has actively invested in a number of companies, namely Player's Tribune, Acorns, Postmates and JetSmarter.
Durant is joined by the Splash Brothers, Stephen Curry and Klay Thompson, on the list who both ranked eighth and 91st respectively. Forbes noted that Curry's off-court income "has nearly tripled over the past 12 months" with a net worth of $47.3 million. Meanwhile, Thompson has a net worth of $21.9 million.
*****
Elyssa Christine Lopez is a staff writer of Entrepreneur PH. Follow her on Twitter @elyssalopz