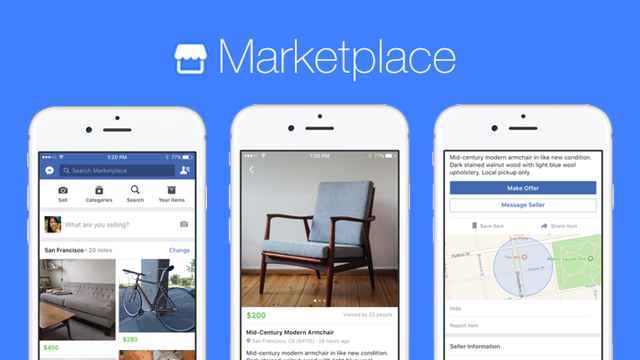 Facebook has just launched Marketplace in the Philippines, which enables sellers and buyers to connect more easily. By simply clicking on the Store or Marketplace button, Filipinos can now discover, buy or sell local products.
Over 550 million people from all over the world already buy and sell in Facebook groups every month, according to Karandeep Anand, director of product management at Facebook. This is primarily why they decided to create this new feature, empowering local entrepreneurs in 47 countries, including the Philippines.
ADVERTISEMENT - CONTINUE READING BELOW
"We are excited to bring Marketplace to the Philippines and make it easier to discover, buy and sell goods locally. Whether you're a new parent looking for baby clothes or a collector looking for a rare find, Marketplace makes it easier to buy and sell what you need," he said.  
"People can feel good about buying and selling on Marketplace because it's easy to view the public profiles of buyers and sellers, your mutual friends, and how long they've been on Facebook," Anand added.
Discover and buy items from your community
Marketplace shows users items that are relevant to their interests and are available in their community, meaning it will prioritize showing items that are available near their location. You can also search for items in your region or a different city by using a built-in, adjustable location tool.
To find something specific, simply type the name of the item in the search bar. Users can also filter results by location, category or price. It's also possible to browse what's available in a variety of categories such as Household, Electronics and Apparel.
ADVERTISEMENT - CONTINUE READING BELOW
To find out more details from a seller of an item users find intersting, they can simply tap on the image to see a product description, the name and profile photo of the seller and their general location. Users can then send a message to the seller if they want to know more about the item.
Facebook does not currently support direct payment, but seller and buyer can work out these details—including meet-up or delivery—themselves.
Anand said that while Facebook has not integrated a payment facility in Marketplace, they are still studying the behavior and usage of the people to determine if they should start working on this new function.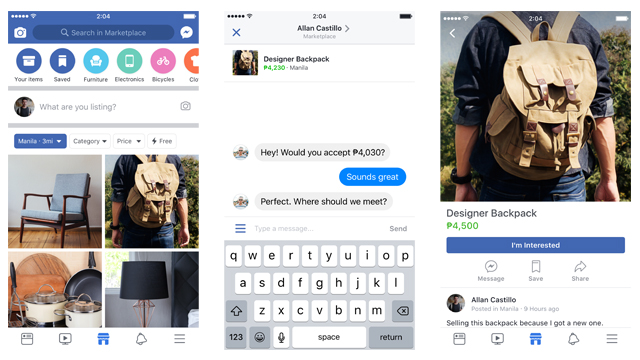 ADVERTISEMENT - CONTINUE READING BELOW
"Depending on what we learn in the market, if that is something that the market demands, we can take a look at it," he said.
Save the item for later and it will appear on users' saved items tab. One can also set up a notification for a certain search and Marketplace will notify them when new items are posted under that specific search term or category.
Post items for sale with a few clicks 
For those who want to sell, just take a photo of the item, describe it in the space provided, set a price and it's done. Similarly, by tapping on the Marketplace icon, they can directly post products for sale and at the same time, cross post it to a buy and sell group.
These items will be automatically placed on the Marketplace, with a few exceptions. Anand explains that they have certain automatic filters. Marketplace doesn't currently support the sale of illegal items, guns and firearms, alcoholic products, etc. They also rely on the community to report items being sold that violate Facebook's Terms and Conditions.
ADVERTISEMENT - CONTINUE READING BELOW
Otherwise, Anand said that buyers and sellers of different price ranges are reporting successful transactions with Marketplace. In other countries, even cars and real estate are being posted in Marketplace and especially in the US, the reception has been positive.
"In the Philippines, as we launch, we will learn what people like to shop more and we will enhance that experience further," Anand added. 
*****
Nicai is the marketing head of Rising Tide, a technology solutions company. She is also the Manila Bureau Manager of Probe Media Foundation's Mulat Pinoy-Kabataan News Network and a regular contributor for SPOT.ph. Follow her on Twitter, @nicaideguzman, and LinkedIn, https://www.linkedin.com/in/nicaideguzman