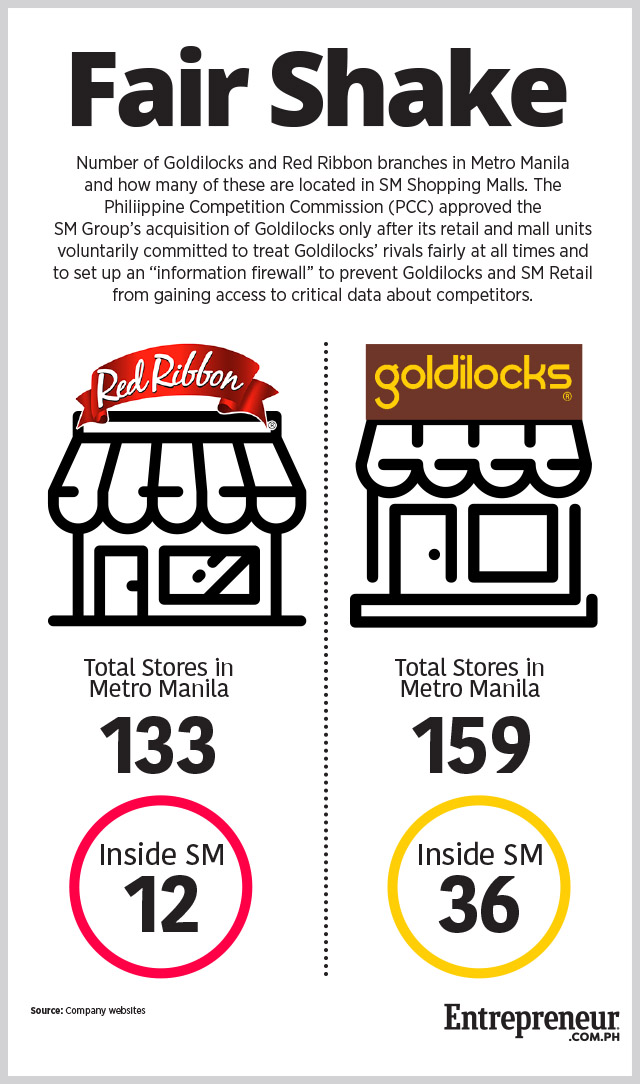 The Philippine Competition Commission (PCC) has approved the takeover by SM Retail Inc. (SMRI), a unit of the property and retailing giant SM Group, of bakeshop and restaurant chain Goldilocks Bakeshop Inc., the government agency announced in a statement issued January 9.
The critical approval came after SM Retail voluntarily committed to undertake a series of actions to address potential competition issues arising from its acquisition of the bakery chain. SM Retail is a unit of SM Investments Corp. (SMIC), the listed holding firm of the family of Henry Sy Sr., the country's richest man. SMIC also controls SM Prime Holdings, the country's largest operator of shopping malls where Goldilocks and its competitors such as Red Ribbon are tenants.
ADVERTISEMENT - CONTINUE READING BELOW
"The voluntary commitment of the SM Group comes after the PCC's Mergers and Acquisitions Office (MAO) issued a Statement of Concerns (SOC) detailing the potential competition issues arising from the transaction," the PCC's statement read.
One of the issues raised by MAO was the possible discrimination by SM as a mall operator against the competitors of Goldilocks either by providing "disadvantageous locations or unfavorable lease terms" that could hurt their competitiveness.
Out of Red Ribbon's 133 branches in Metro Manila, 12 are located in SM Malls, according to the company's website. On the other hand, Goldilock's has 36 branches in SM Malls out of its 159 stores in the capital region.
"Every mallgoer knows that location is important, while every businessman knows that data informs business strategy. In this transaction, what we want is fair opportunities for big and small players," the PCC statement quoted Chairman Arsenio M. Balisacan as saying.
ADVERTISEMENT - CONTINUE READING BELOW
"Another major concern identified by MAO is the potential for the SM Group to share a competing mall tenant's business information to Goldilocks, since the mall operator, through its point-of-sale (POS) system, has access to sales records of tenants," said the PCC.
The PCC further said that SM Prime Holdings made a voluntary commitment to "give Goldilocks' competitors a fair shake in their lease at all times."
The anti-trust agency added that "SMPHI also committed to data protection; that is, the mall operator would not give Goldilocks access to competing mall tenants' information—including sales data captured by the POS system of SMPHI tenants, whether referring to consolidated sales, product category level or stock keeping unit (SKU) level information, such as prices or quantities sold."
To ensure the SM Group's compliance with its commitments, the PCC required the group to submit reports to the commission and said it will conduct its own monitoring. "Over a period of five (5) years, the parties will be monitored periodically by a team of experts from PCC. Monitoring will also include random inspections," it said.
ADVERTISEMENT - CONTINUE READING BELOW
Any breach of the conditions will subject SM to fines, additional remedies, and other measures available to the Commission, the agency added.
Goldilocks has consistently enjoyed a leading position in the bakeshop and restaurant segment of the food service industry. It has 550 stores worldwide compared to 430 branches of Red Ribbon Bakeshop Inc., its closest competitor.
Related story: Goldilock's vs Red Ribbon: Who's Winning the Battle of the Cake Makers?
Based on the latest available financial statements at the Securities and Exchange Commission (SEC), Goldilocks grossed Php5.7 billion in revenues in 2015 while Red Ribbon sales reached only Php5.3 billion. However, Red Ribbon's revenues has been growing faster, especially after it was acquired by fast-food giant Jollibee Foods Corp. in 2012.
*****
Elyssa Christine Lopez is a staff writer of Entrepreneur PH. Follow her on Twitter @elyssalopz