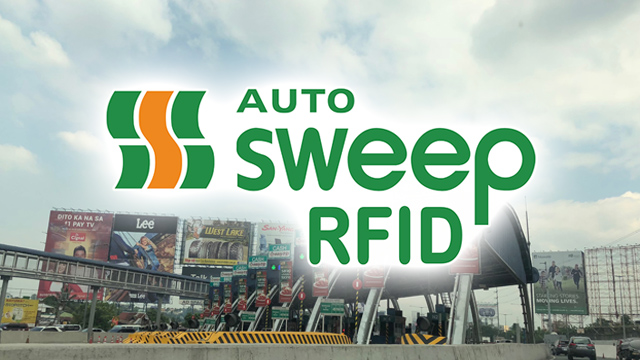 Car drivers who have installed AutoSweep radio-frequency identification (RFID) tags, presently used in tollways in Metro Manila and Southern Luzon, can now also use them for swift payments when travelling in two expressways going to Central and Northern Luzon. These are North Luzon Expressway (NLEX) and Subic-Clark-Tarlac Expressway (SCTEX).
The announcement from the Department of Transportation (DOTr) and Metro Pacific Tollways is good news for car owners planning to travel to central and northern Luzon during the Holy Week break. It will particularly benefit vehicle owners who use the RFID tags issued by San Miguel Corp.'s infrastructure unit for use in toll roads operated by the company.
San Miguel runs three expressways in Metro Manila and Southern Luzon: NAIA Expressway, South Luzon Expressway (SLEX) and Skyway. It also runs the Tarlac-Pangasinan-La Union Expressway (TPLEX), parts of which are already operational, but the toll road doesn't use RFID tags yet.
ADVERTISEMENT - CONTINUE READING BELOW
The RFID tag or sticker is usually attached to the windshield or the headlights of a vehicle so scanners in tollbooths can easily detect it and automatically deduct payments from it. The system allows car owners to pass through tollgates without the need to stop to pay, reducing queuing and congestion.
Based on the information provided in Cavitex's website, car drivers who wish to use Autosweep in NLEX, SCTEX or Cavitex may buy one or update their existing tags at Total gasoline stations in Kawit, Cavite. They may also visit the customer service center in Balintawak along NLEX. An initial load of Php500 is required.  
After registration, car owners would have to wait for three working days before actually using their RFID tags in SCTEX, NLEX and Cavitex.
The initiative is the first phase of the Toll Collection Interoperability Project, which aims to make RFID tags issued by toll road operators usable in all other expressways, easing travelling across various toll roads run by various operators.
ADVERTISEMENT - CONTINUE READING BELOW
Two major firms operate most of these expressways: Metro Pacific Investments Corp., the group of companies led by businessman Manuel V. Pangilinan, and San Miguel Corp., the conglomerate headed by Ramon S. Ang.
NLEX, SCTEX and Cavitex are all operated by MPIC while SMC is in charge of SLEX, Skyway, NAIA Expressway. Ayala Corp.'s infrastructure unit heads the Muntinlupa-Cavite Expressway (MCX).
MPIC also issues its own RFID tags, called Easy Trip, for use in tollways managed by the company, namely, NLEX, SCTEX and CAVITEX. The Easy Trip tags, however, are currently not yet usable in SMC-operated expressways, particularly SLEX, Skyway, NAIA Expressway and MCX, according to the Toll Regulatory Board (TRB).
The government wants the full implementation of the Toll Collection Interoperability Project by June 2018, said TRB in a televised report by ABS-CBN News Channel on March 20.
Aside from the seamless acceptance of RFID tags, the second phase of the project also covers cash collection interoperability.
ADVERTISEMENT - CONTINUE READING BELOW
The project is taking more time than expected to implement. The expressway operators, together with DOTr, the Department of Public Works and Highways, Land Transportation Office, TRB and Bases Conversion and Development Authority first signed the interoperability agreement on September 2017. Then, the participants had expected to implement the first phase of the agreement within six months.
*****
Elyssa Christine Lopez is a staff writer of Entrepreneur PH. Follow her on Twitter @elyssalopz