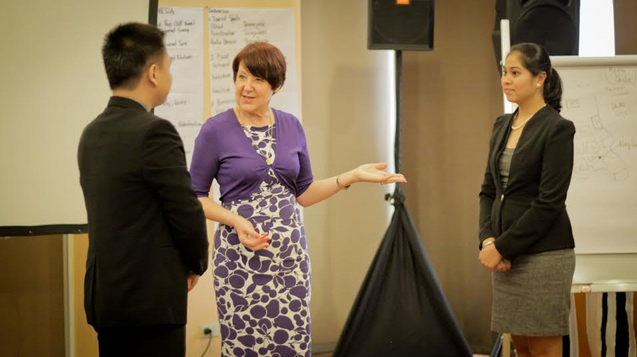 Just a few days after the Philippines successfully hosted the Asia-Pacific Economic Cooperation (APEC) Summit in Manila, another event is set to take place, this time focusing on the local culinary industry. As clamor for butler training continues to increase in the country, the Asian School of Hospitality Arts (ASHA), together with its partner Magnums Butlers International (MBI), is mounting a 'One-Day Introductory course on 7-Star Butler Service.'
ADVERTISEMENT - CONTINUE READING BELOW
The event will be held on November 24 (Tuesday) at the C3 Events Place on 8 Missouri St., Northeast Greenhills, San Juan City. Just a few months after her last visit to the country, butler training specialist Josephine Ive has once again dropped by to facilitate this special program.
During her previous visit, Ive also conducted an extensive course on 7-Star Butler Service. Sixteen Filipino hospitality professionals took part in that program and earned the distinction of being the country's pioneer graduates of the special 7-Star Butler Service Basic Certificate Course.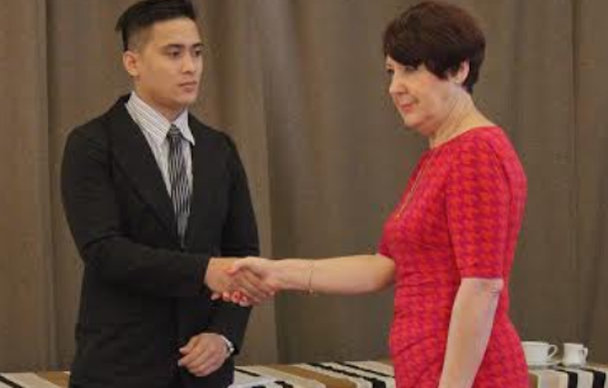 ADVERTISEMENT - CONTINUE READING BELOW
Here are what some of those graduates say about the program:
"It's worth the wait. I'm happy to be one of the first graduates of the program in the Philippines and to gain one of the most prestigious and internationally accredited certification for professional butlers. I thank ASHA and MBI for this rare opportunity. Now, as I proudly wear my MBI lapel pin, I'm more confident to take on my new job as butler at Palazzo Versace in Dubai," said Mark Anthony John Sabhnani who is looking forward to a future in the private service.
Cesar Lorenzana Jr, an OFW and head butler of Regent Palms Resort & Spa in Turks and Caicos Islands flew in just to join the same butler training workshop. "I was originally planning to attend a similar workshop in Denver, Colorado. Fortunately, while I was browsing online, I chanced upon Ms. Ive's training workshop in the Philippines so I decided to come home and participate," he said. "I consider it an honor to learn from her. As a Filipino, I will wholeheartedly share my learning experience to my colleagues and staff when I return."
ADVERTISEMENT - CONTINUE READING BELOW
Meanwhile, despite his already extensive 27-year experience in hotel service, Jose Ramon Cacho of Seven Suites Hotel also enlisted in the program. For him, it was a privilege to learn more surprising things about this industry. "The insights I gained will help us in providing upscale services to our guests. As for the group, I will lead in training the staff so that they may achieve a higher level of professionalism and skill readiness to really help our hotel set the bar of luxury service," he said.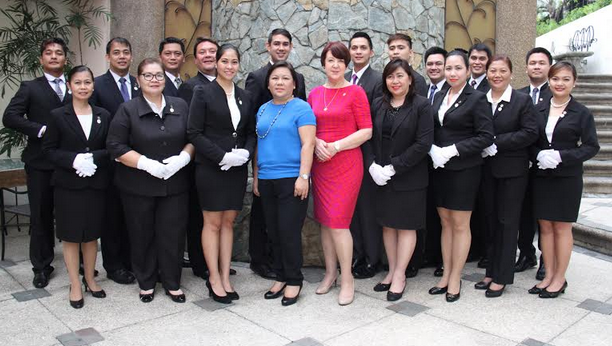 ADVERTISEMENT - CONTINUE READING BELOW
Upon completion of the program, each of the 16 graduates earned a new lapel pin from Magnums and ASHA, a handbook, and a certificate. The three top achievers were accorded special leadership distinctions. They were Sofitel's Nina Rachel Noveno, Diamond Hotel's Ron Angeles, and The Cravings Group's Forsyth Cordero.


Noveno said, "I found out that being a butler is more than just giving assistance, there's pride in the profession. It's providing service from the heart, one that goes beyond your capacities. Personally and professionally, this is not just a certificate that crowns my achievements, but a way of imparting excellence and personalized service to all."
To learn more about the program and all other courses offered, visit ASHA's Website or call (02) 907-8642 or 0917-8787191.