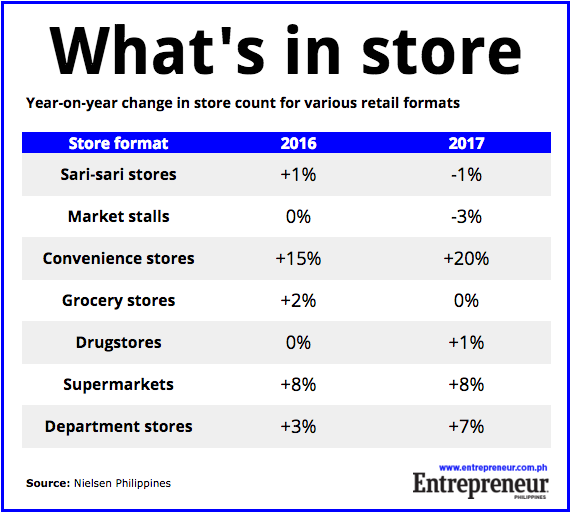 According to the Philippine Association of Stores and Carinderia Owners, there are an estimated 1.3 million neighborhood or sari-sari stores in the Philippines. They were visited by 94 percent of shoppers, according to market research firm Nielsen in a 2015 study. These are followed by wet or public market stalls, which are the destination of 72 percent of shoppers. 
ADVERTISEMENT - CONTINUE READING BELOW
Not surprisingly, these traditional retail formats are also the most common entry points for entrepreneurs wishing to get into retailing, one of the economy's fastest growing sectors. With affordable capitalization requirement, it's relatively easy to set up a sari-sari store or open a stall at the public market.
However, Nielsen's latest Shopper Trends Survey, released in early July, should give entrepreneurs wishing to open a sari-sari store or a market stall some pause.
According to the study, the count of sari-sari stores fell by one percent in 2017 from the year before. That's after rising by one percent in 2016. Worse, the number of market stalls fell three percent in 2017 after staying flat in 2016.
Similarly, grocery stores and drug stores also didn't do very well last year. The number of groceries remained the same in 2017 after growing by only two percent in 2016. Drug stores rose by only one percent last year after posting no growth in 2016.
ADVERTISEMENT - CONTINUE READING BELOW
The only small-store format that did very well were convenience stores which rose 20 percent in 2017 after rising by 15 percent in 2016. As of the first quarter of 2018, there were almost 4,300 convenience stores in the Philippines, up 165 percent from only 1,620 stores in 2013.
To be sure, the number of convenience stores is easily dwarfed by the over one million sari-sari stores but their low number is also the reason for their rapid growth, presenting opportunities for would-be entrepreneurs.
Related story: What Will The Sari-Sari Store of the Future Look Like?  
There were almost 4,300 branches of convenience stores in the Philippines in the first quarter of 2018, a 165-percent increase from over 1,620 stores in 2013, according to data from market research firm Nielsen.
According to Nielsen's latest Shopper Trends Survey, the rise of convenience stores can be attributed to four trends: (1) urbanization; (2) more women in the workforce; (3) smaller household sizes; and (4) more people eating out. The report also highlighted the country's business process outsourcing (BPO) industry as a large factor to the growth of these types of stores.
ADVERTISEMENT - CONTINUE READING BELOW
"Small format stores meet a distinct shopper need of convenience as they are often situated near homes or high traffic areas," said John Patrick Cua, Nielsen's managing director in the Philippines, in a statement.
Meanwhile, the number of supermarkets rose eight percent in 2017, the same pace as in 2016. Department stores also climbed by seven percent after growing by three percent in 2016.
Recent trends in retailing in the Philippines will be discussed at the National Retail Conference and Stores Asia Expo on August 9-10 at the SMX Convention Center in Pasay City. Entrepreneur Philippines is a media sponsor. Click here for more information.
Related story:  This Startup is Turning Sari-Sari Stores Into Financial Service Providers
*****
Lorenzo Kyle Subido is a staff writer of Entrepreneur PH