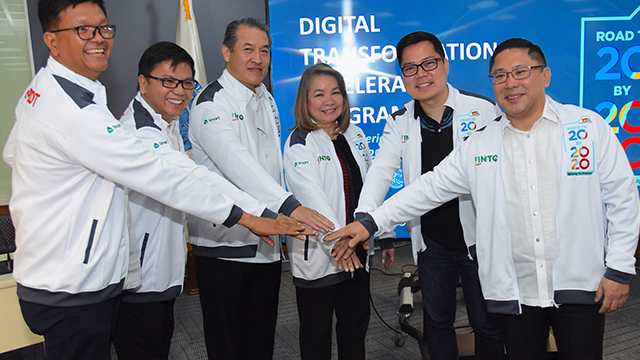 At the launch of the Road to 20 by 2020 campaign last October 18. From left: Microfinance Council of the Philippines President and CEO Fr. Jose Victor Lobrigo, Rural Bankers Association of the Philippines President Armando Bonifacio, Chamber of Thrift Banks Trustee Rommel Latinazo, Chamber of Thrift Banks Executive Director Suzanne Felix, FINTQ Managing Director Lito Villanueva and BSP OIC of the Financial Technology Sub-sector Vicente de Villa III
ADVERTISEMENT - CONTINUE READING BELOW
By 2020, the Bangko Sentral ng Pilipinas (BSP) wants 20 percent of all transactions in the country to be electronic, a big jump from only one percent in 2015. It's part of the central bank's National Strategy for Financial Inclusion, as digitizing financial services enables greater and easier access for the majority of the population that remains unbanked.
For its part, the BSP has announced a number of projects and initiatives to meet this goal. Most notable of these is a memorandum issued last September that required all banks and non-banking financial institutions (NBFIs) that offer online banking services to make interbank electronic fund transfers available by end-November, which will be done through the new automated clearing houses PESONet and InstaPay.
Related story: Great News for Online Banking Users: You Can Soon Move Funds Across All Banks Electronically
However, a new study by FINTQnologies Corp., the financial technology arm of local telco firm PLDT, revealed that most financial institutions are not yet ready for this heavy digital push.
ADVERTISEMENT - CONTINUE READING BELOW
In the third volume of the Inclusive Digital Finance Report, FINTQ said that 82 percent of the 76 financial institutions it surveyed—which consist of rural banks, thrift banks, microfinance institutions and cooperatives—are not yet considered as digitally ready. Majority of these institutions are still not in the state where they can undergo digital transformation and therefore offer financial services through electronic means.
"The dominant picture in our data is that majority of financial institutions are not yet ready to transform their business at this point, confirming anecdotal evidence long held by the industry," wrote FINTQ in the report. "This conclusion indeed raises a notch higher the urgency in enabling financial institutions to be digitally ready, as the pattern uncovered in our data has profound implications on the country's progress towards expanding financial inclusion in the countryside."
Using a scoring system that measures a financial institution's commitment, awareness, readiness and adaptability (CARA) when it comes to digital transformation, FINTQ labeled 58 percent of its survey respondents as "digital laggards," which "indicate minimal or scant capacity for digital transformation." An additional 24 percent of institutions were labeled "pack followers," which means they have a limited capacity and low readiness for digital transformation.
ADVERTISEMENT - CONTINUE READING BELOW
"The biggest barrier to their adoption is their willingness to invest in digital technologies," said Lito Villanueva, managing director of FINTQ, in a statement. "This has profound consequences because as our report shows, the 'readiness quotient' heavily influences the bank's level of 'commitment quotient' to bring its business towards a digital economy."
To improve the digital readiness of financial institutions, FINTQ partnered with the BSP, the Chamber of Thrift Banks, the Rural Bankers Association of the Philippines and the Microfinance Council of the Philippines to launch its Road to 20 by 2020 campaign last October 18.
Apart from the overall goal of digitizing 20 percent of all transactions by 2020, the campaign also aims to integrate 20 percent of all financial institutions into the PESONet and InstaPay networks, to bring down the number of unbanked local government units from 35 percent to 20 percent, and to empower 20 million unbanked Filipinos by offering them financial services.
"What sets the Road to 20 by 2020 campaign from all the digital transformation initiatives is that this is geared towards financial institutions—providers of financial services at the grassroots," said Villanueva. "Realizing inclusive digital finance is not just about the consumers but also preparing the institutions that provide those financial services."
ADVERTISEMENT - CONTINUE READING BELOW
*****
Lorenzo Kyle Subido is a staff writer of Entrepreneur PH