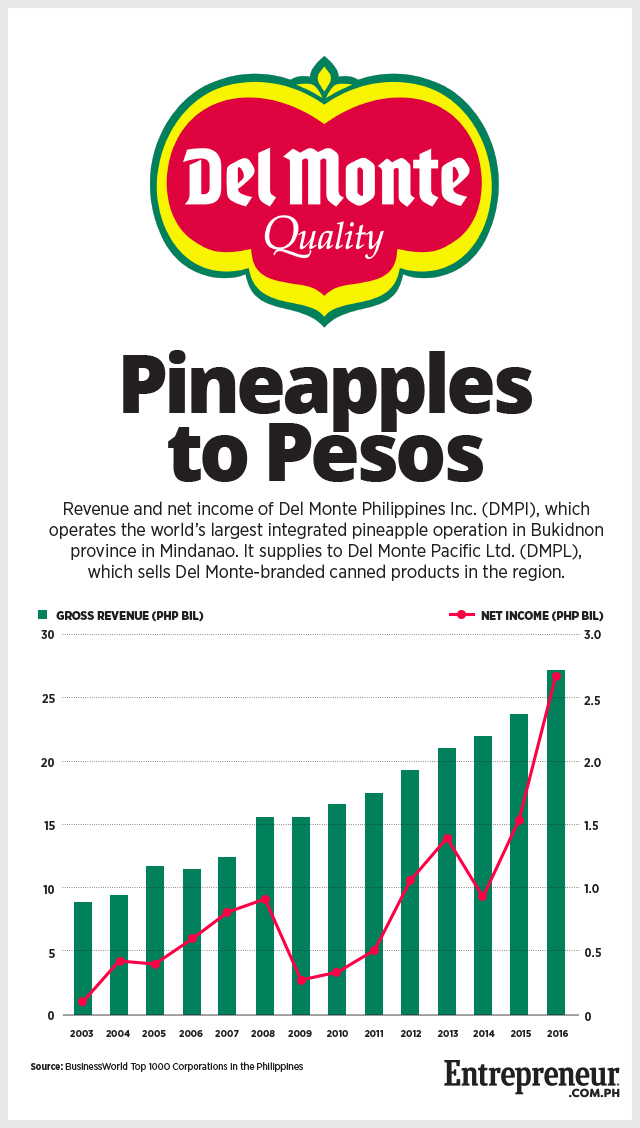 Del Monte Philippines Inc. (DMPI), the Philippine subsidiary of multinational food and beverage manufacturer Del Monte Pacific Ltd. (DMPL), is planning to launch an initial public offering (IPO) worth up to Php16.7 billion, according to a disclosure to the Philippine Stock Exchange (PSE) on February 6.
In the disclosure, DMPL revealed that it is planning to offer up to 559.5 million shares in its Philippine subsidiary, which is equal to 20 percent of DMPI's total ordinary shares, at an estimated maximum offer price of Php29.88 per share. While it has not specified a schedule for the IPO, the company revealed that it has filed to register the shares with the Securities and Exchange Commission last February 5.
"The Company aims to raise funds from the proposed public offering to partially prepay or repay certain loan facility(ies)," wrote DMPL in the disclosure. "The prepayment of such loan(s) will allow the DMPL Group to deleverage and strengthen its balance sheet." It added that any balance of the proceeds from the offer will be "used for general corporate purposes."
ADVERTISEMENT - CONTINUE READING BELOW
DMPI is one of the country's most prominent food-and-beverage manufacturing firms, producing a variety of canned fruits, juices and condiments under the Del Monte brand and distributing these to the Philippine market. It operates a 23,000-hectare pineapple plantation in Bukidnon, which it claims is the largest integrated pineapple operation in the world.
In a 2017 survey by marketing consultancy Campaign Asia, Del Monte was named the 15th most recognizable brand in the country. The brand recognition has translated to large revenues for the company, as it consistently ranks within the top 100 of BusinessWorld's annual list of the country's largest corporations. In 2016, DMPI reported gross revenues of Php27.2 billion, which made it the country's 66th largest business.
Its parent company, DMPL, is jointly listed at the Singapore Exchange (SGX) and the PSE, and it distributes its products across several markets in Asia, Europe and North America. In March 2017, DMPL successfully sold 20 million dollar-denominated preferred shares, the first dollar securities to be listed in the Philippine board.
*****
Lorenzo Kyle Subido is a staff writer of Entrepreneur PH