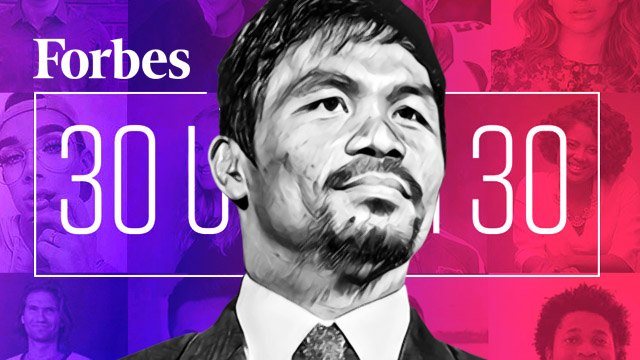 Despite his recent loss to Australian boxer Jeff Horn, Emmanuel "Pacman" D. Pacquiao, the Filipino boxing champion who is also a senator, still cuts an inspirational figure.
The world-renowned boxer will speak at the Forbes Under 30 Summit Asia on July 25, 2017, to be held at Solaire Resort and Casino. He will share "his inspirational journey and experiences" in an interview with Forbes magazine's editor Randall Lane, according to a press release.
Related story: How Rich is Manny Pacquiao?
The annual summit, which is just on its second year in Asia, will bring together some 300 young entrepreneurs who made it to Forbes' 30 Under 30 Asia lists, prominent industry leaders and other notable persons in the business scene from around the world. With the theme "Diversity & Empowerment," the summit will feature panel discussions and interactive segments about championing innovations across Asia.
Forbes' 30 Under 30 is an annual list of 30 exceptional young men and women, no more than 30 years old, in various fields from business to fashion and culture. Forbes first published a 30 Under 30 list for Asia in 2016, and released the 2017 listing last April. Ten Philippine entrepreneurs and achievers have made it to the list in the past two years.
ADVERTISEMENT - CONTINUE READING BELOW
Other confirmed speakers joining Pacquiao in the speakers' lineup are Machine Ventures' Cofounder Shahab Shabibi (Philippines), NH Prima International's Neelofa (Malaysia), Dano's Cofounder Lee Jisoo (South Korea), Beijing Bikelock Technology's Dai Wei (China) and Lucideus' Cofounder & CEO Saket Modi (India). They are all Forbes 30 Under 30 Asia honorees.
Featured Filipino participants include: Matthew Cua, founder of SkyEye Analytics, Aisa Mijeno, cofounder and CEO of SALt Philippines, Chef Michael Aspiras of Tasteless Food Group Philippines and Michael Tubiera of La Lola Group Philippines.
"We're thrilled to return our most dynamic franchise to Asia, the world's most dynamic region," said Lane. "These are the people who will run every industry for the next 50 years."
The Philippines' biggest port operator, International Container Terminal Services, Inc. (ICTSI), is the host sponsor of the event. ICTSI and Solaire Resort and Casino are both owned by Enrique K. Razon Jr., the country's fifth richest billionaire.
"The Forbes Under 30 Summit Asia celebrates entrepreneurship and innovation and this is especially fitting as the Philippines is striving to become the next innovation hub," said Razon, who will be delivering the welcome address.

Related story: Manny Pacquiao Has 103 Real Estate Properties: Is There One Near You?
*****
Pauline Macaraeg is Entreprneur PH's data journalist. Follow her on Twitter @paulinemacaraeg