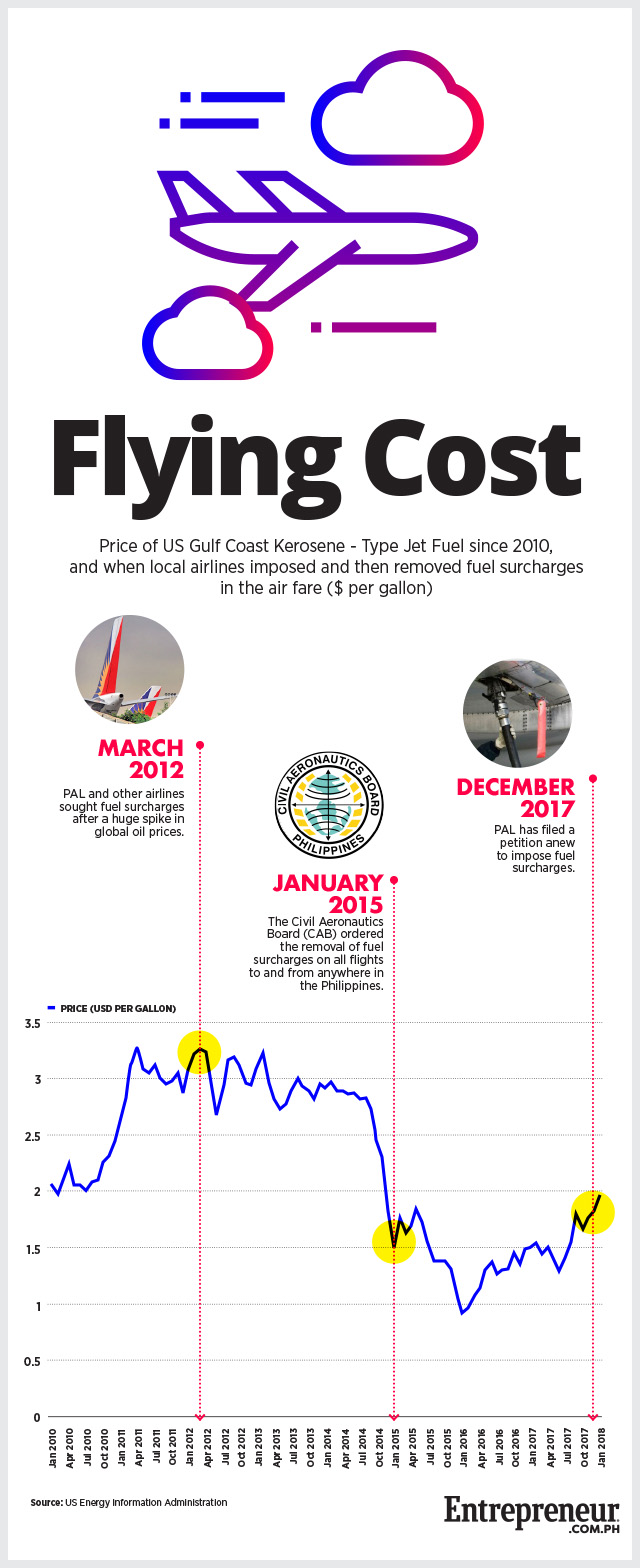 Philippine Airlines (PAL), the country's flag carrier that recently earned a four-star designation from international aviation raters, has submitted a petition for the reimposition of a fuel surcharge in all of its routes amid rising aviation fuel prices.
PAL President and Chief Operating Officer Jaime Bautista said PAL filed its petition with the Civil Aeronautics Board (CAB), the country's airline regulator, in December 2017. It is the first Philippine-based airline to do so since the mechanism was lifted in 2015.
ADVERTISEMENT - CONTINUE READING BELOW
"We have to recover the costs of the rising fuel prices… Fuel [prices] went up by 20 percent since 2016," Bautista said.
Data from the US Energy Information Administration show that as of January 2018, global price of jet fuel has hit $1.95 per gallon, a 50-percent hike from its price in January 2016 of $0.93 per gallon.
Aviation fuel is one of airlines' biggest expense item.
The last time PAL collected a fuel surcharge was in 2012 when the average global price of jet fuel was at $3.05 per gallon, a 29-percent increase from its price in 2010 of $2.15 according to the US Energy Information Administration. The surcharge was removed in January 2015 when aviation fuel prices fell sharply. (See infographic)
Apart from rising fuel prices, another factor that could push up operating costs and press PAL to eventually hike air fares is the need to recover massive investments in an ongoing fleet expansion and upgrading program to achieve a five-star airline status by 2020.
ADVERTISEMENT - CONTINUE READING BELOW
The airline, owned by tycoon Lucio Tan, the Philippines' fourth richest person with a net worth of $4.2 billion, was already recently rewarded a four-star certification from Skytrax, the international air transport rating organization. It joined the ranks of 40 other airlines including Thai Airways, Air France, Virgin Atlantic and Japan Airlines among others. 
However, PAL officials also admitted that their ability to raise airfares is constrained by competition. "We cannot just have a price increase just because we're a four-star [airline]. We have to see to it that our prices are competitive. We will see to it that we will offer affordable rates. So, expect that rates will not go up that high," Bautista said.
The company is in the process of modernizing its fleet as it expects six A321neo and four Airbus A350-900s to be delivered all throughout the year, an investment that cost around $2 billion, according to Bautista. The A321neos will be used for PAL's new flight routes to Brisbane in Australia, Sapporo in Japan and New Delhi and Mumbai in India from Manila. Flights to Brisbane will start in May while its flights to Sapporo and New Delhi are expected to be launched by the third quarter of 2018.
ADVERTISEMENT - CONTINUE READING BELOW
PAL is also renovating its airport lounges worldwide, including the ones in Ninoy Aquino International Airport, Puerto Princesa, Cebu and San Francisco.
The country's largest domestic carrier, budget airline Cebu Pacific Air, has yet to file its own application for a fuel charge.  The airline is "still studying options," said its spokeswoman, Charo Logarta-Lagamon, in an SMS message.
Cebu Pacific Air is owned and controlled by the Gokongwei family, some of whose members also run Summit Media that publishes Entrepreneur Philippines online.
The recently approved Tax Reform for Acceleration and Inclusion (TRAIN) Law imposed an extra Php0.33 per liter excise tax on aviation fuel starting January 1, 2018, which increased average December 2017 prices by 1.4 percent. However, airline industry officials say the TRAIN Law's impact was overshadowed by rising global oil prices and the weakening of the peso.
 "TRAIN law impact—excise on aviation fuel—is not as heavy as the rise in global oil prices and the weakening of the peso versus the US dollar," said Lagamon.
ADVERTISEMENT - CONTINUE READING BELOW
*****
Elyssa Christine Lopez is a staff writer of Entrepreneur PH. Follow her on Twitter @elyssalopz