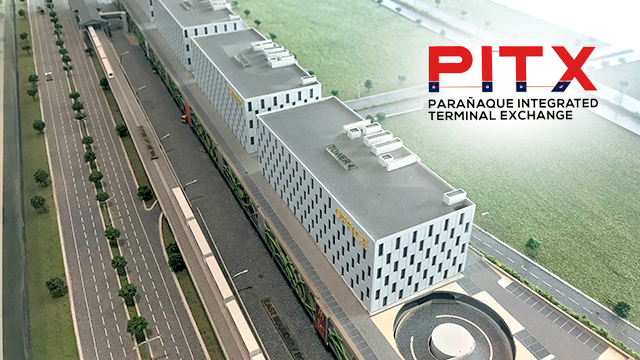 The Department of Transportation (DOTr) has announced through a newly-released video that the Parañaque Integrated Terminal Exchange (PITx), the country's first intermodal land transport terminal, is set to open in November.
The Php3.5-billion facility was scheduled for a soft opening early October but the event was postponed at the last minute for still unexplained reasons, according to a PITx personnel. Instead, a "blessing" will take place in the next few weeks.
Originally called the Southwest Integrated Terminal Exchange (SWITEx), the integrated transport hub will serve provincial buses and public utility vehicles passing through the Manila-Cavite Expressway (Cavitex) and Coastal Road. It was one of the public-private partnership (PPP) infrastructure projects awarded by the Aquino administration and continued by the Duterte government.
The PITx is a public-private partnership agreement between the government and MWN Terminals Inc., a consortium of Walter Mart's WM Properties Inc. and Megawide Construction Corp.
ADVERTISEMENT - CONTINUE READING BELOW
Megawide Chairman and CEO Edgar Saavedra called the facility "the country's first landport". It will have transport connections serving passengers from the southwest of Metro Manila while helping to address the worsening problem of traffic congestion.
In a video posted in DOTr's official Facebook page on October 4, the transportation agency introduced the PITx as a "friendly solution" to commuters' woes in traversing Metro Manila. It boasted of the terminal's capacity to hold several transport options ranging from buses to jeepneys, UV Express vans and taxis; automated ticketing and queuing systems; scheduled trips; and modern facilities akin to that of an airport.
Related story: First Look: PH's First 'Landport' is a Bus Terminal That Looks and Feels Like an Airport
In the coming months, the PITx will also have a clinic, breastfeeding station, a supermarket, shopping and dining options, payment centers, and recreational hubs such as salons and spas, the DOTr promised.
ADVERTISEMENT - CONTINUE READING BELOW
The PITx is expected to accommodate 100,000 passengers daily, according to Megawide Construction. The company estimates the PITx to boost the company's earnings by about Php717.2 million in revenues next year.
Watch the video here:
*****
Pauline Macaraeg is a data journalist and Elyssa Christine Lopez is a staff writer of Entrepreneur PH