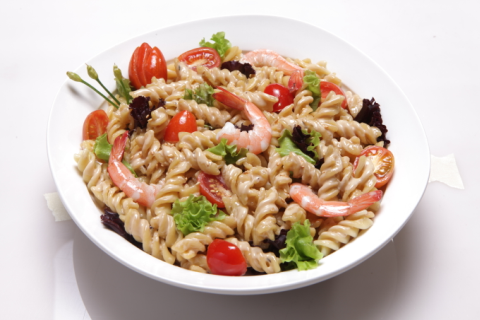 <>
Before the National Pasta Month (October) ends, Doña Elena Al Dente invites us to try out several unique pasta recipes. Food entrepreneurs might want to consider including these dishes into their current menu.
These sumptuous recipes are best paired with Doña Elena Olive Oil and Doña Elena Mediterranean products.
If want to serve something oriental, cook up this Shrimp and Pasta Salad with Creamy Sesame Dressing. Using Doña Elena Al Dente Fusilli, cherry tomatoes, and sliced fresh lettuce, treat your guests with this tasty dish that is best served chilled.
Shrimp and Pasta Salad with Creamy Sesame Dressing
Ingredients:
500g                       Doña Elena AL DENTE Fusilli, cooked according to package instructions
9 pcs                      prawns, deveined, peeled and blanched
9 pcs                      cherry tomatoes, sliced into halves
150g                       assorted lettuce, sliced into bite size pieces
                                sesame seeds, for garnish
For the dressing:
½ cup                    Japanese mayonnaise
½ cup                    teriyaki sauce
4 tbsp                    Good Life Sesame Oil
ADVERTISEMENT - CONTINUE READING BELOW
1 tsp                      sesame seeds, toasted and chopped
To taste                ground black pepper
Procedure:
1.       Combine all the dressing ingredients. Store in an airtight container and keep in the refrigerator.
2.       Place the cooked Doña Elena AL DENTE Fusilli noodles in a bowl together with the sliced lettuce then drizzle some of the dressing until all the ingredients are well coated.
3.       Arrange the prawns and tomatoes on top of the salad and garnish with toasted sesame seeds.
4.       Serve chilled.